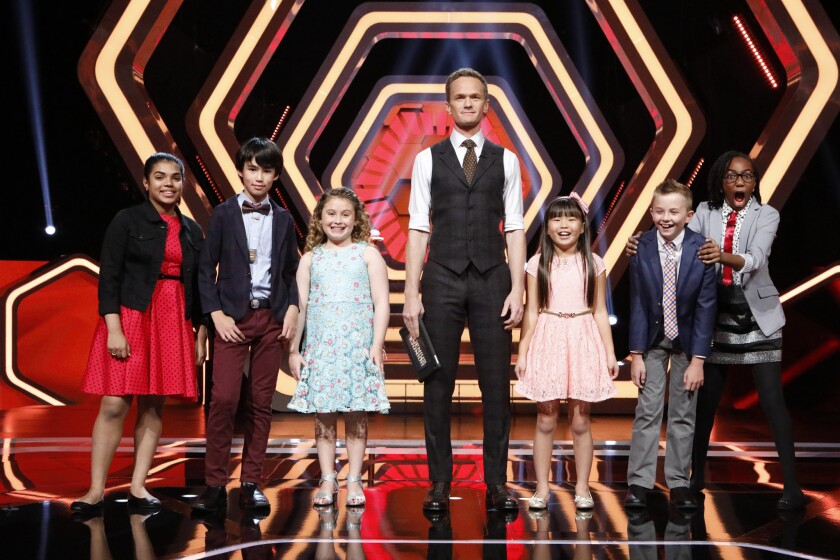 Carmel Valley super brain Michi Synn, 11, was recently crowned one of the smartest kids in America when she and her teammates won the NBC show "Genius Junior." Michi's team, Geeks on Fleek, beat out The Dork Side and The Fast and the Curious in the championship match on May 13, winning bragging rights and racking up $127,000 in prize money.
For 10 weeks host Neil Patrick Harris quizzed 36 kids in teams of three in "brain-bending" competitions, including fast math, memory challenges and backward spelling.
"My jaw dropped, it was just really amazing," Michi said of the winning moment, after her team successfully battled the Cortex, the game's most difficult test.
Back home in Carmel Valley, the Solana Pacific Elementary School fifth grader had a championship viewing party with 44 of her friends and family. Everyone wore matching blue Genius Junior shirts and her friends whipped up fun brain-themed desserts.
"Everybody was really excited, I heard cheers erupting all around me," Michi said of the celebratory party.
Since her debut in the season's fourth episode on April 15, Michi showcased her fun personality and her "amazing" skills of backward spelling, math, and an impressive memory— in the Cortex challenge, Michi correctly identified the small African country Burkina Faso on a map, formerly called the Republic of Upper Volta.
Michi was scouted for the show after placing first in the national math competition Math Kangaroo. Math is Michi's favorite subject and she participates in advanced math and computer science programs with San Diego Math Circle on Saturdays. As shown on "Genius Junior," Michi is an intern at a San Diego biotech company working to help cure cancer and is also a gifted poet. The show featured snippets of a poem she wrote about her experience, sitting in her Carmel Valley bedroom surrounded by her favorite American Girl dolls.
Since the show, Michi has struck up a friendship with fellow "Genius Junior" Christopher Lee from Rancho Santa Fe. Geeks On Fleek went head to head with Christopher's team "99 Problems But Brains Ain't One" in the semi-finals. Back in San Diego, Christopher and Michi have formed a debate team together and Christopher has introduced Michi to the sport of fencing.
For the show, Michi paired with teammates Jackson, a 12-year-old sports history expert from North Carolina, and Ugochi, an 11-year-old from Georgia who has the Gettysburg Address and the Periodic Table committed to memory.
"Brilliant and kind; big beautiful hearts, not just minds. We inspired each other with skills combined," read Michi's poem about her teammates and all of the competitors.
Geeks on Fleek were put to the test in the championship round, which featured the most difficult questions of the whole show. "Human GPS" challenged the kids to memorize the constellations while previous challenges had been city streets or U.S. counties.
"The stars were difficult to memorize …it was like learning a new language," Michi said, who answered all of her questions correctly.
Michi again was the "Super Brain" for the spelling challenge—meaning that rather than compete as a team, Michi took on the challenge all by herself. In the championship, she had to spell as many words backward as she could in 90 seconds but there was a twist. In some cases she was asked to spell words backward with vowels only and others, backward with consonants only. Michi got 10 correct including mysterious, cloning, gallantry, emblematic, inventive and rapscallion; she spelled liberty and wallflower using only consonants and verisimilitude and ameliorate using only the vowels, backward.
Michi's strong performance continued in the Cortex, when she and her teammates answered more questions correctly than The Fast and The Curious, a team that starred an amazing human calculator named Apoorva, a 13-year-old with an IQ of 160 that could quickly compute extremely complex equations in her head.
"I'm sure everyone watching was impressed by her, she was a total machine," Michi said. "It was remarkable what she did."
The two have become friends on Instagram.
After the big victory, Harris asked which Geek on Fleek was the MVP and Ugochi answered that they all were.
"I definitely agree with that because we all had varying strengths and weaknesses," Michi said, noting where one team member maybe struggled, the other excelled. "We were a good team."
So far Michi has received a commemorative plaque for her championship but she has not yet received her share of the prize money. She said she will likely "put the money away for college" as she already has enough dolls.
"Just getting to do this, the experience is priceless," Michi said. "It's something that I will never forget."
As she wrote in her poem, her time on the show is "etched on her memory": "Emerging from the game, its rigor and its splendor: Genius knows no size, race, age or gender."
---