Del Mar, Solana Beach set sights on gun control, fairgrounds gun show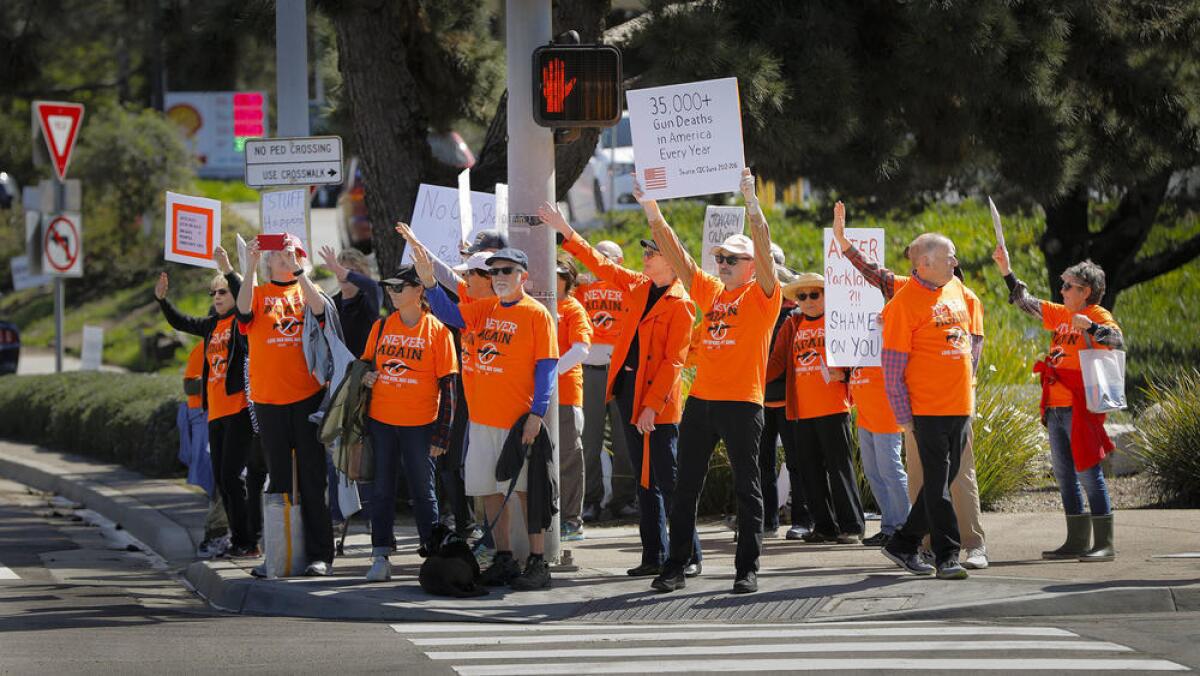 Outrage over last month's deadly school shooting in Parkland, Fla. is manifesting into political action at the local level as Del Mar and Solana Beach gear up to pressure state and federal officials for deeper and wider gun control laws, and mount the loudest calls yet for the Del Mar Fairgrounds to stop hosting gun shows.
Two days after joining a protest of the gun show's latest iteration—its first of five scheduled this year—the Del Mar City Council unanimously approved a wide-ranging resolution on March 19 calling for a crackdown on the kinds of weapons used to kill 17 people at Marjory Stoneman Douglas High School last month and 58 in October at the Route 91 Harvest country music festival in Las Vegas.
Reforms in Del Mar's resolution include: raising the age to buy a firearm to 21 years old; reinstating the federal ban on assault weapons; banning bump stocks and other devices that accelerate a weapon's rate of fire; banning magazines that hold more than 10 rounds; universal background checks; mandatory safety training prior to buying a firearm; and repeal of the Dickey Amendment, a 1996 measure that effectively prevents federal funds from being used to research gun violence.
"People say, 'This isn't really happening in Del Mar, why are we worried about this?'" said Mayor Dwight Worden. "Well, if you'd asked Sandy Hook in 2011, it wasn't happening there, either. If you asked Florida last month, it wasn't happening there, either. We had a gun threat in an Escondido elementary school last week. We had two students at Torrey Pines High School arrested for making threats. We had threats at Rancho Bernardo High School. This is in our backyard and, in my view, it's a responsibility of all of us to stand up for the values that we think are important for our community. If you have a gun and you want to use it for hunting, fine. You want to have a gun and use it for self-protection at home, fine. You want to have an AR-15 with an extended magazine, I'm sorry but no. It's time to stop that."
Meanwhile, the Solana Beach City Council signaled last week that it will take a similar tack. At the council's March 14 meeting, eight members of NeverAgainCA implored the city to take a stand against gun violence. Of particular concern is the Concealed Carry Reciprocity Act, a bill that has breezed through congressional committees since being proposed in November. The top legislative priority of the National Rifle Association, the measure would allow anyone with a concealed-firearm permit from one state to exercise it in every other state.
Councilmembers Jewel Edson, Judy Hegenauer and Dave Zito responded to the activists' entreaties by directing city staff to schedule a resolution on gun control for an upcoming agenda. Mayor Ginger Marshall did not echo the directive.
The topic hit Hegenauer particularly hard, having a few days earlier met with administrators from the Solana Beach School District to review the evacuation plans for each of the district's schools. Only hours before the council's meeting, students across the country—including at several local schools—walked out of class in a show of solidarity to mark the one-month anniversary of the Parkland shooting.
"A friend of mine last week told me her 14-year-old wouldn't go to school until they got a bullet-proof vest. So it's close at hand," she said. "I'm absolutely grateful to the Florida students for being the adults in the building and the country."
The city's gun control discussion will be held at the Solana Beach City Council's March 28 meeting.
By the time Solana Beach takes its first steps, Del Mar's effort will be well underway.
Councilwoman Ellie Haviland, who co-wrote Del Mar's resolution and an accompanying position statement, said the city has three goals: to ensure schools are equipped to address cultural and mental health crises, but without arming teachers; to hold the line on California's gun laws, which are among the nation's tightest; and, most importantly, she said, to bring about reforms at the federal level.
"Without change there, I don't think we're going to see a significant change in the overall gun violence problems in our communities," Haviland said.
Del Mar's council will send letters to President Donald Trump, House Speaker Paul Ryan and a host of elected officials in key leadership positions at the federal and state level.
Closer to home, the city is taking aim at the Crossroads of the West Gun Show. Since coming to the fairgrounds in 1990, Crossroads has grown into one of the largest gun shows in California, with each event drawing hundreds of vendors, several thousand attendees and generating around $100,000 in revenue. The state agency that runs the fairgrounds, the 22nd District Agricultural Association (DAA), pockets roughly $20,000 per show as rent.
Del Mar is turning to state Sen. Toni Atkins and Assm. Todd Gloria to help persuade the DAA's board of directors to cancel the gun show, the next of which is scheduled for May 19 and 20. The city also wants legislation that would prohibit gun shows at any state fairgrounds whose surrounding jurisdiction objects.
The groundswell is not the first to take on Crossroads' presence at the fairgrounds. A month after the December 2012 mass shooting at Sandy Hook Elementary, a petition to shutter the gun show amassed more than 1,000 signatures. The DAA board, however, declined to discuss the issue.
Ensuing years brought sporadic objections, until Del Mar resident Rose Ann Sharp started organizing protests decrying Crossroads' role in glorifying gun culture. Those protests typically mustered one or two dozen die-hards.
The March 17 protest, bolstered by the Never Again Movement that emerged after the Parkland shooting, drew five times as many orange-clad protesters to the corner of Jimmy Durante and Via de la Valle.
Those numbers were dwarfed by as many as 10,000 gun enthusiasts who poured into O'Brien Hall to behold and shop the latest wares from more than 250 vendors, whom organizers are adamant abide by California's already-strict laws regulating gun shows.
Gun-rights advocates made that case at the DAA's monthly meeting on March 13, a meeting that had been moved to a larger venue—with armed security looking on—in anticipation of a large turnout.
None materialized. One student, Ash Lineman, a junior at SOUL Charter School in Solana Beach, urged the board to "join the ranks" of Americans energized against gun violence and to oppose "this symbol of violence."
Her plea was countered by nearly a dozen gun owners and activists calling on the board to protect their lawful assembly—a defense that has grown tiresome in its increasing frequency, said Michael Schwartz, executive director of San Diego County Gun Owners. The group hosted some 300 people at the fairgrounds for a three-hour session on state gun laws the evening of March 17, and is set to return for its annual gala on April 28.
"We're sane, trained, law-abiding citizens in California, and we're determined to do the right thing and work within the system," Schwartz told the board.
While other speakers invoked the Second Amendment, Crossroads owner Bob Templeton said the gun show is "perhaps more so a First Amendment activity."
"It gives folks the opportunity to assemble and to share their views with like-minded individuals," he said, "and as such, I hope we can keep that in mind as we hear the arguments from both sides."
At least one state legislator has come to the gun show's defense. In a letter read to the DAA board, Assm. Randy Voepel—the former mayor of Santee who now represents District 71—asked the DAA board to keep its gates open to the gun show, citing its enduring popularity and record of adhering to its myriad regulations.
The DAA board did not discuss the gun show and had not announced its April 10 agenda as of press time.
Worden, Del Mar's mayor, told his colleagues on March 19 to expect division among the board's nine members. But while Del Mar wants the gun shows eliminated altogether, the city's representatives in Sacramento have not come out as aggressively.
Atkins, the newly-appointed Senate president, has been an outspoken advocate for gun control but has yet to take a public stand on the gun show. Her office did not return a request for comment by press time.
Gloria, meanwhile, has so far asked the DAA only to pare back from five annual gun shows.
"With the continued prevalence of gun violence in our nation, it is impossible to ignore the link to the number of guns in our community," he wrote in a March 12 letter to the DAA. "That is why I believe it is imperative to remove the State, to the extent possible, from complicity in these tragedies by limiting the frequency of gun shows at the Del Mar Fairgrounds."
A Gloria spokesman said on March 20 that next steps will include looking into the precise nature and extent of the legislature's authority over DAAs and their state-appointed boards of directors. More broadly, he said, the nascent discussions should take much clearer shape in the weeks and months ahead.
"We want it to be meaningful, we want it to be respectful of the Ag board's role and also how the community is feeling," said spokesman Nick Serrano. "There is much to be done. Stay tuned."
Get the Del Mar Times in your inbox
Top stories from Carmel Valley, Del Mar and Solana Beach every Friday for free.
You may occasionally receive promotional content from the Del Mar Times.