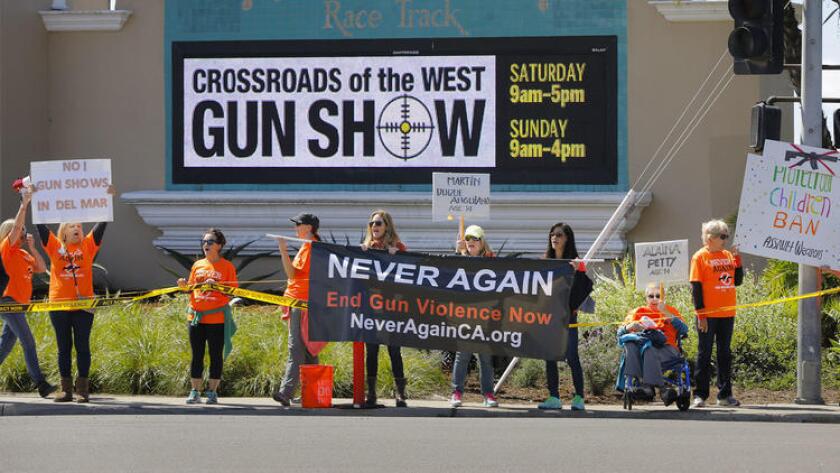 Ongoing opposition to gun shows at the Del Mar Fairgrounds continued in the agency's board meeting Tuesday, Aug. 14, though the panel was not scheduled to take any action.
Fourteen members of the public spoke during the public comment section of the 22nd District Agricultural Association's directors meeting.
Only one speaker, who represented a group of San Diego area gun owners, spoke in support of the district continuing the shows numbering about five per year.
Many of the gun-show opponents who appeared at the meeting wore bright orange shirts identifying themselves as supporters of the organization NeverAgainCA.org.
The group campaigns against the easily availability of arms and for what they call common-sense gun laws.
Impetus for the anti-gun-show movement stems largely from a series of school shootings that has plagued the nation in recent years, including last year's Parkland, Fl., incident.
While she favors shutting down fairgrounds gun shows altogether, Jill Cooper told the board it should at least prohibit the vendors from marketing to sharing software for creating 3D printed plastic guns, also known as "ghost guns."
Such guns, which can be easily assembled by amateurs, lack serial numbers, making them untraceable, and can be smuggled through metal detectors.
"Do not educate children and adults about how to easily make guns," Cooper said. "Let's keep dangerous weapons out of the wrong hands and prevent a tragedy that is, sadly, not so unimaginable. No 3D guns. No gun show."
---