Crossroads gun show returns to Del Mar, so do protesters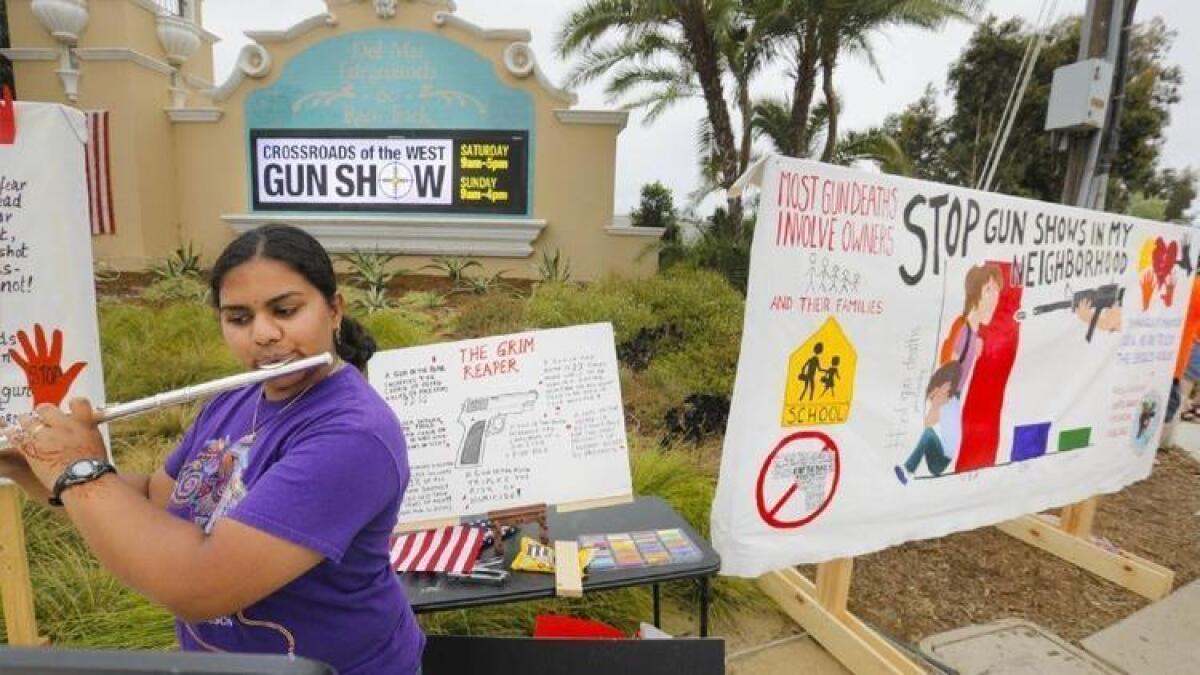 At the entrance to the Del Mar Fairgrounds, a young woman wearing an anti-gun violence shirt played a flute while, across the street, two men waved a 5-foot-tall cutout of a black AR-15 semiautomatic rifle at passing cars.
That was the kind of contrast visible Saturday morning, July 14, to all those who attended the Crossroads of the West Gun Show, which was expected to draw thousands of firearm enthusiasts this weekend.
The show is at a critical moment. While the nine-member fair board is allowing Crossroads to finish its five-show run this year, it will decide in September whether to allow it to return in 2019.
Community backlash to the nation's never-ending string of mass shootings has put Crossroads and other gun shows in the crosshairs, and the crowd of protesters on the corner of Via De La Valle and Jimmy Durante Boulevard Saturday lined up to keep the pressure on, waving signs replete with gun violence statistics and pleas for tighter control of firearms sales."We know we're not going to change the opinions of the people in the cars going to the gun show, but we are sending a clear message to the fair board that the show needs to stop," said Kathy Murphy, a member of NeverAgainCA, the community group that organized the demonstration.
NeverAgainCA has targeted show patriarch Bob Templeton and his son, Jeff, saying that the pair have gun violations on their criminal records and thus their event should be barred from the fairgrounds. Crossroads has countered that Templeton's daughter, who has a clean record, is in charge.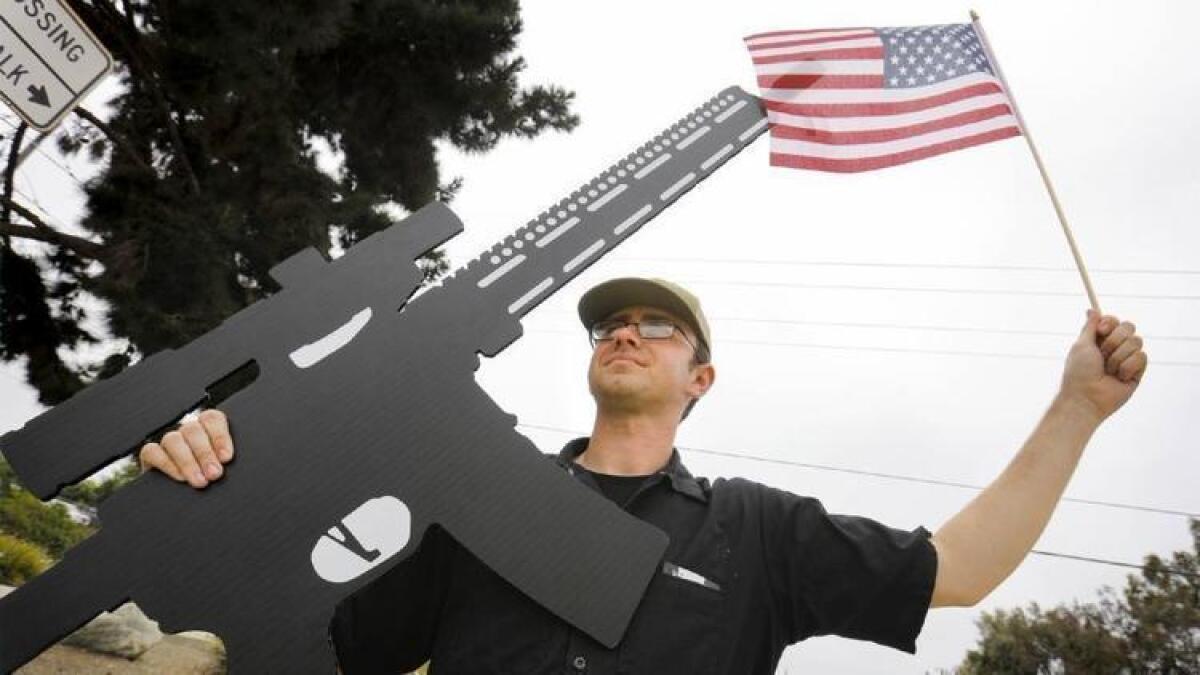 The San Diego County Gun Owner's group has accused activists of misleading the public about how business gets done at Crossroads. This week the group offered a $10,000 reward to anyone who can prove what it says are constant insinuations that the show doesn't always adhere to California gun sale laws, which require a 10-day waiting period and a mandatory background check for each sale.
Exiting the show mid-morning, Greg Stueven of Spring Valley said he has been going to Crossroads shows for about 20 years and has the impression that rules are followed.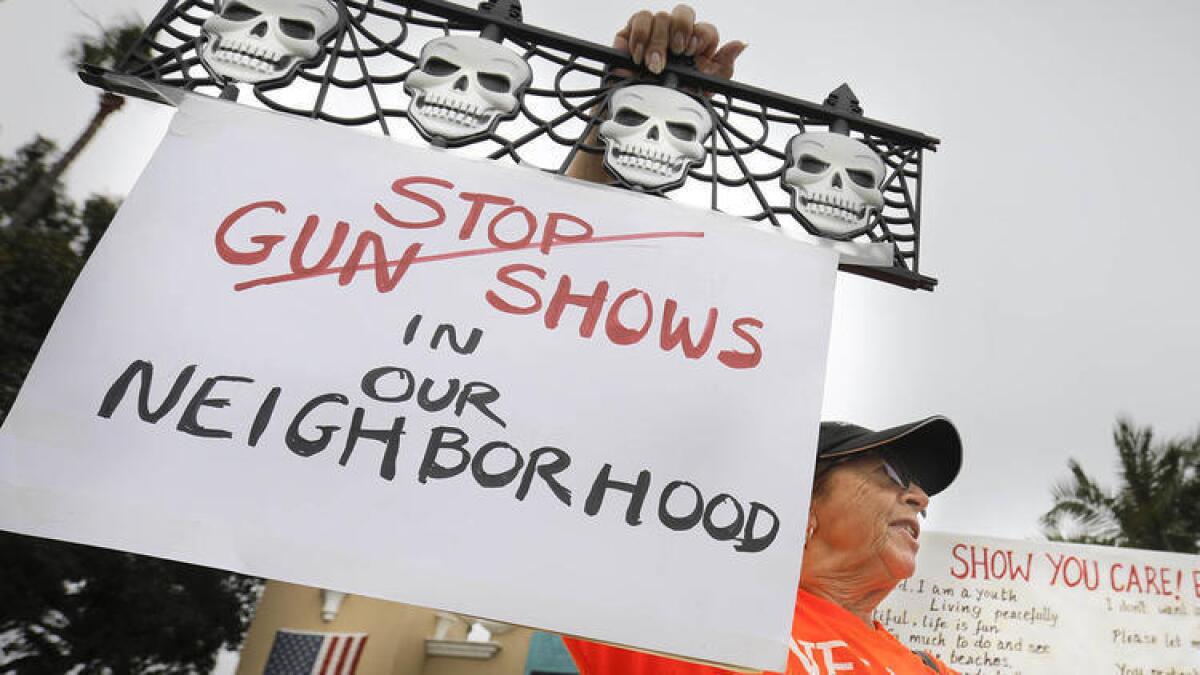 As to the protesters' contention that the event should end because it promotes America's out-of-control gun culture, the carpenter and gunsmith said he respects the right to an opinion, but objects to assigning criminal intent to gun enthusiasts.
"I just like to come and see people I know. I like to look to see new innovations and I like to see what the new trends are," Stueven said.
Back on the corner, 18-year-old Soumya Kalluri's flute music brought a peaceful tone to the protest, which drew about 30 people Saturday morning. She said the music was its own kind of plea.
"It is a pretty peaceful sound, and that's what we want — more peace," Kalluri said.
The two men waving the big AR-15 cutout across the street were with local gun parts manufacturer Firearms Unknown, which said on Instagram that it was kicked out of the May Crossroads show because it was told the "name of the company is 'offensive.'"
While he said he didn't want to elaborate on the company's spat with Crossroads, Dalton Bey, one of the company's two demonstrators, said he was also standing up for gun rights, adding that everyone wants to find a way to end mass shootings, but not at the expense of Second Amendment rights.
"Banning gun shows isn't going to do anything because technology keeps moving forward. Now it's possible to make an AK-47 in my garage," Bey said.
Crossroads of the West is scheduled to return to the fairgrounds on Sept. 29 and Dec. 8.
--Paul Sisson is a reporter for The San Diego Union-Tribune
---
Get the Del Mar Times in your inbox
Top stories from Carmel Valley, Del Mar and Solana Beach every Friday for free.
You may occasionally receive promotional content from the Del Mar Times.