Local boys donate 23 bikes to children in Haiti
Carmel Valley kids Brady Edwards and Stephenson Jean Michel "SJ" Dohrenwend recently led a bike drive for disadvantaged children in Haiti. The boys donated 23 bikes to San Diego nonprofit Friends and Family Community Connection and its bike drive in partnership with Gearing Up 4 Hope.
The cause was especially close to SJ's heart as he is originally from Haiti and was adopted and moved to the United States in 2010 at the age of 4.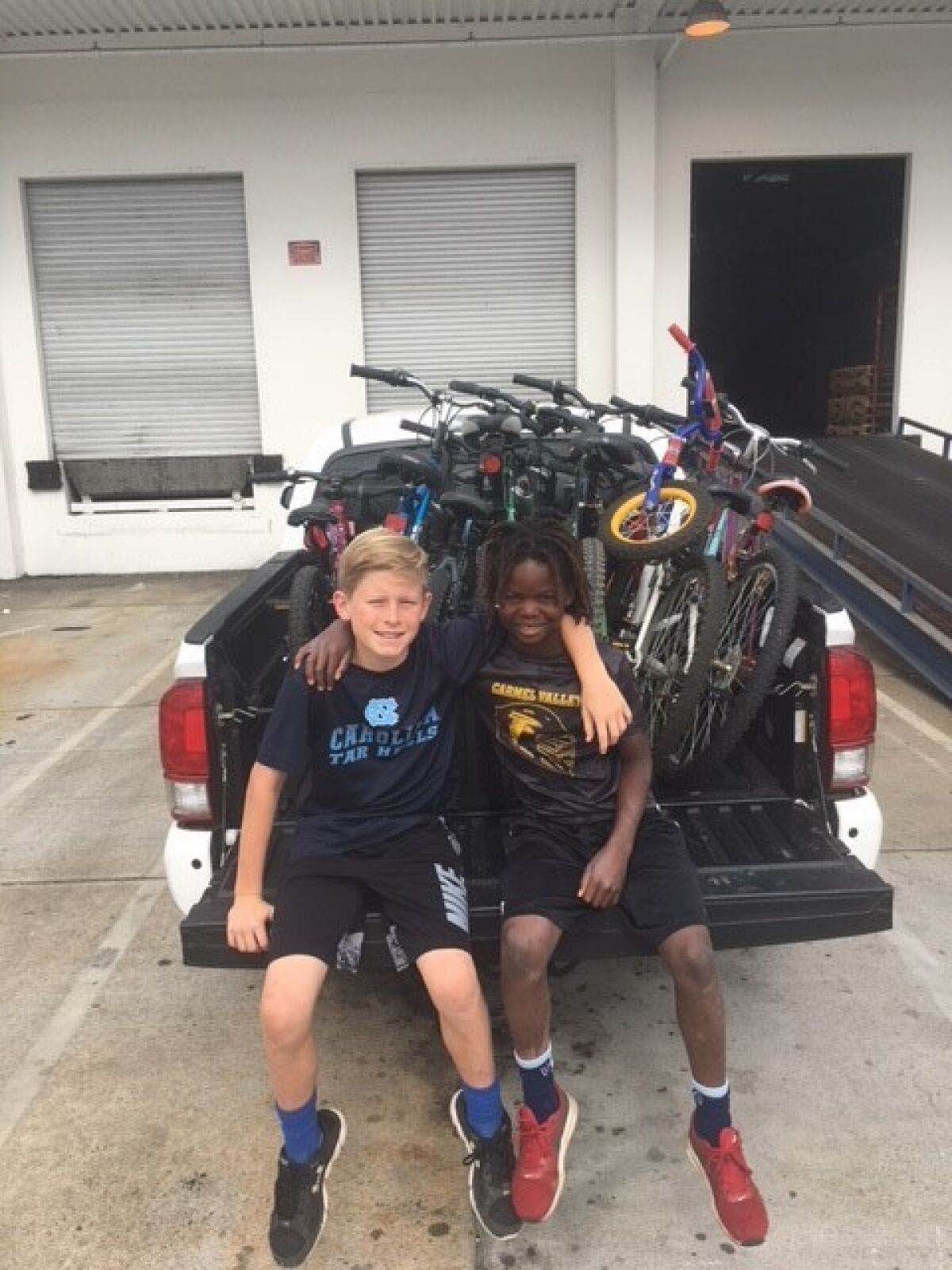 "It feels good to give back (to Haiti)," SJ said. "One of the biggest reasons why we are doing this is to give back."
The boys' donated bikes joined for a total of 225 bikes that Friends and Family Connection loaded into a shipping container in May along with 300,000 meals and 120 donated bike helmets. The container is set to arrive in the city of Gressier, Haiti on June 21.
Now in the sixth grade, Brady and SJ became friends in kindergarten at Sage Canyon Elementary School and grew closer through playing sports—the pair is heading to Pacific Trails Middle School in the fall.
They got the idea to help FFCC from Brady's sister, who had participated in one of its food-packing events.
Since being founded in 1996 by San Diegan Phil Harris, FCCC's outreach efforts have evolved to include caring for the homeless and seniors. Its "Fight Against Hunger" food distribution program and food packaging events provide a way for local churches and schools to get involved and has resulted in 1.4 million meals distributed locally and nationally.
FFCC took its first trip overseas in 2007 and has distributed over 17 million meals to places such as Haiti, Dominican Republic, Tanzania, Uganda, Jamaica, Haiti, Japan, Honduras and more.
When Brady and SJ found out about the effort to collect bikes there was only two weeks until the shipping container went out, but they were determined, setting a goal to reach 25 bikes. The boys understood how big of an impact their donation could make.
"It takes a long time for kids to get to their school or jobs, like two or three miles," Brady said. "The bikes are going to help them get there about three times as fast. We're spoiled because we have cars."
One beneficiary of the bicycles is Shepherd's House School and Ministries in Haiti. Students who do well in school, have a perfect attendance record and keep the school clean by picking up trash, among other things, will allow students to qualify for a month with a bicycle.
Despite the short time frame, the boys were successful in their collection efforts—they posted about their bike drive on Nextdoor and scoured the community's annual garage sale—SJ's grandfather gave them $100 to buy bikes.
"We got some really good bikes," SJ said.
The boys spent time cleaning the bikes, pumping up tires and oiling chains. For those bikes that needed a little work, the boys did the repairs themselves.
"I am so proud of these young men who have taken their love for riding bikes and sharing that blessing with students in Haiti who could never afford a gift like this," Harris said.
The container sent out in May was the 17th that FFCC has shipped to Haiti for a total of 4,810,000 meals, over 300 bikes and helmets, tools, a bus and van, and over $30,0000-worth of medical and dental equipment and prescription medications. FFCC has also built a number of homes, dormitories and schools in Haiti.
Both SJ and Brady believe you're never too young to volunteer and make a difference—SJ has participated in community service in Mexico with his church and Brady has volunteered with Burrito Boyz, serving the homeless population in San Diego.
They hope to do a bike drive again next year, "We want to make another, higher goal," Brady said.
As FFCC goes to Haiti and other international locations several times a year, the boys are hoping to go to Haiti on their spring break next year.
"My hope is that the heart and passion that SJ and Brady have shown through the collection of these bikes will become contagious and more students will join with us and together go and make a difference," Harris said. "I'm so proud to live in a community where parents are raising their children to think and give beyond themselves."
To learn more about FFCC service opportunities, visit ffccsd.org.
---
Get the Del Mar Times in your inbox
Top stories from Carmel Valley, Del Mar and Solana Beach every Friday for free.
You may occasionally receive promotional content from the Del Mar Times.