Del Mar Hills students take on challenge to redesign human body
Del Mar Hills Academy SurfRiders became "Changemakers" on Dec. 21 as the sixth grade class hosted an impressive exhibition, "Health Impacts of Climate Change on our Human Body Systems". The event was the culmination of a design thinking project orchestrated by teachers Chelsea Moore and Colleen Pratt. After learning about the human body and climate change, students were challenged to redesigning one of the body's many systems to combat that climate change.
Students created prototypes for their solutions for respiratory, cardiovascular, circulatory and integumentary systems and during the exhibition, explained their thinking to visiting community members and parents.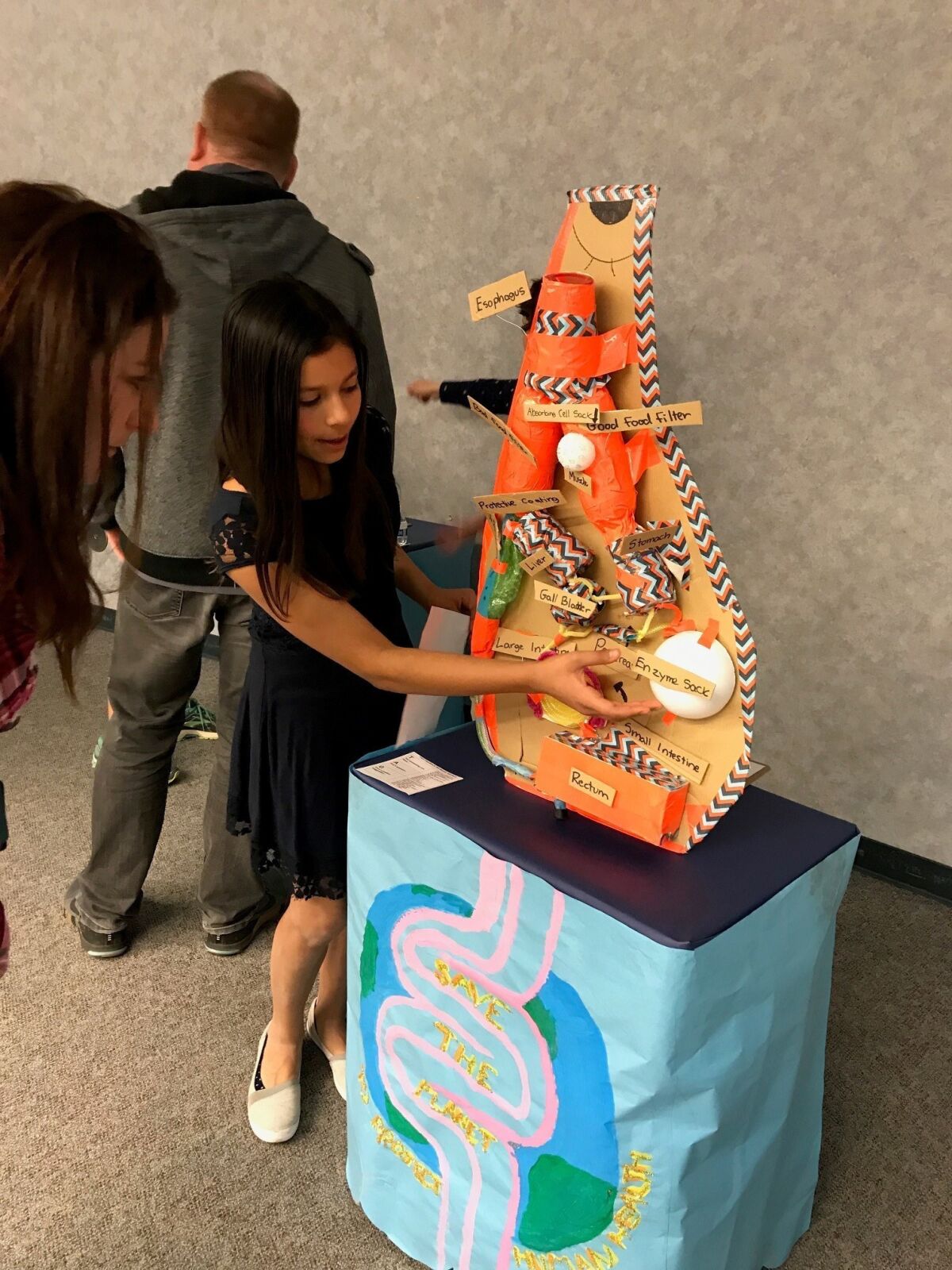 During the course of the project, the students did their own research on different human body systems and worked to teach each other. They learned about climate change by Skyping with a scientist in Pennsylvania through Nepris, an organization that connects industry professionals to classrooms nationwide.
In early December, students heard a presentation from Abdul Hassan, a fourth year medical student at UC San Diego, who discussed the impacts of climate change on human body systems, providing further understanding of the impacts on the pulmonary, integument (skin), and excretory systems.
Hassan helped students brainstorm potential solutions such as filters for the lungs, kidney adaptations or protection from mosquito-borne malaria or extreme heat. Armed with their accumulated knowledge, the students created prototypes.
The prototypes were presented to industry professionals for feedback and students then worked with Janet Wolfertz, STEAM+ technology teacher at Carmel Del Mar, to print models using the school's 3-D printer.
Abby Pratt, an intern for the Smithsonian, shared with students on how to best to present their prototypes at the exhibition.
The successful exhibition, Pratt said, demonstrated that the students can be true "changemakers" and that they have the power within themselves to teach others such as the community and their peers.
"I've been teaching the human body for about five years pretty traditionally," said Pratt. "This group…this is all their work, this is completely student-centered, we were just here to get it going for them. The depth of knowledge is far greater than any of the years I've been here and the way they can communicate about how the human body works has been fascinating."
---
Get the Del Mar Times in your inbox
Top stories from Carmel Valley, Del Mar and Solana Beach every Friday for free.
You may occasionally receive promotional content from the Del Mar Times.