Imperfect Produce to deliver 'ugly' produce to local homes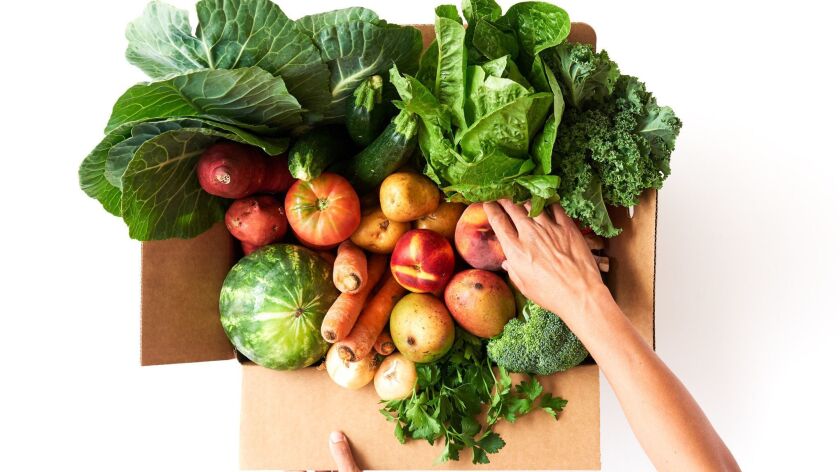 Imperfect Produce, a company on a mission to help solve the problem of food waste, is giving local residents a new option in purchasing healthy, delicious yet slightly "ugly" produce—fresh items like wonky carrots, too tiny artichokes and twisty sweet potatoes.
Imperfect officially launched into the San Diego market on Sept. 17, with delivery areas including Carmel Valley, Del Mar, Solana Beach and Encinitas. San Diego City Councilmember Chris Cate helped load the first boxes for delivery from their new Kearny Mesa location.
"The city's a no-brainer for Imperfect Produce," said CEO Ben Simon. "Plus my brother, uncle and cousin live there. They've been asking me for years to bring it to San Diego."
Simon and co-founders Ben Chesler and Ron Clark launched Imperfect Produce three years ago in the Bay Area. Simon started in the nonprofit space with Food Recovery Network, working to prevent waste on college campuses after seeing how much was being thrown away from the cafeteria at the University of Maryland. Together Chesler and Simon worked to expand the Food Recovery Network nationwide, connecting with Ron Clark, who developed the Farm-to-Family program at the California Association of Food Banks sourcing "ugly" produce to food banks throughout the state.
"They learned a ton about food waste in the country, that a lot of food never even leaves the farm because grocery stores have very narrow and specified standards," said Reilly Brock, Imperfect Produce content manager. "They wanted to find homes for that produce and deliver it right to people's doors."
According the National Resources Defense Council and Feeding America, 20 percent of all fruits and vegetables grown in the U.S. don't adhere to the strict cosmetic standards of grocery stores, creating a system where over 6 billion pounds of produce go unharvested or unsold each year.
Brock said there are several reasons why some produce might not make it to the grocery store shelf, including size, asymmetry, discoloration and quirks in appearance. Imperfect Produce includes avocados that are deemed too small, citrus that is scarred, undersized apples, curvy cucumbers, crooked carrots or an asymmetrical bell pepper—nothing that has an impact on the taste or health benefits of the produce.
"Some customers prefer the smaller size avocado because they don't have to worry about waste or leftovers," Brock said. "Scarred citrus is not sold. They may not look pretty but citrus is almost always juiced so the issues on the surface of the fruit don't matter."
Imperfect Produce is able to buy the so-called "ugly" produce directly from farms and ship to customers for about 30 percent less than grocery store prices.
Boxes are delivered to the customer in customizable 12-pound to 20- pound options in weekly or bi-weekly deliveries.
"You pick what goes into the box every week," Brock said.
Items change weekly depending on the season but there is typically 30 to 40 options available. There is no plastic or other packing used in the recyclable cardboard box.
Imperfect deliveries aim to be a convenience—one less thing on the to-do-list—as well as making produce more affordable and accessible to more people: "It makes eating healthier easier," Brock said.
In every market it's in, Imperfect Produce donates a significant amount of produce to either nonprofits or food banks—Feeding San Diego is its local food bank partner.
After launching in the Bay Area in 2015, Imperfect Produce expanded to Los Angeles in January 2017 and has since launched in the Pacific Northwest, the Midwest in Chicago, Milwaukee and Indianapolis and in San Antonio, Texas. There has been a high demand to expand into San Diego since the very beginning and they hope to add more zip codes throughout the county and eventually expand into Oceanside.
---
Get the Del Mar Times in your inbox
Top stories from Carmel Valley, Del Mar and Solana Beach every Friday.
You may occasionally receive promotional content from the Del Mar Times.