Kilroy celebrates new solar project in Carmel Valley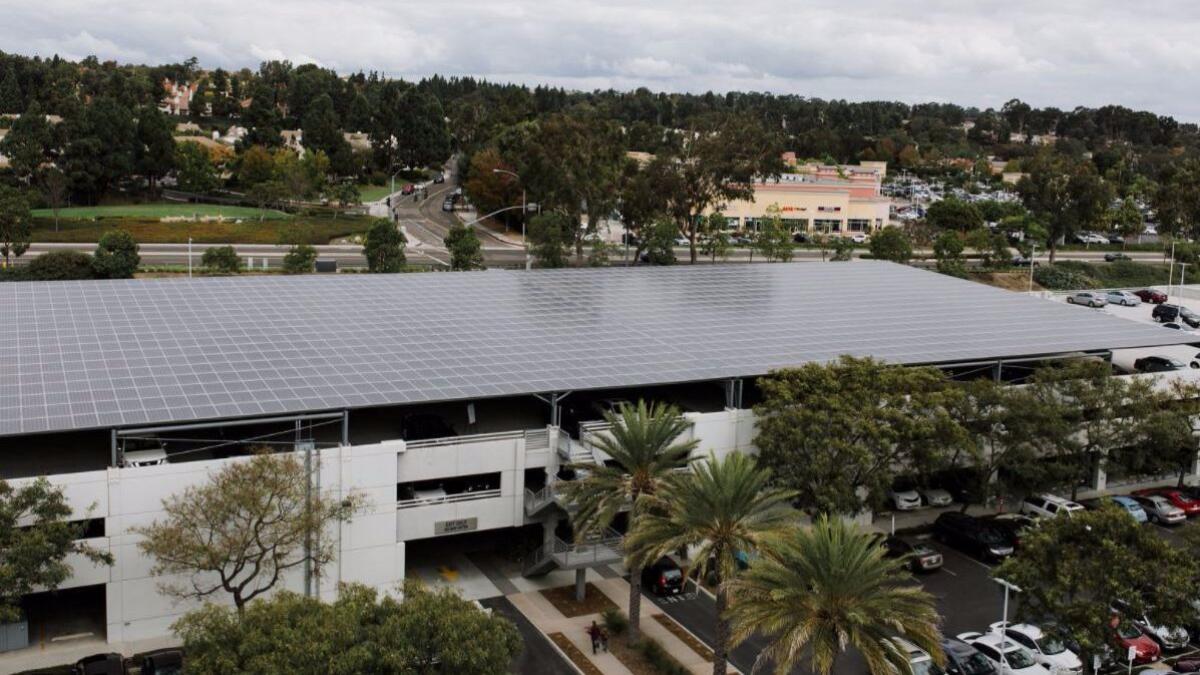 Kilroy Realty celebrated its new solar project with a ribbon-cutting event on Nov. 2 at Kilroy Centre Del Mar in Carmel Valley. The project is part of Kilroy's commitment to sustainability as well as a contribution to San Diego's Climate Action Plan that seeks to achieve 100 percent citywide renewable energy usage by 2035.
Working in partnership with Nautilus Solar, the Carmel Valley project on Valley Center Drive is one of nine Kilroy Realty properties in California to undergo a solar project to collect and convert solar rays into useable, clean energy. The solar panels provide shaded canopy parking, source clean and renewable energy, reduce the community's dependence on non-renewable fuels and strengthen the resiliency of the energy grid.
"We're marching toward our goal of using 100 percent renewable energy citywide and it's great to have innovative companies like Kilroy Realty stepping forward to do their part to help us get there," said Mayor Kevin Faulconer. "San Diego is the number one city in the country for solar installations and it's in no small part to builders who make sustainability a priority in their projects."
Kilroy's six San Diego projects will offset energy usage by 65 percent and generate six million kilowatts annually, power 558 residential homes, and create 138 green jobs in the local economy.
"We celebrate not just our solar project but the city-wide efforts towards sourcing renewable energy, and are extremely fortunate to be led by Mayor Kevin Faulconer who has been active in fostering a supportive environment for sustainable practices," said Nelson Ackerly, senior vice president of Kilroy Realty. "These solar installations represent one more step in our journey to be the greenest real estate investment trust in the world."
Jeffrey Cheng, chief operations officer of Nautilus Energy, said the company was pleased to partner with Kilroy and Black Bear Energy to support Kilroy's award-winning sustainability initiatives.
"This multi-site solar portfolio exemplifies how businesses can successfully partner together to achieve renewable energy goals," Chang said.
Sara Neff, senior vice president of sustainability of Kilroy Realty, said it was "amazing" to cut the ribbon on their solar project but they are far from done. Ackerly said Kilroy thinks about sustainability in everything they do, from design to construction, leasing to accounting and beyond. He said they will continue to work at upgrading their buildings and pushing themselves and the market to do more on sustainability.
"We look forward to pursuing even more aggressive sustainability initiatives in the future," Neff said. "We thank all of our partners, and especially Nautilus Solar and Black Bear Energy, for all the work they put into making this day possible."
Get the Del Mar Times in your inbox
Top stories from Carmel Valley, Del Mar and Solana Beach every Friday for free.
You may occasionally receive promotional content from the Del Mar Times.