Lotus Trolley Bags make reusable reliable
Del Mar couple Farzan and Jen Dehmoubed have created an eco-friendly and unique solution to the standard-issue reusable bag with the Lotus Trolley Bag.
The Lotus Trolley Bag is a set of four reusable bags that are easy to carry and designed to spread out accordion-style along the top of a customer's shopping cart. The bags allow the customer to pack and sort groceries in the cart, making shopping simpler and faster.
The couple tried several different versions before they landed on the design of the Lotus, named as such because the bags unfold like the flower.
"I'm thrilled we came up with a product we really like and that works well," Farzan said.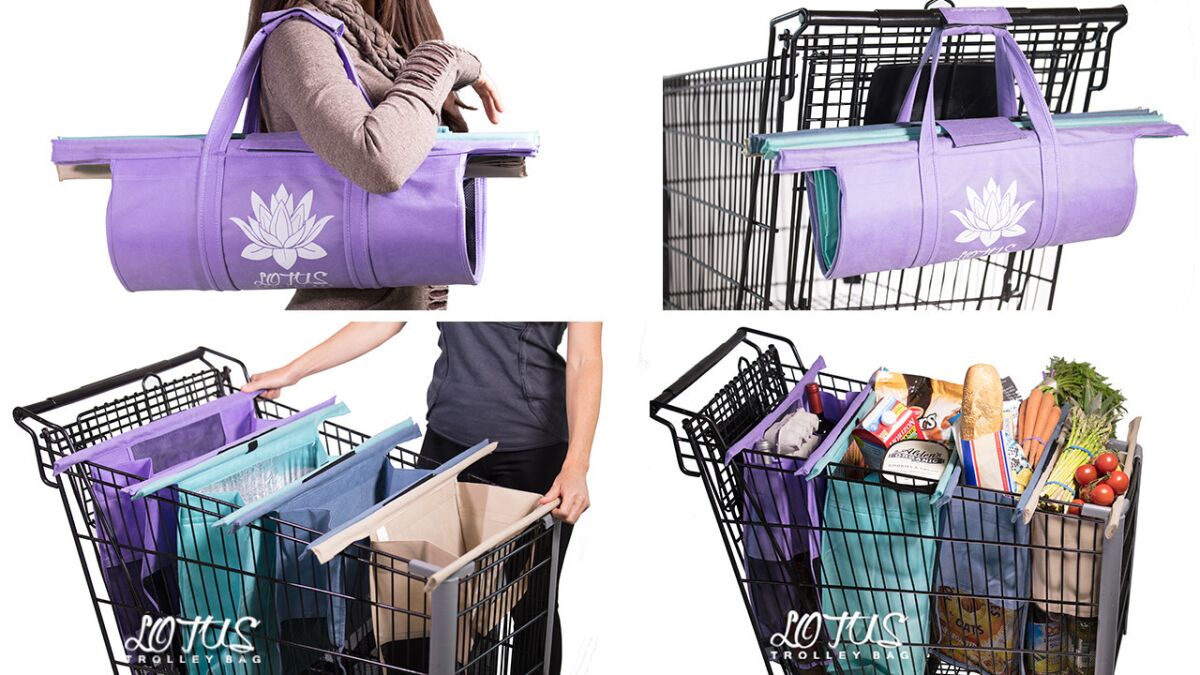 The bags launched two weeks ago on Amazon.com and had an official debut at Fiesta del Sol in Solana Beach May 19-20.
"It was amazing, it was fantastic to see everybody's reactions," Farzan said. "We sold out on the first and second day."
A launch party with friends and enthusiastic shoppers was held at the Dehmoubed's Del Mar home on June 3. Following the initial success of the first few weeks of sales, the Dehmoubeds are excited that they will now be featured in local Ralph's and Jimbo's stores.
Farzan, who was a degree in finance and business and used to have his own marketing company, has always loved coming up with different business ideas and products. Jen works as a private tutor.
After California's plastic bag ban became official this January, the Dehmoubeds shared the frustrations of many people — they didn't want to keep plastic bags in the home but reusable bags were often cheap and flimsy.
"There is a need for quality, recycled bags that avoid filling homes with the abundant and cheap ones that are often forgotten at home, tear or quickly end up in landfills," Farzan said.
While shopping, customers can strap the bags onto the handle of the cart. Once at the check-out counter, customers can spread out the bags and pack as they please. The four bags vary in sizes — the largest is an insulated cooler bag that keeps cold stuff cold, big enough for a box of frozen pizza. The cooler bag's unique design also includes compartments for a carton of eggs and bottles of wine.
"They are bags we can be proud of because they won't rip or fray like many resuable bags that tend to get damaged after a few uses," Farzan said. "We wanted the bags to last. We had the bags tested with over 70 pounds in each bag, more than we could ever carry. They are heavy duty and very sturdy, that was important to us."
The eco-friendly bags are also made of recyclable plastic and, as an added bonus for the environment, Lotus Trolley Bags is a member of 1% For the Planet and a portion of sales goes to the Surfrider Foundation and Plastic Pollution Coalition.
To learn more, visit lotustrolleybag.com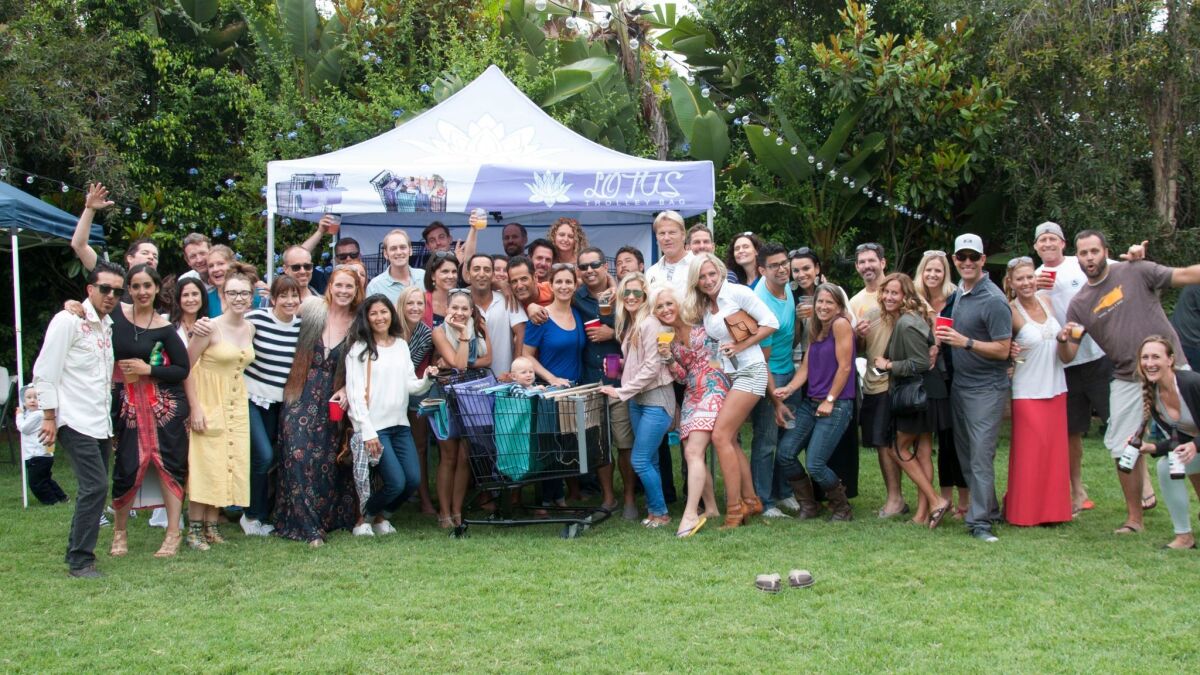 ---
Get the Del Mar Times in your inbox
Top stories from Carmel Valley, Del Mar and Solana Beach every Friday for free.
You may occasionally receive promotional content from the Del Mar Times.