Young Magic the Gathering player casts a spell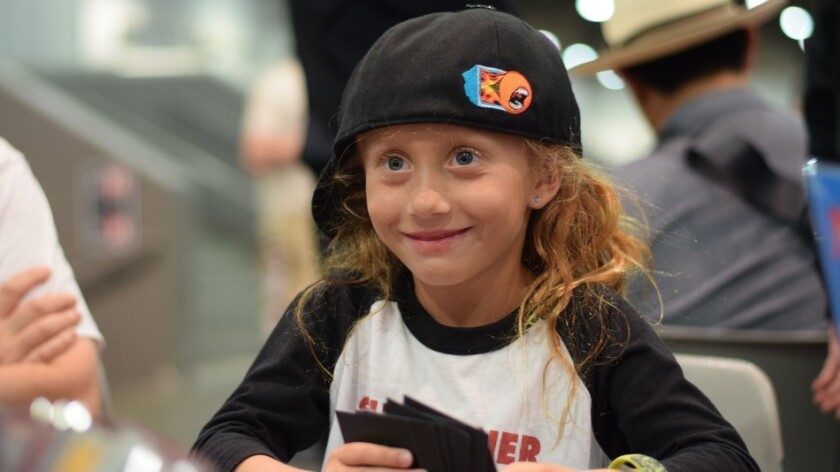 Dana Fischer, 6 years old going on 7 July 23, is making a name for herself in the Magic the Gathering competition realm. As there are no age brackets, the youngster competes against mostly adults and mostly males in a game suggested for players 13 and older.
Magic the Gathering is a trading card game created in 1993 by Wizards of the Coast. It started as a collectible card game but evolved into a more competitive aspect of play with tournaments all over the world. Players face off one on one, each with a deck of cards and 20 lives — they battle by playing planeswalkers who cast spells or employ creatures that attack to defeat their opponents.
Dana, who is entering the second grade at Ocean Air Elementary School, has competed in several regional Magic the Gathering Grand Prix events: Portland in August 2016, Denver in December 2016, San Jose in January 2017 and two events in Las Vegas this June.
At these big tournaments there are 1,500 to 3,000 people competing for cash prizes or to qualify for the Pro Tour where there are even bigger cash prizes. To make the cut for the second day of the competitive tournaments, players must win six of nine rounds.
Dana's best outings so far were in San Jose where she went 4-5 and the tournament in Las Vegas, going 5-4 and just missing the second day cut. In going 5-4 she beat 55 percent of the over 3,000 mostly adult players in the field.
"My goal is to be the youngest player to make day two. The youngest we've heard of was 10," Dana said.
At 6 years old with a spunky personality, often wearing her trademark backward cap or sunglasses—Dana tends to attract a lot of attention.
Her father, Adam Fischer, stands off to the side while she competes but never leaves her truly alone, since she is only 6. He can help with strategies and suggestions before the matches but can offer no coaching during the match — she's all on her own.
Fischer, who played on the Magic the Gathering Pro Tour for a year in 2003, taught both Dana and her sister how to play the game.
"Dana really took to it. At 3-and-a-half years old, she played by memorizing the cards by the artwork because she couldn't read yet," Fischer said.
"I saw the card and knew what it did," Dana said. "I played with my dad to start and my sister but now my sister has no interest."
Fischer admits learning to play the complex game takes a lot of commitment and time. To hone her skills Dana plays against her dad and reads reviews about good cards and bad cards in order to build her set. There are also smaller tournaments at local game stores such as At Ease Games in Mira Mesa that Dana will try to play in about once a week.
In May 2016, Dana competed in her first big tournament in Los Angeles at age 5 as part of a side event. She then went on to the four regional Grand Prix events, fun excursions with her dad to new cities, taking on new challenges and making new friends along the way.
With Magic, she is constantly reading reviews and doing a ton of math. Dana said math is her best subject and Magic involves a lot of adding, multiplication and keeping track of cards— "It takes a while to figure out," she said.
"In my view, her strength is her ability to stay focused," Fischer said.
Nine matches of 20-plus games over a 12-hour period with only minor breaks — that's a lot of attention span for a 6-year-old or any age.
As a young girl taking on adults, Dana is starting to get well-known on the Magic circuit — one of her featured matches was streamed online to tens of thousands of viewers via Twitch and she was invited to a VIP party in Vegas. While she was excited to meet some players, she was surprised to find they were excited to meet her.
"Everybody knew me so I got pulled straight into the party!" Dana said excitedly.
As an additional special treat in Vegas, Dana was allowed to stay up late with a friend in their hotel room and she didn't get to sleep until 2:30 a.m.
"It wasn't a good idea," Dana admits.
Next up for Dana is four days of Magic fun at Comic-Con where she is excited to wear her Nissa costume for the first time. "She's my favorite planeswalker," Dana said. Dana will then hit the road again in August for a Grand Prix tournament in Minneapolis.
If she makes it to day two, her prize from dad is that she can compete in a Magic Grand Prix in a different country, giving her goal an added weight.
Fischer, the former Magic pro, said he often gets asked if he misses playing the game himself. He said he'd love to play again in the future and if Dana keeps it up, there may be opportunities to play side-by-side in some game formats. For now, he says, he is enjoying watching her play more.
---
Get the Del Mar Times in your inbox
Top stories from Carmel Valley, Del Mar and Solana Beach every Friday for free.
You may occasionally receive promotional content from the Del Mar Times.