Former NFL player Todd Marinovich opens up about the pressures of perfection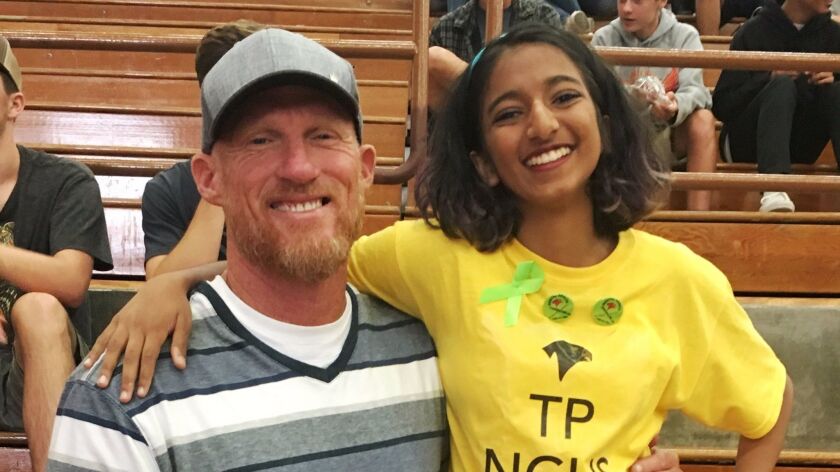 Todd Marinovich was born and bred to be a superstar quarterback but got crushed under the weight of pressure and expectation. He sought answers in drugs but only found more problems, spending the bulk of his lifetime lying to himself and others.
As he stood before Torrey Pines High School students for a Mental Health Awareness Month talk on May 26, he promised to be honest and brutally so. Vulnerability and being real, he said, are the keys to his successful recovery now.
"I might cry like a little girl in a pink dress up here," said Marinovich, 47. "But that's OK."
Torrey Pines' Mental Health Awareness Month and Green Ribbon Week events were in planning before the tragic May 6 shooting on campus, but the scheduled activities became a useful part of the school's follow-up to help normalize help-seeking behavior. Peer Assisted Listeners (PALS) students put up posters on campus with text help hotline resources, and handed out green ribbons and green buttons that said "Each Mind Matters" with the help hotline number printed on them.
"It's cool to see the green buttons and ribbons on so many backpacks because it means the work we did to get the message about the importance of taking care of your mental health is getting out on campus," said senior Jaden Watkins, a PALS member.
Don Collins, PALS advisor, said all of the ribbons and buttons and resource posters are to remind students that it's OK to ask for help.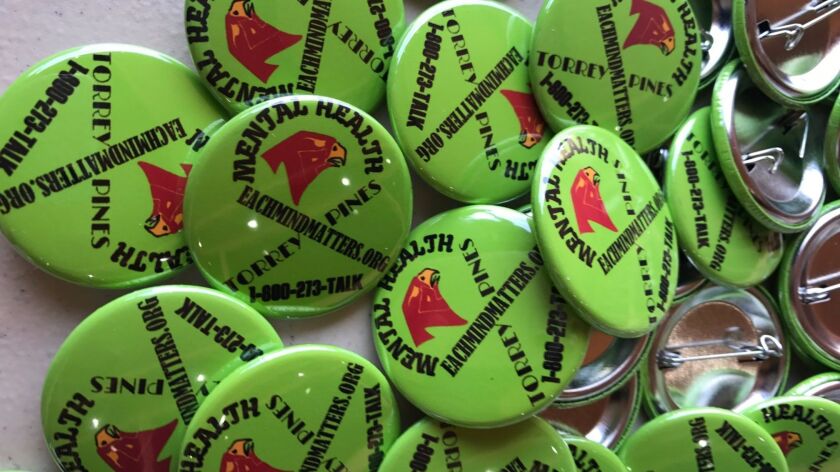 "There's no shame in needing help," Collins said. "It's part of being human."
Marinovich rose to national attention in 1988, appearing on the cover of California magazine with the headline "Robo QB: The Making of a Perfect Athlete." From star high school quarterback he went to on to start for the University of Southern California, where he won a Rose Bowl and was a Heisman Trophy finalist.
He was drafted in the first round by the Los Angeles Raiders in 1991, ahead of Hall of Famer Brett Favre, but due to failed drug tests was completely out of the league two seasons later after just eight games and eight touchdowns.
Years later, his downfall and road toward recovery was the subject of the ESPN 30 for 30 documentary "The Marinovich Project."
The Torrey Pines Foundation brought Marinovich in as a speaker for 1,500 Torrey Pines students and plan to bring him back as a guest speaker for a parent night in the fall.
"I came from a very religious family and that religion was football," Marinovich told the students that filled the gym.
He had wanted to be like his dad, Marv, a former NFL defensive lineman who was a giant in his eyes. But Marv could also be controlling and emotionally abusive, a "rage-a-holic" whom Marinovich said he lived in fear of his entire childhood.
Marv started meticulously grooming Marinovich to be an athlete at a young age. Marinovich had told his father that he wanted to do whatever it took to be a successful football player but he had no idea what he was in for. His father's training methods were extreme, he had no break or holidays, was allowed no junk food and couldn't do "kid" things like skateboard for fear of risking injury that would derail his football goals.
He loved art but his father always told him it was a waste of time and he was never allowed to pursue it.
Marinovich said he was an incredibly shy kid and wouldn't have had friends at all if it weren't for sports. All of his childhood he was seeking a connection and he didn't really find it until he was a 15-year-old freshman, the starting quarterback on the Mater Dei High School varsity football team, drinking alcohol for the first time.
"What I found in alcohol was amazing, I felt comfortable in my own skin for the first time in my life," Marinovich said. "I needed a substance to make me OK."
He quickly found that drugs like marijuana gave him that confidence and connection he desired. Progressively, his abuse of substances got worse. At USC, he was away from his dad for the first time.
"I was making decisions for myself for the first time in my life. Do you think any of them were good?"
He started taking hallucinogenic drugs and he had difficulties dealing with the stress and pressure of being the starting USC quarterback — one week 100,000 fans in the LA Coliseum were wearing buttons that said "In Todd We Trust" and the next week he would be booed out of the stadium after a loss.
Marinovich's college career came to an end with him giving his coach the finger on national television, proclaiming he was out of there and headed to the NFL.
More pressures came in the NFL. In drafting him, the LA Raiders proclaimed him "the savior." He was 21 years old, given $3 million and didn't even have to leave LA — all of his USC buddies coming over frequently to his party house.
"I had a secret and I had a lot of money to feed to this illness," Marinovich said.
He was being drug tested five times a week and was under the constant stress of using drugs and working out ways to cheat the tests, lying and falling apart inside.
The first time he tested positive, the Raiders made him go into a treatment program but he didn't learn his lesson — as a starter his second season, he was dropping acid because it couldn't be detected.
He failed a second drug test. After his third dirty test, he was done in the NFL.

"I was relieved when they let me go because I didn't have to live that double life anymore. And guess what? It got worse. It led to drugs and places that I wouldn't wish on anyone. There's a price to pay and consequences to every action," Marinovich said. "The next 15 to 20 years were so bad and I lost everything material and that's just the beginning."
He began using heroin, finding that it blocked out the pain he was afraid to feel his entire life. He attempted to continue playing football in the Canadian Football League, notoriously cutting his hand on a crack pipe trying to get high before a game. He stole from his grandmother, he was essentially homeless, surfing his friends' couches.
He spent "humiliating and de-humanizing" time behind bars. They were dark years and darker years.
"(Drugs) took away everything that I loved," Marinovich said.
In 2016, he was arrested for meth after riding his skateboard "butt naked" in Irvine, skinny dipping in the pool of a stranger's backyard and attempting to enter the home.
"That's not a party anymore," Marinovich said.
As he deals with recovery, Marinovich says he knows that he cannot conquer addiction alone. He told the students that it's essential to surround yourself with friends who actually care about you.
Collins asked what he would tell his teenage self if he was sitting in the gym that day. Marinovich said he isn't sure he would have listened.
"I thought the solution was drugs and alcohol but I was wrong, I thought I discovered something nobody had. I found out that there were consequences. All of my actions were wrong and I received consequences that weren't comfortable," he said, noting now he can smile when he receives consequences from doing the right actions such as being kind to people, being a good parent to his children and finally being honest. "Life beat me down to the right size and that's what will happen if you live through it. I'm just so grateful that I lived through it.
"The solution to life for me is in connecting and relationships…It's not about money, what job you have, what car you drive. I experienced having more than you need and it didn't bring me happiness. In my experience no things made me happy."
Marinovich said if there is any message he can pass on it's to follow your heart and do the things that make you the most happy. For him it has been art, finding happiness in painting and creating.
Collins said he hopes Green Ribbon Week and Marinovich's message helps kids think about the choices they are making and to be realistic about what's working and not working.
"We've all had failures and made decisions we're ashamed of or embarrassed about," Collins said. "I am so impressed with Todd for having the courage and desire to let his story be a wake-up call for our students and community. I hope his experience, strength and courage help our community have some important conversations about expectations and pressure."
---
Get the Del Mar Times in your inbox
Top stories from Carmel Valley, Del Mar and Solana Beach every Friday for free.
You may occasionally receive promotional content from the Del Mar Times.