Del Mar mayor, council have full plate in 2017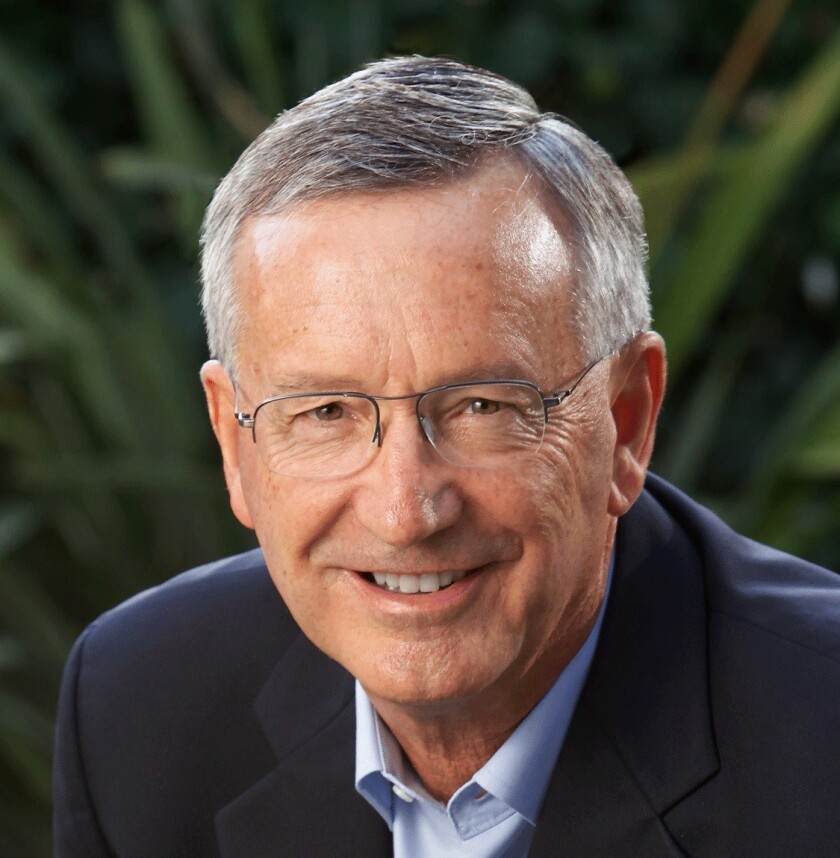 Del Mar's new mayor, Terry Sinnott, and his colleagues on the City Council face a busy, challenging year in 2017.
Among the items on their plate: overseeing the construction of a new, $17 million City Hall; implementing Measure Q, a one-cent sales tax increase approved by voters in November that will generate $2 million a year for infrastructure improvements; and deciding whether the city should start its own police department, ending its contract with the San Diego County Sheriff's Department.
The council will also grapple with the contentious issues of whether to continue to allow property owners to rent their homes to vacationers on a short-term basis, and how to meet a state mandate to provide 27 units of affordable housing in the small, seaside enclave, where property values are among the highest in San Diego County.
Sinnott, a retired business executive who has served on the council since 2010, was named to the mayor's post for a one-year term in December, the second time he will hold the largely ceremonial role.
Neither Sinnott, nor the council, which has two new members, will get much of a breather as the new year starts. Early on, the council will consider new regulations for short-term rentals, an issue that generated a lot of discussion during last fall's City Council election.
Although Del Mar property owners have been renting their homes to vacationers for decades, the practice really took off in recent years with the advent of online rental services such as Airbnb. That increase in rentals brought a corresponding rise in complaints from year-round residents about noise, traffic, parking impacts and litter.
Some in the community want to ban rentals of less than 30 days outright, while others favor tighter regulations to prevent abuses and protect residents. Sinnott said he favors the latter approach, but admits that the council will be walking a tightrope, with potential lawsuits no matter which way the council votes.
"It's got to be thought out very carefully," he said.
A package of proposed new regulations is expected to land on the council's desk by January or February, and for now, a moratorium on new short-term rentals is in place.
Also by spring, the first revenue from Measure Q should begin flowing into city coffers. Sinnott said he favors using the money for such projects as utility undergrounding and fixing streets and sidewalks. But he said that before any final decisions are made, the council will seek input from community members through workshops, public hearings and other means.
Similarly, community input will be sought for the design of Shores Park, a parcel purchased by the city from the local school district at Camino Del Mar and Stratford. The property is currently the home of the Winston School and recreational fields.
"We're figuring out how to design (the park) so it will be used by the community," Sinnott said.
Another big decision facing the council in 2017 is whether the city should form its own police department, rather than relying on the Sheriff's Department for police services.
The city has been studying the issue for four years, said Sinnott, and its finance committee has recommended moving forward with a police department, determining that the city could put more officers on the street for about the same annual price tag - $2 million - as its contract with the Sheriff's Department.
Sinnott said he is "100 percent convinced we should have our own police department."
The city manager is preparing a report that will soon come before the council on the specifics of starting a new police department, and the council's job will be to consider the information and facilitate discussions with residents.
"I think we have to decide in 2017," he said, because the information is available, and there isn't much more to be learned about the issue. The community now must make up its mind, he said. "We've kind of teed it up for the council to make a decision."
Throughout the coming year, the council will also be monitoring the City Hall construction project to make sure it remains on time and within budget, Sinnott said. Currently, work such as the installation of foundations and retaining walls is underway. The work is expected to continue in the coming year, with completion set for early 2018.
Once finished, he said, the new civic center will act as a pedestrian magnet for south Del Mar, where people can enjoy ocean views from a series of public patios, admire public art and stroll through farmers markets, he said.
---
Get the Del Mar Times in your inbox
Top stories from Carmel Valley, Del Mar and Solana Beach every Friday for free.
You may occasionally receive promotional content from the Del Mar Times.