Moms' group campaigns in Solana Beach on National Gun Violence Awareness Day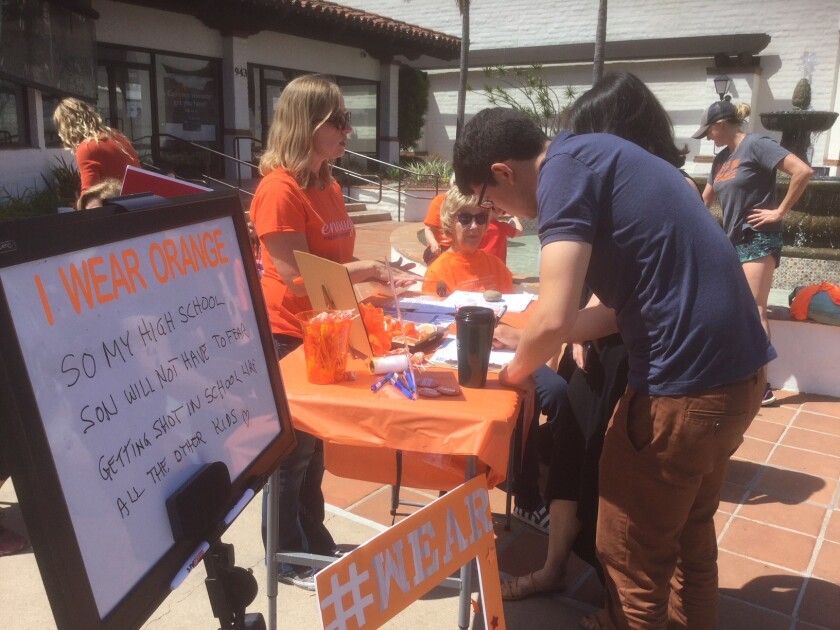 Newtown moved Jesse Bry to take action. Parkland led Kristen Panebianco to take a stand. Columbine was a catalyst for Kate D'Aurora.
The trio was among about a dozen members of the North County chapter of Moms Demand Action for Gun Sense in America who gathered Saturday morning, June 2, at Solana Beach's Lomas Santa Fe Plaza.
Group members, most of whom sported orange T-shirts, set up displays and tables offering orangeade, treats and information in recognition of Wear Orange: National Gun Violence Awareness Day.
Leader Jesse Bry said the event was one of a number the organization conducted around the region Saturday.
"Instead of having one event location, we wanted to position ourselves throughout communities today, not only to bring awareness to gun violence prevention day, but also to make people aware of how they can make their community safe," said Bry, a Carlsbad resident.
Members provided information on such efforts as the Be SMART and Speak for Safety programs.
Be SMART educates parents on how to keep their children safe from guns, including safe storage of firearms, and recognition of behaviors that could lead to gun use.
Speak for Safety promotes awareness of California's Gun Violence Restraining Order, a tool enabling households and law enforcement to keep firearms out of the hands of individuals at risk of harming themselves or others.
Use of the color orange as a symbol derives from the launch of a gun violence prevention movement in 2015. The campaign chose orange because it was the favorite color of Hadiya Pendleton, a 15-year-old gunned down in Chicago in 2013.
Bry emphasized that Moms Demand Action, a national organization also affiliated with the Everytown for Gun Safety organization, is not focused on the ongoing debate over gun control and the right of citizens to bear arms.
"We're not saying we're going to take your guns," she said. "We're saying, 'Lock up your guns, because I don't want my kids to die. I don't want your kids to die.' ... I think everyone can agree on that."
Bry, the mother of two children, said the December 2012 shootings of 20 children at a school in Newtown, Conn., spurred her involvement in gun violence prevention.
"I think anyone who drops their kids off at school nowadays has that fleeting thought, right? It could happen anywhere," she said.
Yet, she said, it's just as important to hone in on the spate of woundings and killings that occurs daily in the U.S. as a result of assailants wielding firearms.
According to information provided by Moms Demand Action, in this country, 96 people, including seven children, die every day from guns; 50 women are shot and killed each month by an intimate partner; and black men are 13 times more likely to be killed than white men as a result of gun use.
An acute example of the threat at the local level occurred in May 2017 at Torrey Pines High in Carmel Valley when police shot and killed a 15-year-old boy after he confronted officers with a firearm, later determined to be a BB gun. A suicide note was found in his pocket.
"It's not just the big catastrophic events — it's the every-day gun violence that is absolutely preventable," Bry said.
Panebianco, a Carmel Valley resident, helped organize Saturday's event, her first as a member of Moms Demand Action. She said the Feb. 14 shootings in Parkland, Fla., that left 17 dead and 17 wounded, directly stimulated her involvement.
"I'm a parent and as a parent, I'm just trying to find any way that I can to help keep our kids safe," she said. "Whether it's talking to the schools, talking to other parents, really talking about this as a public safety issue ... that's why I'm here."
Visitors to the Moms' venue were invited to sign a sheet indicating they support the cause. For further outreach, those interested can contact the group by texting ready-64433 (732-396-4433).
Solana Beach resident Cory Gordon and his friend, Christina Ramsay, of Washington, D.C., were among those who approached and expressed their support for the cause, especially because it is being led by mothers.
"I think it can bridge the typical partisanship we have seen on this issue," Ramsay said. "This isn't about Dems and Republicans. It's about protecting our families and our schools. It's a nonpartisan issue. ...
"This group is really refreshing. It's great to see communities band together on these issues."
Both Gordon and Ramsay work in health-related issues so they are well aware of the toll gun violence has taken and the gun-control arguments.
"I believe in the Second Amendment, but you can also believe in responsible gun use," Gordon said.
Rancho Santa Fe resident Kate D'Aurora, a retired teacher, said her children were still in school when the first major campus shooting of recent vintage occurred in 1999 at Columbine High School in Jefferson County, Colorado, southwest of Denver.
Perpetrated by two seniors, the rampage resulted in the deaths of 12 students and one teacher and injuries to two dozen people.
While that episode impressed upon D'Aurora the gravity of school gun violence, she felt impelled to participate in Moms Demand Action in the aftermath of the Newtown massacre.
"I think everything helps; It's cumulative," she said of her participation Saturday. "This is not a political issue. It's a public safety issue."
Among those assisting Saturday was one who is not a mother. Jackie Doucette said she recently moved to Cardiff from Idaho, which, like much of the Northwest, has a strong tradition of gun ownership.
"I think that a lot of my friends who are avid hunters can agree that we need to have stronger laws in terms of background checks," she said. "I think the reason I came here today stems from a desire to make a positive change."
---
Get the Del Mar Times in your inbox
Top stories from Carmel Valley, Del Mar and Solana Beach every Friday for free.
You may occasionally receive promotional content from the Del Mar Times.