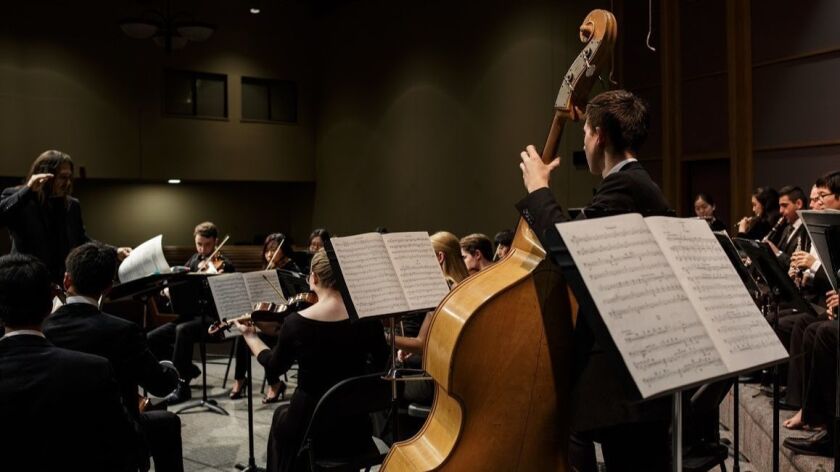 Sorrento Valley's NYO New Youth Orchestra will host its spring concert on Saturday, June 9 at 1 p.m. and 6 p.m. at the Bethel Baptist Church in Escondido. The 1 p.m. show will feature the intermediate orchestra, symphony and band ensembles while the evening show will feature the advanced San Diego Premier Symphony and San Diego Select Wind Ensemble.
The 6 p.m. concert will also feature solo concertos from the two Carmel Valley student winners of the NYO Distinguished Artist Awards: Gabriel Mayer, a graduating senior from San Diego Jewish Academy, and Jooseung (Thomas) Kim, a senior at Canyon Crest Academy.
Gabriel plays the viola and has been with NYO for five seasons, performing with numerous symphonies and chamber groups in a variety of repertoires. He will be attending the University of Denver on scholarship, playing in the Lamont Symphony Orchestra. He said thanks to NYO he has fallen in love with chamber music and plans to pursue that aspect of his musical career in the future.
"My experience at NYO was challenging, engaging, positive and fun. I looked forward to Saturday rehearsals every week and know that what I learned here I'll take with me the rest of my life," said Gabriel. "I had the instruction of spectacular musicians and mentors weekly. The opportunities within this organization are endless. It feels more professional than any other program I have done. The level of the players along with the faculty is exceptional, and the intensity and seriousness in rehearsals and performances is unlike anything else I have done."
Thomas, a clarinet player, said he benefited from the personalized training at NYO and had more opportunities to join various chamber groups, compete in competitions and play solos.
"I especially enjoyed learning under the coaches," said Thomas. "Because NYO is a smaller group, the learning is more personalized and intimate. The coaches are able to pinpoint a problem and quickly teach how to fix the problem. This was much different from other orchestras I have done and I improved a lot more because of this."
Thomas will attend University of Illinois at Urbana Champagne in the fall and his end goal is to become a professor—he would also like to go to graduate school or become a researcher for a renewable energy company.
The New Youth Orchestra Program has seven core mid-size orchestra and band ensembles. In addition they have eight special ensembles that combine the seven core groups to create larger ensembles.
NYO is run by members of the Ramirez family—the family has been serving the youth music community in San Diego for over 50 years, led by the late Margarito Ramirez.
Artistic Director John Ramirez, a violinist, serves as the main conductor of most of the core groups. Brother Mario Ramirez, a cellist, is the NYO chamber music program director and brother Miguel Ramirez, a violinist, conducts the Junior Elite Symphony.
The Ramirez family continues to work for the youth music community as they recently started the "Together Through Music" campaign, focused on Mariachi music. NYO's new Mariachi Youth Orchestra is working with Escuela de Musica to help find financial assistance for Hispanic youths who want to play the Mariachi music they love and share their culture with others. Escuela de Musica will provide violin, cello, trumpet, guitar and bass instrumental training in the Chula Vista and National City schools and the Mariachi Youth Orchestra will be accepting those same students for advanced ensemble training and performance opportunities. The students will be collaborating with other Mariachi Youth Orchestra members from La Jolla, Carmel Valley and Encinitas.
"We are excited," Ramirez said. "Being a Hispanic-led organization, we feel the need that this effort should be led from the top down. As we share our culture with the non-Hispanic community youth, we can also provide an example to the Hispanic youth, that Hispanic people can be successful leaders, not just followers."
The new Mariachi Youth Orchestra will host the first annual Mariachi Festival Fiesta on July 21 from 9 a.m. to 3 p.m. at the San Diego Youth Orchestra Music Center, 10855 Sorrento Valley Rd #2-C, San Diego, 92121.
---