Kilroy Realty celebrates breaking ground on long-awaited One Paseo mixed-use project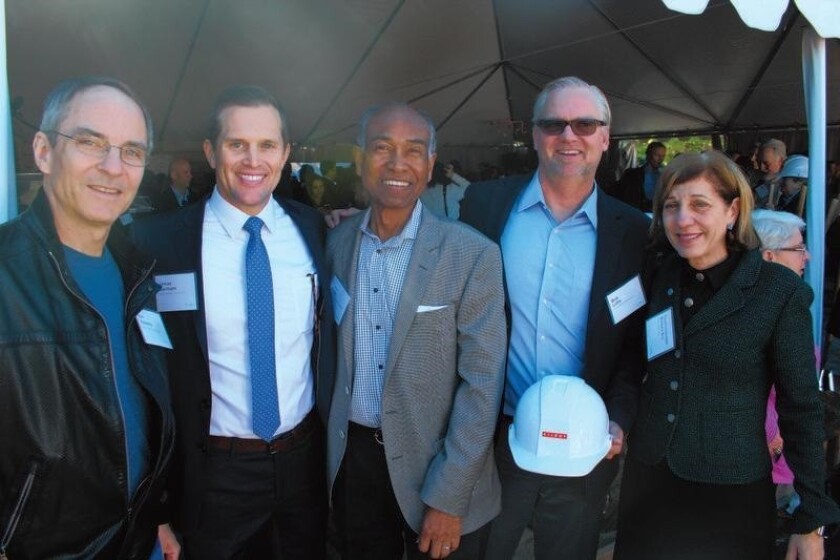 While the earth has already been moving at the One Paseo site since late December, Kilroy Realty held an official groundbreaking ceremony Jan. 25 for what was lauded as a "transformative" mixed-use project for San Diego. San Diego Mayor Kevin Faulconer was there to celebrate the culmination of very long process and the developer's willingness to engage with the community.
"This is going to be a remarkable project, let's get a shovel in the ground," Faulconer said before silver One Paseo shovels dug into some ceremonial dirt.
One Paseo was approved in June 2016 after nearly 10 long years in the making, numerous hearings, public opposition and a referendum effort that created a renewed developer focus on community outreach and scaled-down plans. In its completed vision, the project will include 95,000 square feet of "highly curated" retail, 280,000 square feet of office and 608 multi-family residential units.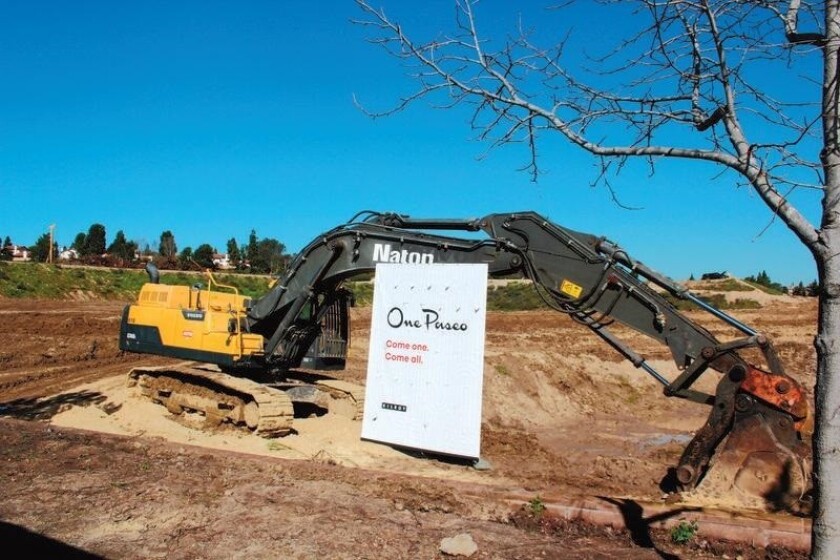 The first retail stores are scheduled to open as early as mid-2018.
"What a journey. It wasn't always smooth and sure as heck wasn't short but in the end it was productive. We listened to the community, we gathered ideas, we redefined the thinking for One Paseo," said Nelson Ackerly, senior vice president of Kilroy. "Thank you to the many, many residents of this great community that came out to what must have felt like endless meetings to contribute, to support One Paseo and also those residents who weren't initially supportive but channeled their concerns into constructive feedback and created what is what going to be one of the great projects in San Diego."
Jamas Gwilliam, a vice president of Kilroy, led the community outreach effort when Kilroy went back to the drawing table to redesign the project after the referendum effort in 2015. Janie Emerson, president of the East Bluff Community Association, one of three community groups that filed a lawsuit against Kilroy over the project, said the neighbors were pleased with the collaboration that occurred between Kilroy and the community — they even got to help pick out the types of trees and landscaping that would be planted.
"Without Jamas, this wouldn't be happening," Emerson said.
Ackerly said that One Paseo represents a "deeper notion of mixed-use," a place that welcomes the entire community because it's part of the community. He said that residents can expect community events such as local farmers' markets, family nights, outdoor movies, concerts, pop-up markets, art exhibits and more.
"San Diegans are a diverse group of personalities and backgrounds, united by desire and culture that puts quality of life for our families first," Ackerly said. "It's why we choose to live here. It's more evident in Carmel Valley than anywhere else, that's why this town came to be. From the moment you arrive at One Paseo, everything's going to feel easy, it's going to feel comfortable, it's going to feel laid back and it's going to feel family-friendly. I like to say more than anything, One Paseo is completely unique to San Diego but it's uniquely San Diegan."
At the groundbreaking event, guests were able to don virtual reality goggles to see for themselves what the project will look like as well as check out a model that showed how One Paseo will fit into this corner of Carmel Valley. Carmel Valley Community Planning Board Chair Frisco White said it was not only helpful to see how the project will lay out across the site but also to make note of how small in scale the retail element is — designed with architecture and materials that reflect the surrounding community, human scale storefronts in stand-alone buildings, large heritage trees that line walking paths that lead into a series of public plazas.
While Kilroy still has to stay mum about the retail tenants they are in conversations with, they think people will be happy with what they bring into the community.
"Some of the retail that will be going into the One Paseo retail center is truly game-changing I think for the county and I think a lot of cities would love to have some of the names we're talking to," said Rob Paratte, an executive vice president with Kilroy.
Part of the groundbreaking event experience under a tent on El Camino Real was meant to be "A Taste of One Paseo"— the rustic elegance of the décor reflected the feel of the project and passed bites represented the types of vendors people might be able to visit.
Among the offerings was Salt & Straw, an ice cream scoop shop out of Portland with locations in San Francisco and Los Angeles — they serve up indulgent gourmet flavors such as champagne and candied pear sorbet, salted, malted chocolate chip cookie dough, and roasted strawberry and toasted white chocolate.
In his comments, Faulconer said he was excited for a project that will provide much-needed housing, $600 million of total investment and 900 permanent jobs that will grow San Diego's tax base and the economy.
"As mayor that helps me pave the roads, do what we need to do with our parks and infrastructure and as we are continuing to grow our economy, particularly our innovation economy, this One Paseo project is going to provide top-of-the-line work spaces that we need to add to attract some of the best and brightest talent."
"This is a win for all San Diegans," Faulconer said.
---
Get the Del Mar Times in your inbox
Top stories from Carmel Valley, Del Mar and Solana Beach every Friday for free.
You may occasionally receive promotional content from the Del Mar Times.