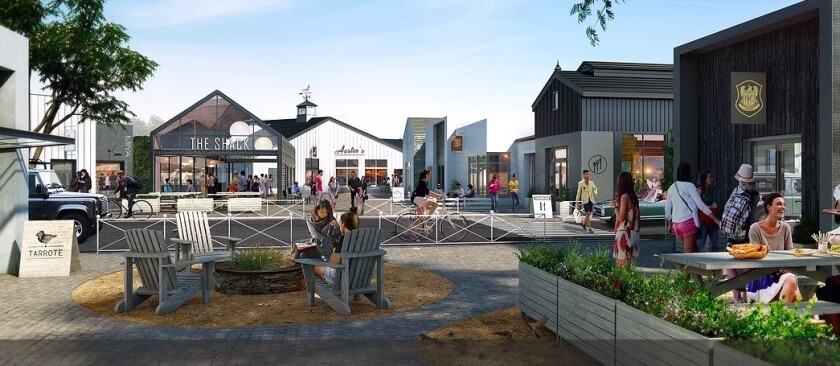 The One Paseo project has added its first retail stores to the mix, set to open in Carmel Valley in early 2019.
SoulCycle indoor cycling studio will join with shops West of Camden, Whiskey x Leather and Van De Vort, the upscale women's bohemian-inspired boutique that has a location in Flower Hill Promenade.
These four retailers join the culinary lineup that includes Shake Shack, International Smoke, Tocaya Organica, Sweetfin Poké, Ways & Means Oyster House, Parakeet Café, Tender Greens, Joe & The Juice, The Butchery and North Italia. Located on the corner of Del Mar Heights Road and El Camino Real, the mixed-use One Paseo will also bring 608 residential units, office space and public gathering spaces.
"One Paseo is such an exciting project taking place in the San Diego region, and an intrinsic next step for Van De Vort," said owner Andrea Van De Vort. "The impressive tenant lineup is comprised of ideal businesses that we look forward to sitting next to and collaborating with. We are excited to grow our brand even more as we serve both the local customer and new customers traveling from afar to visit the many big-name restaurants, micro-fitness and retail concepts signed on at One Paseo."
The SoulCycle location will be the second San Diego luxury fitness studio as the first opened in La Jolla's UTC this spring.
West of Camden, a Huntington Beach-based boutique, trends toward the concept of "Street Meets Beach" with its men's and women's clothing and accessories.
Whiskey x Leather comes to One Paseo from Santa Barbara, specializing in unique clothing, accessories, shoes, antiques and home goods.
"After three years of booming business, we were ready to spread our wings and expand to a second store," said Ariel Hujer, co-founder of Whiskey x Leather. "Eclectic beach town vibes were what we were looking for in our next adventure; San Diego was just the place! One Paseo was the perfect home for the next store."
For more information and updates about One Paseo, visit onepaseo.com.
---