Noise issues prompt changes for One Paseo night work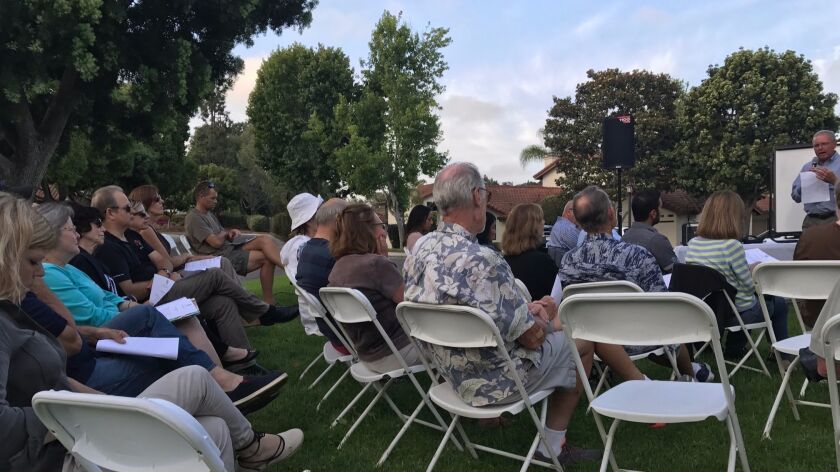 As off-site construction work on One Paseo ramped up during summer nights, residents of the East Bluff community of Carmel Valley across the street took the brunt of the impact. Residents complained of hearing the endless beeping of trucks backing up throughout July and jackhammers blasting at 2 a.m.
Kilroy Realty had been permitted by the city to do off-site construction work on One Paseo from 9 p.m. to 5 a.m., but following complaints from the neighbors, adjustments have been made. The new nighttime construction hours are between 6 p.m. and 1 a.m. and the majority of night work has been completed.
In response to complaints streaming into District 1 City Councilmember Barbara Bry's office after the July 4 weekend, Bry's community representative Steven Hadley organized an informational meeting at East Bluff on July 19 with city and Kilroy Realty staff to answer questions and listen to suggestions on residents' noise and traffic concerns.
"(The noise situation) has improved greatly," one resident said at the meeting in East Bluff's green overlooking the One Paseo site. "But nobody should've waited for complaints."
Residents also requested better communication with the community about lane closures and work hours.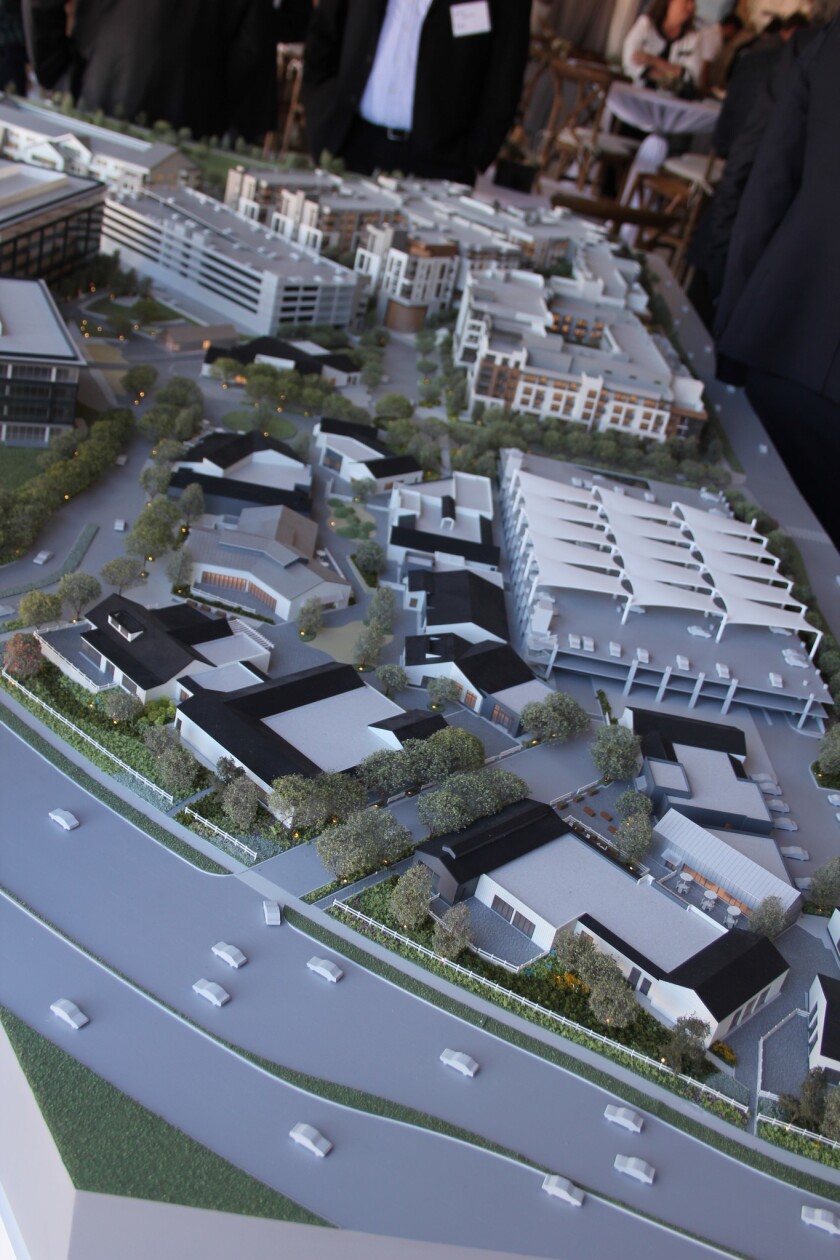 According to Kim Elliot, Kilroy's vice president of development and government affairs and member of the Carmel Valley Community Planning Board, Kilroy had originally proposed doing all off-site work during the day.
"We much prefer to work during the day, it's safer and it's faster," Elliott said.
However, once the off-site work began and there were lane closures involved on Del Mar Heights Road, the city made the decision to utilize nighttime working hours.
Tony Khalil, deputy city engineer with the development services department at the city, said with the One Paseo project they are attempting to balance several issues, one of which being affecting traffic on a road that carries 48,000 average daily trips.
"It's a very busy street," said Khalil, who knows the traffic patterns well as a 31-year resident of Carmel Valley.
The city, Caltrans and San Diego Police Department could not allow Kilroy to close down Del Mar Heights Road for construction during the weekdays due to the impact it would have on traffic, so they had Kilroy modify plans to work at night. However, that night work, permitted from 9 p.m. to 5 a.m., proved to be "very disruptive" to those that lived in the immediate area.
"We tried different hours to minimize the nuisance. We know it's a nuisance for sure," Khalil said of the revised work hours which have a downside of prolonging the work. "We're trying to balance all these issues without impacting everybody and minimizing the nuisance at the same time. So you understand the predicament we're in."
Elliott said that about 35 days of night work remain, split between Del Mar Heights and El Camino Real. The nighttime construction will be limited from 6 p.m. to 1 a.m. and no construction is allowed to begin before 7 a.m.
As for the beeping, PAL General Engineering Vice President AJ Jahshan said the back-up mechanisms on trucks are a safety requirement of OSHA (Occupational Safety and Health Administration). Without the beeps, the alternative is to have two flagmen put on the truck when it is in reverse. Jahshan said due to the concerns they have heard, they are aiming to do the noisier construction earlier in the evenings, before 10 p.m.
"We feel you guys," Jahshan said. "When we get a phone call from you, we pretend we live on those properties."
"I think you're making positive strides," said one resident. "To me, if you continue to be sensitive to how you're doing it, to the loud noise later in the evening and to contour the work so it is neighborhood-friendly and like you are living in my master bedroom, I think we're headed in a positive direction."
The remaining off-site work includes closing lanes of Del Mar Heights to continue to connect to utilities and building a new 12-inch water line along the street. They will also be doing median work on Del Mar Heights Road which involves making an opening in the existing median to install a new signal and left-turn pocket. The median will then be landscaped at the end.
With the median, a lane might be shut down for a week with the work done during the day from 7 a.m. to 3:30 p.m. just to get it done as soon as possible, Jahshan said.
"We're hoping to be done with all the off-site work by the end of the year," Elliott said, noting all of the rest of the on-site work will be completed during the day.
The furthest-along construction on the One Paseo site is the retail parking structure. The first tenants of the retail portion plan to be open by first quarter of 2019; residential move-ins could also occur in the first quarter of 2019.
"I think you'll be very happy with the type of tenants that we're getting. It's been really high demand so we've had the pick of who we want to see there," Elliott said, noting they have unique eating and retail places and the whole community experience is really coming together from a design standpoint, whether it's movie nights or harvest markets. "Construction is a temporary thing. Unfortunately, we all have to live through it, it's not a pleasant thing…we apologize for the inconvenience of construction and hopefully soon we'll be celebrating the opening down there."
Comments and concerns on One Paseo can be directed to Steven Hadley at SRHadley@sandiego.gov
---
Get the Del Mar Times in your inbox
Top stories from Carmel Valley, Del Mar and Solana Beach every Friday.
You may occasionally receive promotional content from the Del Mar Times.