Pappalecco brings a 'Tuscan home' to Carmel Valley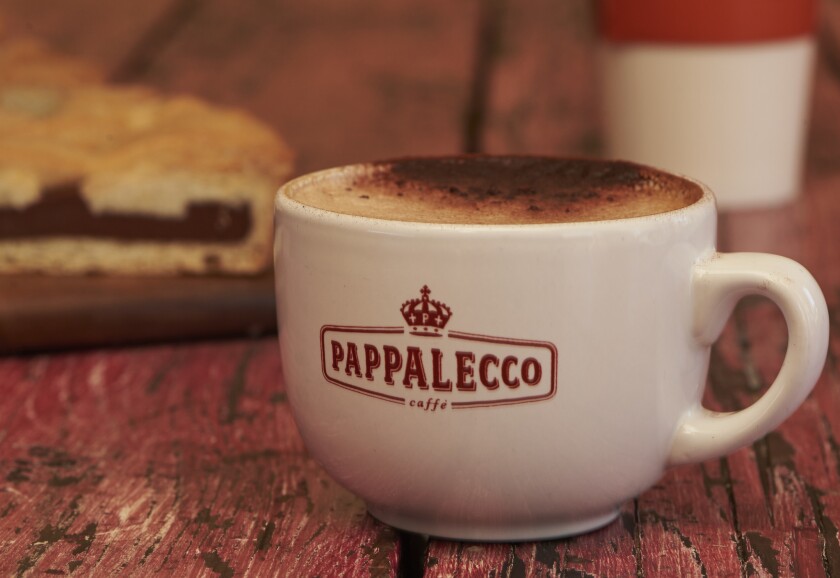 Pappalecco has opened in Del Mar Highlands Town Center, bringing a true taste of Tuscany to Carmel Valley. Now with his sixth San Diego location, Pappalecco's Chef Lorenzo Bucci credits his success to the simplicity and authenticity of the food – from gelato to panini and pastries – and the welcoming smiles of his staff.
Bucci, who co-owns the restaurant with his brother Francesco, owned two restaurants with his brothers in Tuscany and currently owns one in Pisa. In the U.S., Bucci cooks the exact same way he did in Italy, allowing him to say with conviction that "Pappalecco is freaking authentic."
How long have you been in America and what was your American dream?
I've been in America long enough to believe that dreams come true! I arrived about 10 years ago. My plan was to recreate here, in America, what I was doing in Tuscany. Pappalecco turned out just like I expected. Every time I enter one of our stores, I feel at home, I feel like I am in Tuscany.
How long have you been cooking and baking and how did you learn?
I learned by doing it; by doing it side by side with people that really know how to do it. In Tuscany, I spent hours and hours in several kitchens, in different restaurants and bakeries. The first time I set foot in a professional kitchen I was 6 years old. And I fell in love with that environment. The best Tuscan pastry chefs and bakers were my teachers. Ah... and don't forget my grandma: I cooked my first cake with her when I was 4. It was my birthday cake.
What made you pick Carmel Valley as your new location?
You mean "what made Carmel Valley pick Pappalecco?" The response is in the comments of many of our guests: "We really needed something like that, we don't have anything similar!" or "Thank God! Now I don't have to drive to Cardiff or to downtown to have the right espresso, a panino or a gelato." You know, this feels good. It feels like we are serving a neighborhood and bringing something that every neighborhood should have. Tuscany is such a vast cultural experience that, in my opinion, there should be a piece of Tuscany in every corner of the world.
How would you describe your menu?
Tuscan, simple, homemade, genuine and made with love. Did you know that I cook using only five main ingredients? Did you know that my grandma's cookbook is the inspiration of many of our creations?
Will the new location have anything different than the other locations?
Only the zip code. Our guests love Pappalecco the way it is, they feel at home, a Tuscan Home, when they come to visit. We offer what is authentic, they don't want us to change what is authentic. Our strength is in our authentic food, not in the size of our menu.
In truth, I haven't created our menu, our menu has been created by centuries of history and Tuscan tradition. Our wonderful cooks and baristas are trained to make the same cappuccino in every location, or, like we say, in every "home." Some of them actually work in different locations. Consistency is one of the main ingredients of our project. After all, you don't want to touch what 500 years of Tuscan tradition have already selected and improved a million times, do you? I'll tell you more: our baristas could move to Tuscany tomorrow and be hired by a Italian cafe without having to learn anything. They even know how to say "Ciao," "Buongiorno" or "Buon notte" and so on...
What is unique about Tuscan coffee?
It is like music on your lips. Not too hot, not too bitter, not too weak, not too... The beauty of Tuscany is also a very deep sense of balance. And, by the way, our coffee is organic. We have guests that drive 10 miles or more every morning for our coffee and for our croissants. And they've been doing that for years.
What is it like sharing this dream with your brother?
It's an amazing experience. It saves a lot of time. Because as soon as either one of us starts a conversation, the other already knows where the conversation is going. So we don't even need to finish it. I know my brother even too well. We read each other's mind to the point of being scary, at times.
Did you ever imagine you would have six locations?
Do you know anybody that opened 100 or 1,000 locations without opening six first? I am not joking: I think there should be a "Tuscan Home" in each and every neighborhood.
For more information, visit www.pappalecco.com; (858) 847-2910. Location:12925 El Camino Real, Suite AA5,
---
Get the Del Mar Times in your inbox
Top stories from Carmel Valley, Del Mar and Solana Beach every Friday for free.
You may occasionally receive promotional content from the Del Mar Times.