'Mystifique': a unique take on Poe works to haunt CCA campus
Canyon Crest Academy's Envision Theatre Arts performers will interpret the fantastic terrors of the works of Edgar Allan Poe through a "macabre masquerade" of acting, movement, music, rhythmic gymnastics, tap dancing and even puppets.
"Mystifique," a devised performance created in partnership with Blindspot Collective and Diversionary Theatre, will be staged on Oct. 27 - 28 at 7 p.m. and Nov 2-4 and Nov. 7-9 at 7 p.m. While the performers rehearse on a set on stage, the piece will be performed in a "mysterious location on the Canyon Crest campus."
Jeannine Marquie, the theatre coordinator at CCA, said that Poe was a perfect fit for both the time of year with his Halloween-y, gothic romantic aesthetic not to mention the call-out to CCA's mascot: The Raven.
Marquie keeps an eye on what is happening in the arts and all forms of theater opportunities for her students and she was excited about the idea of students doing devised theatre, a form of theatre in which the script and show is created through a collaboration of the performers and director.
"The last several years I've been building the program with traditional theater. This gives kids an opportunity to do something different than most high schools would ever do," Marquie said. "The idea to devise a piece was not something I'd ever done."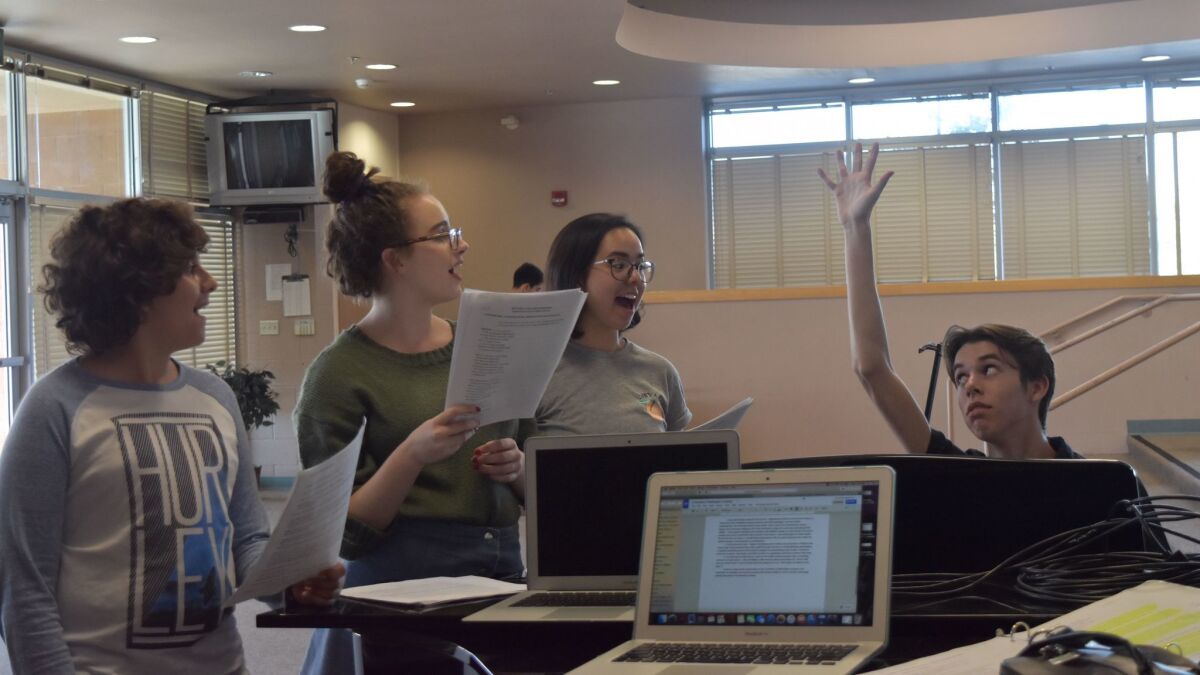 For "Mystifique," she brought in directors Blake McCarty and Skyler Sullivan.
Sullivan, the education associate for Diversionary Theatre in San Diego, is a veteran teaching artist. At CCA he has worked with students as a guest artist in clown and physical comedy and in voice training —"Mystifique" is his first time as a director of an after-school piece.
McCarty, a performance and multimedia artist and educator, is the executive artistic director of Blindspot Collective, a performing arts nonprofit that looks to develop new work and encourage new perspectives — Sullivan and Marquie are members of the Blindspot Board of Directors.
McCarty has been working with CCA since 2014 and has introduced students to many different theater styles such as ethnodrama or verbatim theatre work around social issues such as mental health and immigration. In 2015, he developed "Hall Pass" for CCA which represented a style of theater in which the show was staged at different areas of the school campus and audience members choose their own experience.
For the auditions for "Mystifique," students were challenged to come up with two minutes of content for the show and a cast of 22 was selected, each bringing something totally unique to the production.
"The cast has so many distinct, special and wonderful skills," McCarty said.
The first two weeks of rehearsals for the show were idea generation. The directors gave the students 15 different Poe stories and poems and asked them to let their creativity run wild. They were asked to stay true to Poe's texts but interpret it in their own way, such as by composing their own songs, both instrumental and voice, or choreographing movements and dance.
"It's the most unique of all of the shows that I've worked on," said senior cast member Ally Martin.
In rehearsals the cast worked in small groups and then came together to share their ideas –with constructive feedback some ideas were kept, some scraped and the directors recorded all ideas because the person who came up with the concept wasn't always the one selected to perform it.
"I felt like the directors really incorporated all of the things we like to do. I'm into stage combat, so they let me bring that into the 'Tell-Tale Heart,'" Ally said.
From all of those ideas, Sullivan and McCarty created the bones for the script, distilling, editing and sequencing the best 10.
"It's a really eclectic show, the performance modes and styles are all so diverse," said senior cast member Nicole From. "All disciplines are represented."
The show is structured around Poe's "The Masque of Red Death" — in the narrative there is a masquerade ball and guests travel through seven rooms. Within the piece, viewers will travel through different scenes or modes based on Poe tales and poems.
The poem "The Bells" is interpreted by a vocal symphony and "The Tell-Tale Heart" is told with shadow puppets. For "The Cask of Amontillado," the ensemble brings to life a carnival scene where a man gets buried alive.
At rehearsal on Oct. 11, a couple weeks out from opening night, McCarty was still devising the movements of the players on stage during the mode of the poem "Annabel Lee," figuring out how the performers would evoke the wind or waves of "a tomb by the side of the sea" as death comes for the doomed Annabel.
"Who wants to be death?" McCarty asked and eight willing hands plunged into the air.
The sequence and set of the show may still be shrouded in mystery, but the content is definitely for mature audiences, McCarty said, as much of Poe's work is grizzly and gruesome and the dark writer found "a sense of joy in the macabre."
And it is no mystery that the performance will be undeniably unique, Canyon Crest Academy-style.
"CCA is a pretty remarkable place," McCarty said, comparing it to both a university-level program and the best school sandbox that guest artists could possibly play in. "I think CCA is quite an exceptional program in terms of its talent and willingness to take risks, which in many ways is what theatre is all about."
For tickets or more information, visit cca-envision.org.
---
Get the Del Mar Times in your inbox
Top stories from Carmel Valley, Del Mar and Solana Beach every Friday for free.
You may occasionally receive promotional content from the Del Mar Times.