Panel answers questions on proposed Del Mar police department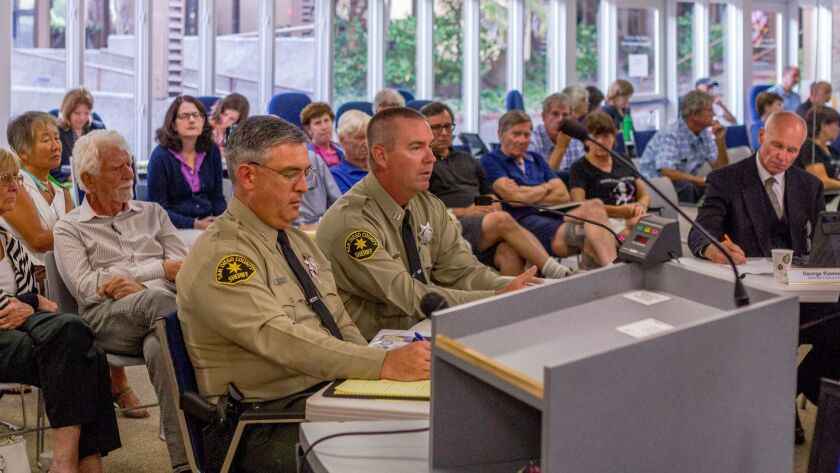 Four hours of meticulous inquiry answered a litany of questions burning at the core of Del Mar's heated debate over creating its own police force, but the city council will hold off on deciding its next step until August.
In the much-anticipated forum on Monday, July 10, the council hosted a four-person panel made up of two representatives from the San Diego County Sheriff's Department — Assistant Sheriff Mike Barnett and Capt. John Maryon, head of the North Coastal station, which oversees Encinitas, Del Mar, Solana Beach and unincorporated areas — George Rawson, a consultant with a 34-year law enforcement career, including chief of police in Carmel by the Sea, and Adam Chase, Del Mar's sole ranger.
Over the four-hour span, councilmembers peppered the panel with more than 100 questions, covering everything from deployment logistics to operational costs to legal liability to trends in Del Mar crime. After the exhaustive inquiry — and a spat over whether to attempt a community survey — the council decided to continue the discussion on Aug. 8.
Monday's forum did open a new possibility: for the first time, the sheriff's department reflected an openness to expanding its service in Del Mar. Their contract provides the lowest level of coverage that the sheriff's department offers.
"We can always talk about any number of things," Asst. Sheriff Mike Barnett told the council. "… There are some hard lines that we won't cross and there are some hard lines that you won't either. But I'm sure that well-meaning people of good faith" can come together for a discussion.
Taking that cue, the council decided to confer privately with the sheriff's office to explore new options before next month's meeting.
Emotions have run high throughout the four years that Del Mar has studied whether to create a police force to replace and expand on policing services the city contracts with through the San Diego County Sheriff's Department. A report from earlier this year says that a Del Mar police force would "greatly improve" response times while maintaining costs level (or slightly lower) and without exposing the city to overly risky liability. Start-up costs would fall somewhere between $2 million and $3 million, according to the report — costs the city would recover in as early as five years. Read the report and other analyses at www.delmar.ca.us/605/Law-Enforcement.
City Manager Scott Huth laid out two scenarios for a Del Mar police department, one with the equivalent of 15 full-time employees and one with 18. The 15-employee structure would cost $2.49 million and would include a chief, four sergeants, five patrol officers, as well as including the 6.5 positions the city already employs under its ranger and parking enforcement program. The 18-employee option would add three more full-time positions — a detective, a traffic officer and an evidence technician — and cost $2.87 million.
The evening's painstaking detail paid off for long-time resident Bud Emerson, who asked the council to continue its inquiry.
"I've been here 45 years and I've watched every damn city council meeting and this is by far away the best city council meeting I've ever seen. You guys were so rational, so calm," he said. "… Don't make up your mind just yet."
But Councilmember Dave Druker, who has consistently opposed the idea, reminded his colleagues that they have been busy paring down the city's upcoming budget.
"I believe the community has twice now weighed in and told us not to look at this," he said before making a motion to halt the inquiry and revisit the issue at some unnamed point in the future.
His motion was not seconded.
Councilmembers Sherryl Parks and Ellie Haviland weren't ready to put the issue to bed quite yet, encouraged to hear that the sheriff's department may be willing to consider expanding its service.
"We have a lot of information that we were given tonight and some things that I think are worth following up on — for example, another conversation with the sheriff," Haviland said. "I know that people say that they've done that and there's no flexibility there, but I heard some flexibility tonight. And given all the work that's gone into this, to have one more conversation about that seems prudent to me."
Druker persisted, imploring the council not to attempt a survey or hear more presentations.
"We need to make a decision once and for all on this," he said. "A community survey is very suspect, I believe. More debate on this, pro, con, we've had it all. It's time for us to very quickly and make a decision here."
Councilmember Dwight Worden, who suggested the survey, countered that he wants to know community input given that there is more than one good option for moving forward.
"Then I would suggest you go knock on some doors and talk to people," Druker responded. "... I've already done my own survey, three times now. And each time it's come back and said to me, 'Don't do your own police department.' … We've had reports and people have read those reports. They also understand intuitively, I believe, that having our own police department is a big sink hole."
Worden offered to pay for the survey himself.
"Why do you not want to take the pulse of the community, I don't understand that," he said.
"I have. I've taken it. That's why," Druker said.
"Well I've walked around too and I guess I'm feeling a different pulse," Worden said. "He's (Druker) at a decision point and I respect that; he doesn't need any more. But I'm not there yet."
Druker voiced concern that the survey would implicitly sway respondents toward supporting creating a police department. He felt that's what happened in the survey on the new city hall and civic center.
Exhausted by the debate, the council settled on continuing the discussion on Aug. 8.
In the meantime, Huth said city staff will post online their responses to the scores of questions received from residents. He cautioned that the large number of questions will take time to answer.
---
Get the Del Mar Times in your inbox
Top stories from Carmel Valley, Del Mar and Solana Beach every Friday.
You may occasionally receive promotional content from the Del Mar Times.