San Dieguito parents demand solution for 'unequal' portable classrooms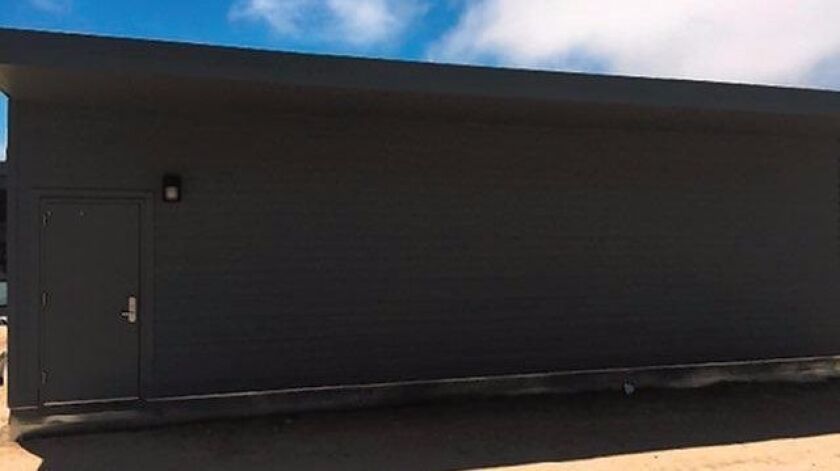 The San Dieguito Union High School District (SDUHSD) board continues to face questions on how it plans to address the issue of the ATP (adult transition program) portables on the Earl Warren Middle School campus. Parents feel that the conditions are "separate and unequal" with two portables on the brand new middle school campus that they contend place students with special needs into what amounts to "cramped tool sheds" with limited windows.
At the July 13 board meeting, the board split 2-2 on spending $33,000 to add two windows and two doors with windows to improve the condition of the existing portables with board members Mo Muir and John Salazar voting against the proposal.
In voting in favor of the proposal, SDUHSD Board President Amy Herman and board member Beth Hergesheimer acknowledged that there are capacity issues with the ATP portables but they were aiming for a short-term solution for the coming school year.
Herman said she has concerns about making the existing facilities safe and light.
"It will not get better if we don't have ventilation and windows," Herman said. "I'm committed to making sure that as we move forward we come up with better solutions."
"Regardless of who gets put in this room, I want it to be the best room it can be," Hergesheimer said. "If it's space we're going to be using, I want it to be the best it can be."
Tensions ran high among parents in the audience, who chanted "vote no" and shouted out their frustrations with the board, "doors and windows don't increase space!"
Muir said she thought an emergency meeting should have been called to make sure the issue was addressed and continued to advocate for a special board meeting the following week, a request echoed by Salazar and several community members via emails to the board.
"I'm afraid if we vote yes, nothing will be done for 20 years," Muir said. "I've seen portables last forever on school campuses."
The two 1,400-square-foot portables have a total of three small windows — only one window in the students' instructional space as the other two are in the conference room and teachers' offices. There are no windows in the bathrooms, no windows in the kitchenette and no windows in the sensory room.
The four-year program currently has three teachers, 20 students and 10 aides. Next year there could be as many as 47 students — along with the needed support staff there could be approximately 62 adults in the two portables with only two bathrooms.
Parent Lucile Lynch said after a recent tour of the new Earl Warren campus last week, many parents of ATP students left in tears after seeing the "expansive" middle school classrooms with high ceilings, multiple white boards and LED light "chandeliers" compared to the small portables with florescent lighting, one white board and little natural light. One parent said it smelled badly in the portables and another said it was unbearably hot inside.
"I feel the district is not hearing or sharing our message right. It's not about windows, it's not about portables, it's about equality plain and simple. Equality in design, equality in programming, equality in your investment," said parent Joanne Stress. "Someone made a choice not to provide equal housing…This is the most environmentally-sensitive population and yet they were given the least design consideration of anyone on campus."
Whether the board added windows or not, Lynch said there is still the issue of whether or not there's enough capacity for the students to even be in them.
"Our population was put in portables, we were not part of Prop AA master planning or funding," Lynch said of special education in general. "We don't have the space to teach all of these kids at the same time in this facility... and accommodate future needs."
Salazar said as a board they did not pick to put the ATP facilities on the middle school campus.
"These are not acceptable buildings at all. Whoever picked these really let you all down and did a very, very poor job. If we had to go portable, which I don't know why we had to, there are many high quality portable classrooms," Salazar said. "This is something you'd see at a construction site."
Salazar suggested options such as moving ATP into the auditorium or suggesting an Earl Warren class goes into the portables and ATP gets a brand new classroom on campus.
"If this board votes no then we will finally send a real message to the administrators here and say stop being administrators and bureaucrats and fix it now," Salazar said. "It is a horrible message to say we approve this.
"These are the people we work for, we don't work for the administrators. We're working for these children. And it just annoys me so much that we have to go along to get along. Let's make a stand right now that we support special education," Salazar said.
Herman said she understood the parents' frustrations and said the district has been working on many of the issues that have been brought before the board — the portables were part of the complaints in a petition submitted by special education parents to the board in June that alleged unequal treatment and facilities.
Sitting in for Superintendent Eric Dill, who had fallen ill before the meeting, Assistant Superintendent Michael Grove said they have the challenge of working on a very tight timeline to get the facility ready before school begins in August.
Grove said the district recognizes that there needs to be ongoing conversations, both about the short-term capacity needs for ATP and the best options for long-term solutions. Grove said they are listening to the feedback and determining what they can do in the immediate term given that the facility has to open in a month.
"I think all of us believe that our best option likely is to try and work with Mira Costa to try and get the program hosted there, but that is not going to happen in the next month," Grove said. "We need to engage our families, have discussions around what are the short-term needs and what can we do now and what are the long-term needs and how do we get there."
Meredith Wadley, the new director of school and student services, said she has found an available classroom in a satellite Mira Costa Community College facility that ATP might be able to utilize. She said she is committed to finding a solution and engaging parents — she was expected to set up a site visit at the Mira Costa facility in the coming week to see if it might be suitable for the program.
In her efforts to find a positive solution, Lynch contacted Mira Costa on her own and has a visitation scheduled on July 24.
The board is holding a special education workshop prior to next month's board meeting.
---
Get the Del Mar Times in your inbox
Top stories from Carmel Valley, Del Mar and Solana Beach every Friday.
You may occasionally receive promotional content from the Del Mar Times.