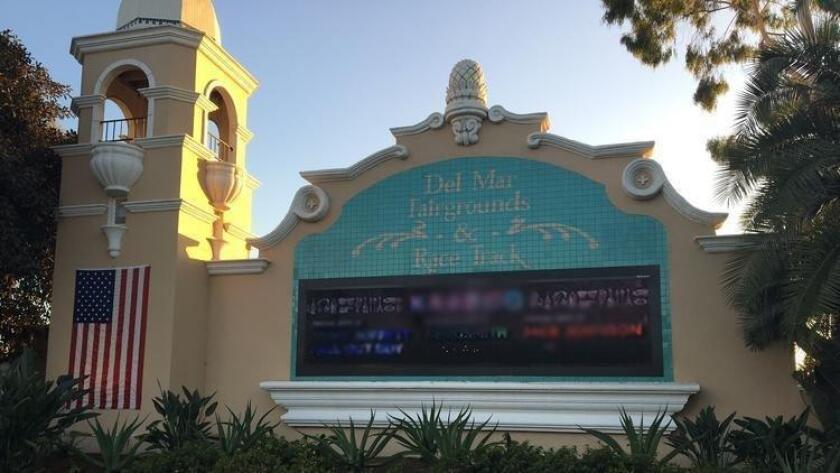 When a longtime promoter tried to throw what would have been San Diego's largest-ever cannabis festival at the Del Mar Fairgrounds last year, the Del Mar City Council could do little more than send tersely worded letters and get in line to testify to the state agency that owns and operates the fairgrounds.
Due to a little-noticed provision buried within the massive regulatory framework California instituted over its cannabis industry in January, Del Mar now holds final, ironclad authority to prevent cannabis festivals from coming to the fairgrounds.
The myriad regulations that went in effect in January gave marijuana festivals the ability to sell and consume cannabis onsite, but also strictly limited them to county fairs and district agricultural associations, the agencies that run California's 50-plus fairgrounds. Meanwhile, the state's Bureau of Cannabis Control created two new kinds of licenses: one for an event organizer (valid for a year) and the other issued for each event on a case-by-case basis.
Before an organizer can apply for the event license, the festival's local jurisdiction must give its blessing.
David Watson, one of two members of the 22nd DAA board tasked with laying the groundwork for the fairgrounds' cannabis policy, was as surprised as anyone the first time he read about the local veto.
"I thought, 'Well that can't be right, we're a state agency,'" Watson said in an interview this week. "So I read the regulations myself and realized, 'Well damn, that's true, we can't.' That's just how the state wrote the regulations."
After receiving state guidance in October on how to develop policies on cannabis events and onsite consumption, the DAA board was eyeing its March or April meeting to create its policy. But controversies over the Crossroads of the West Gun Show and plans for the $18 million renovation of Surfside Race Place put the cannabis policy on the back burner.
Despite the regulations having taken effect in January, it wasn't until a flurry of attempted festivals around marijuana's high holiday on April 20 that the issue came to a head.
On April 18, two days before High Times Magazine's Cannabis Cup at the NOS Event Center, the San Bernardino City Council voted unanimously to deny the festival's permit, sending shockwaves throughout the cannabis industry.
"This year on 4/20 there were a lot of events and a lot of people still trying to figure out what was legal and what was not, and where they can have events and where they cannot, and how the whole process worked," said Alex Traverso, spokesman for the Bureau of Cannabis Control. "... Like all other aspects of this newly licensed industry, there's been a learning curve and people are still trying to figure things out."
As of May 1, the Bureau had issued 48 event organizer licenses. Not one of those organizers had been able to win over their local jurisdiction.
"We have not issued a permit for a single event," Traverso said on May 1.
Hours later, the Sacramento City Council became the first jurisdiction to approve a cannabis festival. After a hearing riddled with confusion and questions on all sides, that city's council voted 6-2 to allow High Times to proceed with a Cannabis Cup at the Cal Expo Fairgrounds on May 5 and 6.
Drama on that level—or anything akin to the uproar last year—isn't likely in Del Mar, which has staunchly maintained its anti-cannabis position.
"I just don't see it being that controversial," Watson said. "It's not like we can allow a section for medical marijuana use. We just can't, unless the City of Del Mar changes its rules and regulations, or the state changes the rules and regulations. … The fact is, we really can't do much."
---