San Dieguito's Prop AA at work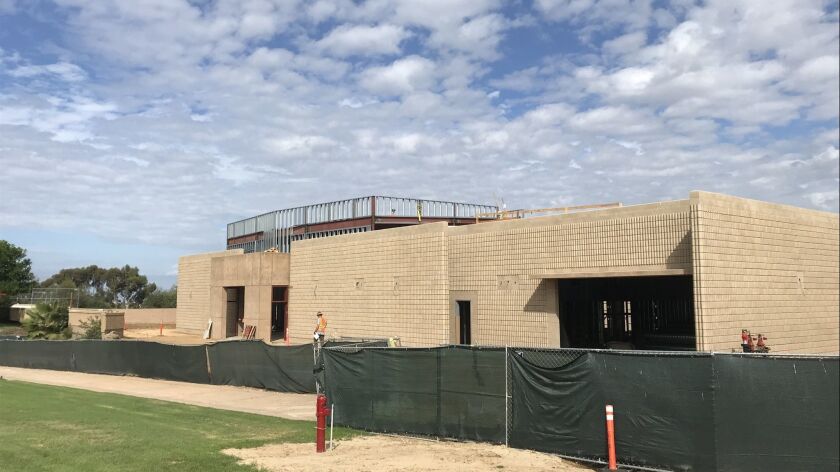 New classroom building at Pacific Trails, Torrey Pines performing arts center set to debut 2019
The San Dieguito Union High School District held a Prop AA facilities tour on Oct. 3, allowing board members and community members an opportunity to check out the progress of work going on throughout the district from new classroom buildings at Oak Crest Middle School to the performing arts center at Torrey Pines High School.
The $24 million performing arts center sits at the center of campus and will include a new theater as well as music and dance buildings.
The dance rooms' large windows will face the quad, rather than being hidden at the back of campus. The 350-seat proscenium theater will have its own entrance and parking and the music building will include seven practice rooms with its south wall opening up to activate the existing amphitheater. The theater, music and dance buildings will be linked by a performance quad tiered with grass.
The center will also include a new black box theater. According to Principal Rob Coppo, the existing black box theater will be converted to nutrition services and hopefully house a student-run café for culinary arts.
The tour also included a stop at Pacific Trails Middle School and a peek into the campus' new classroom building that opened this fall. The building has 21 new classrooms including the functional life skills classrooms for special education and a maker's space for STEM explorations
"This is the dream classroom," said teacher Samantha Thacker of the large classroom where students can collaborate on projects, tinker with robotics and learn about computer programming.
Principal MaryAnne Nuskin showed off a new shade structure at the center of the grassy campus quad and led the tour through the busy campus learning commons.
Nuskin said with student feedback, they have created more collaborative spaces like the learning commons on campus, such as on the second floor of the campus' other classroom building. Nuskin said that the students asked for "chairs like Google"—resulting in brightly colored chairs around a table-top and soft couch seating in the hallway nook. "This space gets utilized quite often," Nuskin said.
---
Get the Del Mar Times in your inbox
Top stories from Carmel Valley, Del Mar and Solana Beach every Friday.
You may occasionally receive promotional content from the Del Mar Times.