SD City Council fails to pass short-term rental regulation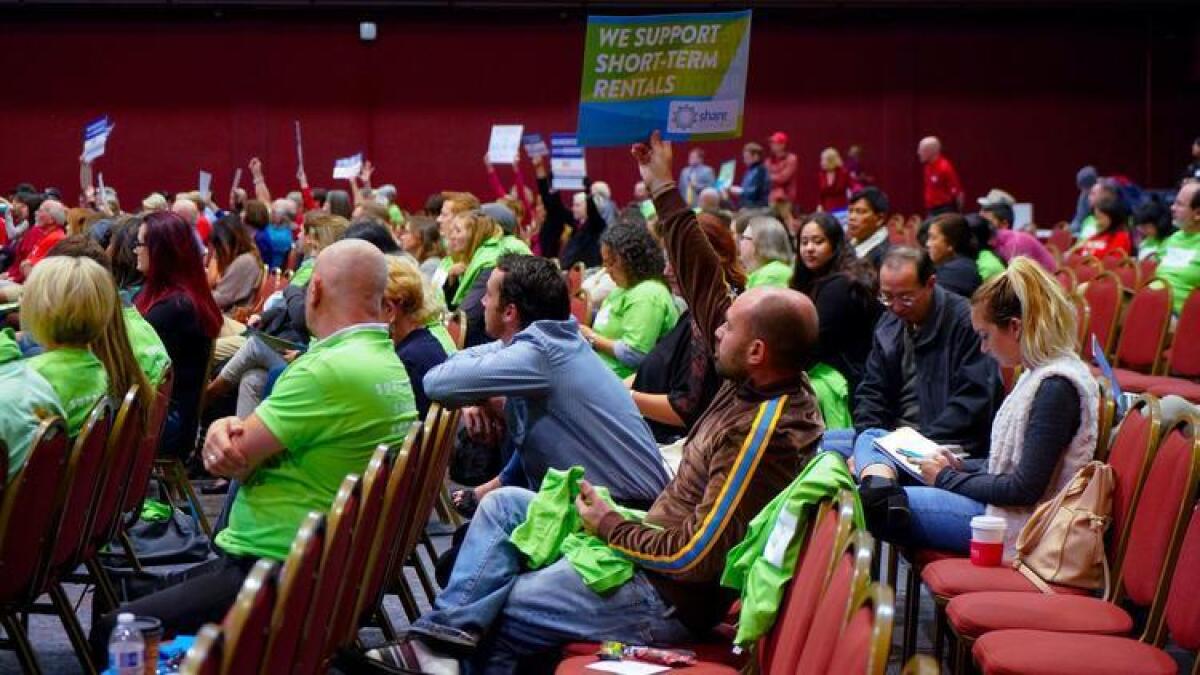 San Diego City Council did not to take any action on short-term vacation rental regulations at a hearing that stretched for most of the day on Dec. 13, from 10 a.m. to past 8 p.m. Council members heard over 200 public comments for and against the two proposed regulations on the table and saw three motions fail on an issue that they have spent three years trying to tackle — Council member Chris Cate had even counted the 1,098 days since he issued his first proposal to attempt to regulate short-term rentals.
"Today's inaction has proved that as a City Council we cannot govern," Cate said in statement. "Time and time again the council has heavily relied on special interest and ballot initiatives to pass major public policy. Much has been said about dysfunctional D.C.-style politics, however, it's happening in our own backyard."
Currently, San Diego's municipal code does not allow short-term rentals in residential neighborhoods — the change would add a new use for short-term residential occupancy, which is defined as an occupancy of an entire dwelling unit for less than 30 consecutive days. It would also add a home share use, which is defined as guest accommodation that provides a guest room for less than 30 consecutive days when the homeowner also resides on the premises, and establish a fee for full recovery of permitting and enforcement costs.
City Council was working with two options for regulating those short- term uses, one proposed by District 1 Council member Barbara Bry and another from Council members Chris Ward, Mark Kersey, Scott Sherman and David Alvarez.
"My ordinance is the only proposal that prohibits investors from converting homes in our residential neighborhoods into permanent mini-hotels," Bry said. "Today we can embrace the sharing economy and true home sharing. We have an opportunity and obligation to take proactive steps to preserve the housing stock and demonstrate our priority is housing San Diegans who live and work here."
Bry said San Diego is facing a 68,000-unit housing shortage and as many as 10,000 units may be lost to short-term rentals. Rents in the city have increased 7.9 percent this year and, according to the San Diego Housing Commission, 50 percent of San Diegans can't find an affordable rental and 60 percent cannot afford home ownership, she said.
"There is a nexus between short-term vacation rentals and the increased cost of the housing market," Bry said.
She said short-term rentals are only "exacerbating" a housing emergency that Council has declared every month since 2002 — "When the city housing solution includes tents, I care about each San Diego family."
Bry said her proposal already represented a compromise, but she was willing to concede her proposed 90-days-a-year cap and incorporated her fellow council members' provision for a minimum three-day stay in coastal zones. But Bry would not budge on the primary residence issue— her proposal stated that only a resident of San Diego County would be entitled for two short-term occupancy permits, for their primary residence plus one. She said she believed it to be the only way to prevent outside investors coming in and "snapping up" housing stock.
While Bry's proposal was supported by Council members Georgette Gomez, Laurie Zapf, Council President Myrtle Cole, the primary residence language was the sticking point and "deal killer" for Council members Kersey, Ward, Cate and Sherman.
Kersey said per the proposed ordinance if a person lived out of state and had a vacation home in San Diego, they would then not be allowed to rent it out as a short-term rental — he argued that the property would never be returned to the housing stock, it would just sit vacant.
"It's blatantly unconstitutional," Sherman said.
Ward said his alternative proposal provided for "proactive enforcement and reasonable restrictions."
"My proposal preserves residential character and alleviates the concerns caused by short-term rentals," Ward said.
Unlike Bry's proposal, the second proposal addresses occupancy standards, included a requirement that property is owned for one year before serving as a short-term occupancy rental unless it is a primary residence and provides discretionary review for homes with more than five bedrooms. The option also did not require a permit for home sharing for one to four rooms, which Bry and Alvarez could not agree to— in Bry's proposal, everyone is required to register and pay the "appropriate amount" of transient occupancy taxes.
While the proposal initially allowed for three short-term rental permits, Ward agreed to drop it to two.
"Even if we drop the three permits to two it will be open season for investors," Bry said. "They will come into residential neighborhoods and turn homes into mini hotels."
Kersey disagreed, "Right now there are no regulations and we're not seeing a free-for-all."
Bry said those that spoke during public comment experiencing issues in their neighborhoods right now would disagree.
Council member David Alvarez voted against both proposals, including the option he helped draft. He said the wouldn't support any option that did not address what the housing impact fee would be. He also wanted assurance that internet platforms would provide the city with the data to allow them to collect registration and permits.
City staff had committed to doing a fee study by April and the city attorney advised that the platform agreement could be reached in a separate ordinance.
For the hearing, San Diego's Golden Hall was filled with the red shirts of Save San Diego Neighborhoods and the green shirts of Share San Diego, a coalition of hosts, property owners and professional management companies "advocating for common-sense regulations for vacation rentals."
"Both sides agree on a lot," said resident Mary Mills, who has a short-term rental. "We love San Diego, we appreciate good neighbor policies, we appreciate homeowner rights and we recognize a need for a strong ordinance to protect neighborhoods."
Several "responsible operators" spoke about how they use short-term rentals to supplement their income or to keep a family home; many also spoke of how much they enjoy the experience of welcoming guests from all over the world to the city. Residents impacted by short-term rentals asked that the city enforce its existing laws, arguing that short- term rentals "destroy" their neighborhoods with excessive noise and parties, trash and also noted their negative impact on local school enrollment.
Residents in the beach communities said they have asked for help on this issue since 2007 as they have watched the trend move toward short-term rentals. One La Jolla resident said in his neighborhood of 52 homes, 11 have been converted to short-term rentals over the last 10 years.
Many people echoed Bry's concerns of short-term rentals negatively impacting the housing supply.
Jonah Mechanic, president of Share San Diego, argued that short-term rentals have "zero effect" on short-term housing stock or rates. Mechanic said approximately 54 percent of short-term rentals are second homes owned by out-of-town residents who use the property for vacations and family visits.
"Long-term leases are not an option for these owners because they would no longer have access to their homes," Mechanic said. "If short-term rentals are restricted, vacation homes would remain vacant for much of the year and unlike short-term rentals, vacant homes do not contribute to the economy or support local businesses."
Mechanic also argued that a "very low percentage" of short-term properties are owned by outside investors and he said it is unlikely that investors will enter the market at an increased rate because it doesn't make financial sense.
Early on in the meeting, Bry said, "Politics is the art of the possible and I am confident we can come to a reasonable conclusion…we cannot punt. The only way to get enforcement is if we take action."
However, even with some compromises and concessions and multiple breaks for staff wordsmithing, all motions failed to gain a majority vote and after 10 hours the meeting was simply adjourned without any action.
Get the Del Mar Times in your inbox
Top stories from Carmel Valley, Del Mar and Solana Beach every Friday for free.
You may occasionally receive promotional content from the Del Mar Times.