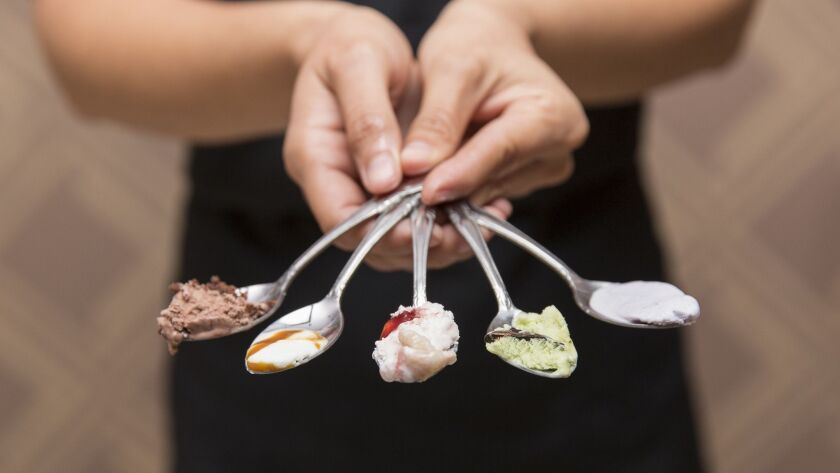 Salt & Straw will open its second scoop shop in San Diego at Carmel Valley's One Paseo development in 2019. The family-run ice cream company out of Portland is known for its taste-provoking flavors like sea salt with caramel ribbons; roasted strawberry and toasted white chocolate; and avocado and Oaxacan chocolate fudge—served up in cones, cups, milkshakes, sundaes and pints to-go.
The arrival of Salt & Straw has been rumored since they served up indulgent gourmet scoops at One Paseo's groundbreaking in January 2017. The new shop joins Salt & Straw's existing San Diego location in Little Italy.
Founded in 2011 by cousins Kim and Tyler Malek in Portland, Ore., Salt & Straw has become a West Coast favorite with shops in Los Angeles, San Francisco and Seattle. Each of head ice cream maker Tyler Malek's flavors is handmade in small batches using the best local, organic and sustainable ingredients, including artisanal products from local partners and cream from Scott Brothers Dairy, a family-owned Southern California farm.
In addition to the core line-up of signature flavors, special offerings rotate monthly, showcasing Tyler's passion for working with local produce and ingredients that tell a story about the area's distinct cultural landscape.
In San Diego they have created custom favorites favorites such as James Coffee and bourbon and peanut butter stout with chocolate chicharrón featuring Belching Beaver Brewery's Peanut Butter Milk Stout beer.
"At Salt & Straw, we find so much inspiration from our communities, so we're thrilled to be opening at One Paseo, a vibrant new destination and gathering place for Carmel Valley residents that offers a distinct mix of culinary experiences," said Kim Malek. "It really captures the spirit behind Salt & Straw to bring people together."
The company's community focus includes supporting local school and raising awareness for issues such as childhood hunger and equal rights. Salt & Straw hopes to expand on this ongoing commitment in its new Carmel Valley neighborhood.
---