Del Mar Union School District taps variety of experts to redesign school experience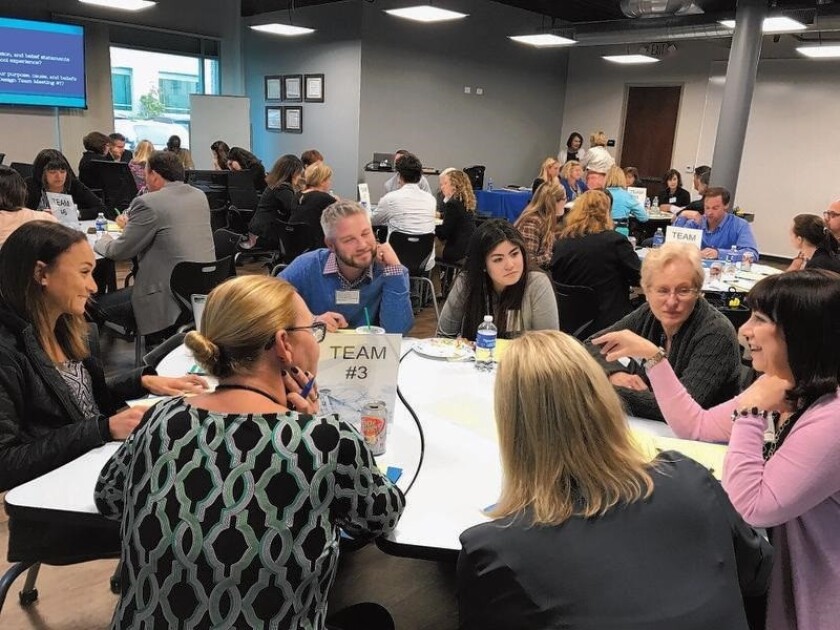 The Del Mar Union School District (DMUSD) has begun the process of "District Design Through 2022," looking at how they can make education look dramatically different and make the whole school experience more meaningful for students.
"It's no longer enough that students are just prepared to be employable, we need to inspire them to be creators and innovators," DMUSD Superintendent Holly McClurg said. "It's our job, it's our mission it's our moral imperative to inspire them to go out and be the change-makers so that they actually thrive, that they prosper, that they're thinkers, that they go out and look for what needs to happen in the world and be a part of the solution and the change."
The second of three workshops was held on April 24 and a third will be held on May 11.
As McClurg said, the purpose of the workshops is to challenge the assumptions about the school experience and tap into a variety of people's minds and ways of thinking. To do the work, the district has gathered a group of stakeholders that represent a variety of perspectives, including educators from elementary, high school and university levels, well as innovators in industry, CEOs of companies, entrepreneurs and parents.
Based on themes heard at the first workshop, the district is crafting a new mission statement. In small groups, stakeholders discussed mission statement goals like student grit and perseverance, in taking risks, in being active and engaged citizens, and developing students' compassion and stoking passions and curiosity.
To help guide their discussions, the group heard from guest speaker David Bruemmer, co-founder and autonomy pioneer of 5D Robotics, a company based in Carlsbad that creates state-of-the-art hyper positioning and autonomous navigation platforms for autonomous vehicles.
He shared his perspective on why schools need to be different for today's kids and talked about the importance of teaching students to argue for what they believe and the power of students directing their own learning.
The group also heard from Julie Evans, the CEO of Project Tomorrow and developer of the national Speak-up research project. Evans has conducted over 514,000 surveys of students, teachers, parents and community members to provide useful feedback about education to school districts.
Evans began with one of her favorite quotes: "If we teach today as we taught yesterday, we rob our children of tomorrow." The quote from philosopher and educational reformer John Dewey is from 1916 and 101 years later, educators are still trying to solve the same question of how to improve the school experience.
Part of Evans' Speak-Up surveys is a word association with adults and students about how they perceive school. Adults perceived school as a place for knowledge acquisition and preparation, a place for learning skills and a place for socialization.
Students, however, said that school was not their primary place for learning, that the instruction was passive and detached from their lives and the real world and that it seems stilted and forced upon them. Students also said that school has a diminished role as a place for socialization.
"Students will say every time I do this in some way: 'School is something you have to do to get someplace else,' and that always hurts my heart," Evans said. "Part of your work here is to be able to change that."
Evans said data has shown that students do like the idea of learning how to do things, how to make and build things and they most like learning when they are in control of how and when they learn.
"We have a population that is hungry, thirsting for having a meaningful learning experience," Evans said. "I actually think this is one of the most exciting times ever in education because we have wonderful, dedicated educators and we have a population that wants to learn and a sense of urgency to do it right."
---
Get the Del Mar Times in your inbox
Top stories from Carmel Valley, Del Mar and Solana Beach every Friday for free.
You may occasionally receive promotional content from the Del Mar Times.