New science standards stoke exploration, discovery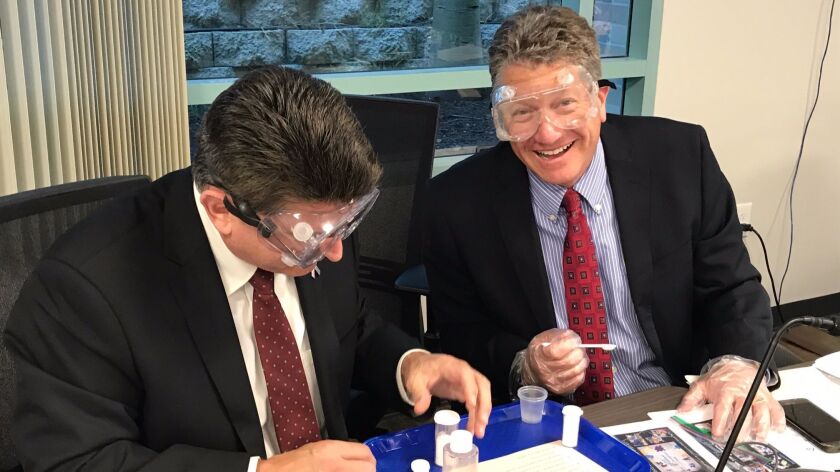 As the Del Mar Union School District board learned about the new Next Generation Science Standards on June 28, district science specialists challenged them with a science experiment. Board members and district staff, including Superintendent Holly McClurg, donned safety goggles and got to work in pairs.
Through the lesson, they learned what the Next Generation Science Standards promotes — instead of teachers telling students what to do, the students lead their own exploration, look closely and make discoveries and conclusions on their own.
As explained by district science specialists Stacie Waters and Nancy Swanberg, the Next Generation Science Standards (NGSS) were developed by the states to improve science instruction and were adopted in September 2013. Since the adoption, district science specialists have been working toward the full implementation in 2018.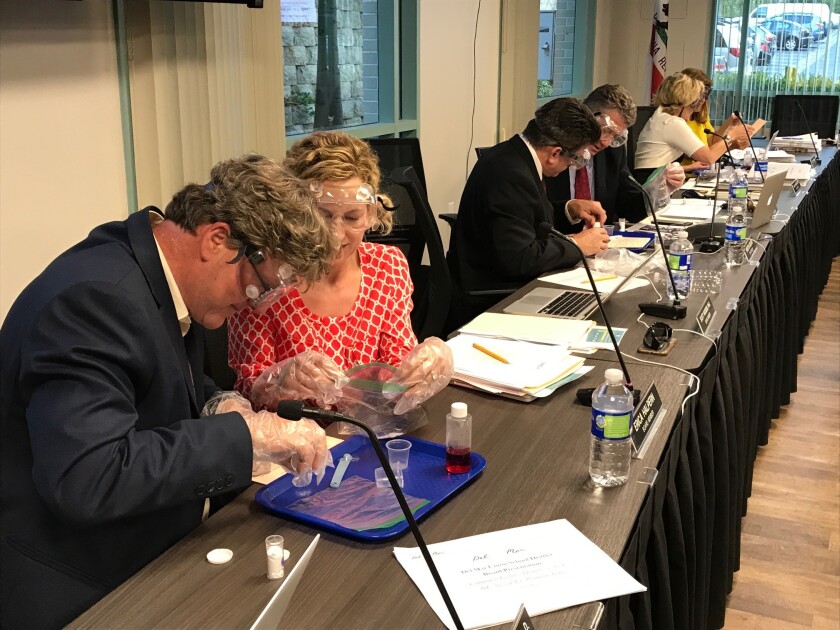 As Waters said, the new standards were developed to address "lagging achievements" of U.S. students.
"Children here in the U.S. aren't being prepared for the jobs of the future," said Waters, a specialist at Ocean Air. "We have to provide a deeper understanding of science and engineering practices and content."
Waters said the inefficiencies of the 1998 California Science Standards were that they did not connect with the real world and there was limited opportunities for student engagement and inquiry.
Swanberg said there are three dimensions of science learning in the NGSS that encourage students to investigate and ask questions, define problems, develop and use models, analyze data and communicate their findings and defend their explanations.
The NGSS stresses "crosscutting concepts," helping students explore connections across the four domains of science and to develop a "coherent and scientifically-based view of the world around them."
Swanberg said that under the old model of the 1998 standards, teachers led the investigations and students read textbooks to answer questions.
"Now we're asking for that deeper understanding, for students to 'do' and apply concepts," Swanberg said.
Students now lead the investigations and instead of reading just a textbook, they read multiple sources and synthesize what they have learned and read.
"Students have more ownership in what they do and are encouraged to make their own discoveries," Swanberg said. "This is our new vision for science through 2022 and beyond. The teachers are really excited about it."
---
Get the Del Mar Times in your inbox
Top stories from Carmel Valley, Del Mar and Solana Beach every Friday.
You may occasionally receive promotional content from the Del Mar Times.