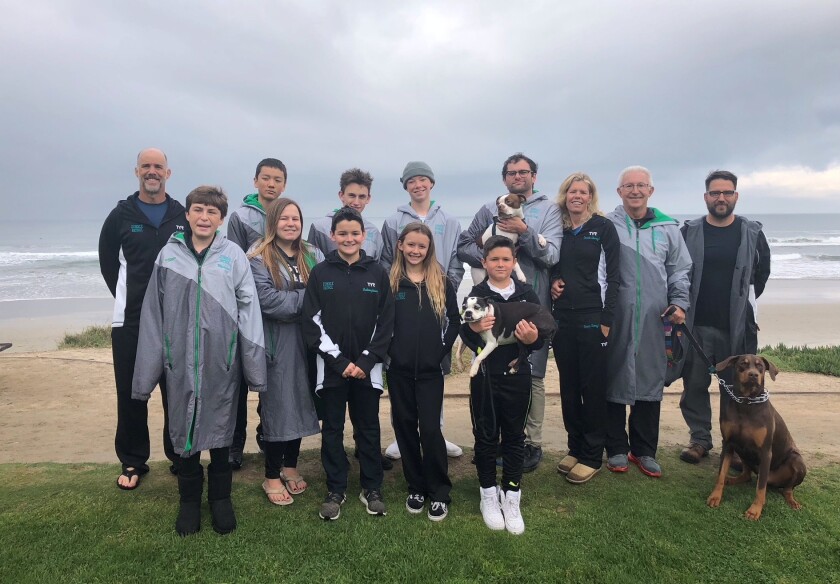 After conducting a brief tour of Sea Change Preparatory's recently opened school in a downtown Del Mar storefront, John Allcock announced, "And now we will proceed to our gym."
The "gym" happens to be the city's seaside green, Powerhouse Park, and its "pool" is the ocean beyond.
Reliance on those outdoor public spaces for the school's swimming program as well as Allcock's title as "director of mindfulness" go a long way toward explaining what Sea Change is about.
It is a "micro-school" providing an innovative college preparatory program tailored to the needs and goals of its students, many of whom may have struggled in traditional academic settings. A big part of the curriculum is swimming, which provides a physical fitness activity that dovetails with the emphasis on focusing the mind to overcome fears and achieve goals.
"The swimming program is really a program to get kids to believe in themselves," Allcock said. "Mindfulness is an effort to get each kid to focus on things that are really important in life."
Three mornings a week, members of Sea Change's Zombie Patrol swim team have assembled at the park, along with instructors and helpers, for mental conditioning and stretching exercises, followed by a 1-mile ocean swim. The team's name alludes to its members' typical level of brain activity when they arrive for their early morning activities.
The ongoing workouts have prepared the team's six middle-school to high-school-aged members for their ultimate mission — an unprecedented 32-nautical-mile relay swim along Italy's Mediterranean coast.In 1-mile legs, accompanied by kayaks with instructors and safety personnel, the students will swim between the islands of Ischia and Capri.
The team, led by Head of School Cheryl Allcock, and its supporters are scheduled to depart Sunday, May 27. While the Italian swim will be the first such international relay swim for Sea Change, it is a continuation of the tradition established by its predecessor, Arch Academy, which Allcock founded in the late 1990s.
Launched in 2010, the Zombie Patrol has gone on previous long-distance relay expeditions, including trips to Alcatraz, Catalina Island and the English Channel.
"You don't worry about anything else but swimming when you're doing it," said senior Faith Irvine, a Carlsbad resident who transitioned from Arch to Sea Change.
"I used to be terrified of the waves," she said. "As you keep persevering, then you realize it's nothing to be afraid of. If you bring yourself back to your breathing, it keeps you from hyperventilating and you realize that your fear is something that you can face up to."
Zombie alumna Maddy Israel, 20, who will accompany the team on the Italian trip, said what she learned through the program was invaluable.
"No. 1, it was really fun," she said. "It's an adventure and the swimming I had done as part of the school taught me a lot of life lessons.
"If I can swim across the ocean, I can pretty much conquer everything that confronts me in life."
Swim Director Dan Simonelli said that, as far as he knows, the ocean swim program combined with the long-distance relay trips is unique.
"It's kept on going and created its own momentum," he said.
The program has received accolades, including congratulatory letters from former President Barack Obama.
Like other Arch and Sea Change students, Irvine said, she was placed there as an alternative to continued public schooling. She was 13 when she was enrolled.
"My parents were looking for a new school because I wasn't doing well in my public school," she said. "(Arch administrators) said you can do anything you like in order to further your education and be challenged, and that appealed to my family."
She received several college admission offers, and decided to accept an invitation to attend Boise State this coming fall.
Historically, John Allcock said, Arch and now Sea Change have had a great record of placing students in venerable institutions such as Michigan, Purdue, Berkeley, UCLA and UCSD. He credits much of the success to the individualized instruction.
The transition from the Arch Academy to Sea Change Prep almost didn't happen this year. After the Arch school's lease in a building near Clairemont Mesa expired, the Allcocks had decided to temporarily discontinue the program.
"Cheryl and I were going to take a year off, and some of the parents said, 'No, you can't do that,'" John Allcock said. "Cheryl and I said, 'We can't let the kids we have down.'"
They scrambled to come up with a spot for the school and lucked upon the present locale at 1412 Camino Del Mar. Being walking distance from the park and beach, the location is ideal for the school's aquatic emphasis.
With help from a student's father who is an architect, the Allcocks were able to prepare the school's two floors for occupancy, and now they have a home at least for the near future.
While accommodating eight remaining students this year, the Allcocks anticipate building enrollment in the program, which John said is in the medium cost range for private schools.
"Now, we're getting close to 20 students for next year," he said. "We don't really want more than 25 to 30. We're kind of on pace to what our business plan was."
Information on Sea Change Prep can be obtained by going to seachangeprep.com.
Those interested in helping to fund the Zombie Patrol's long-distance relay swim and trip to Italy can visit the team's page at gofundme.com.
---