Teen diving for lobster attacked by shark in Encinitas on opening day of season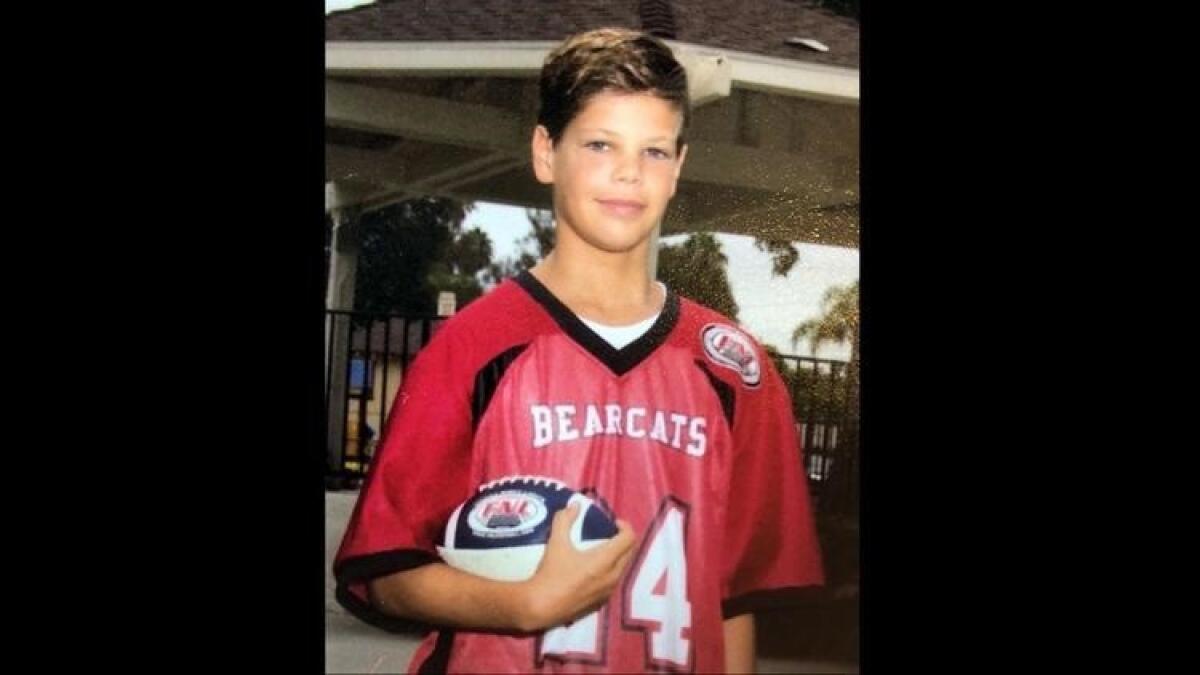 A 13-year-old boy diving for lobster was attacked by a shark Saturday morning, Sept. 29, near Beacon's Beach in Encinitas, leaving him with traumatic upper body wounds, authorities said.
The attack occurred just before 7 a.m. off Neptune Avenue at the foot of Leucadia Boulevard, an hour into opening day of the lobster diving season, and prompted authorities to close a long stretch of North County coastline for the weekend.
The San Diego County teen was in critical condition in the intensive care unit at Rady Children's Hospital, said hospital spokesman Carlos Delgado.
Dr. Tim Fairbanks, chief pediatric surgeon, said the boy was taken into surgery after being stabilized.
"This is a rare injury," Fairbanks said in a brief news conference Saturday afternoon outside the emergency room.
He later added: "This is not something we see much of, to be honest with you."
The physician spoke on behalf of the boy's family, sending a message of thanks for the outpouring of concern and support from the community. Otherwise, the family requested privacy.
The hospital released a photo of the victim on behalf of the family but did not release his name.
Lobster diving season opened at 6 a.m. Saturday, and about two dozen enthusiastic hunters were trolling for crustaceans when the boy's screams rang out over the water, about 200 yards from shore.
Chad Hammel was lobster diving with two friends — an off-duty Oceanside police officer and a state parks lifeguard — when they heard what seemed like a diver's excited squeals of a catch.
"I realized he was yelling, 'I got bit, help, help!'" Hammel told OnScene TV and other news crews on the beach.
The trio pulled the badly-bleeding boy into a kayak. The rescuers applied pressure on the wound, assured the boy he was being taken care of and called to the shore for help. Warnings for other divers to exit the water were also shouted.
"His whole clavicle was ripped open," Hammel said. "You could see the ball and socket joint."
As the rescuers headed to shore, Hammel looked back.
"The shark was behind the kayak," Hammel told the news crews. "He didn't want to give up yet."
The victim was conscious as he was airlifted to the hospital, said Encinitas lifeguard Capt. Larry Giles.
The boy's mother was on the beach at the time of the attack, which occurred as the boy was skindiving in about 9 feet of water, Giles said.
Giles himself was off-duty and scuba diving nearby when the attack occurred. When he surfaced, he heard the commotion involving the injured boy and rushed to assist.
Witnesses described the shark as about 11 feet long, Giles said, although the species was not known. Hammel told reporters that it might have been a great white.
Those who were near where the boy was attacked said they saw only a silhouette of the shark in the dark water as the sun was rising, Giles said.
Authorities are investigating with help from Chris Lowe, director of the Shark Lab at California State University, Long Beach. "Once we know more about the details of the incident, we may be able to determine the species involved and provide advice for future beach precautions" based on knowledge of shark behavior, Lowe said in a statement.
Lowe hopes bite marks in the boy's wetsuit will provide clues, Giles said.
A shark had been spotted in the area a few weeks earlier, Giles said. An investigation that included showing witnesses photos of various kinds of sharks determined that it was not a species that is considered a threat to people.
"Over 135 species live in this area," Giles noted. "This is their natural environment."
Juvenile great whites like Southern California's mild ocean temperatures during summer. The area's rebounding seal and sea lion populations and warmer temperatures might be keeping them around longer than usual before they head down Baja California for the winter, marine experts say.
Authorities have closed the coastline from Ponto Beach in Carlsbad to Swami's Beach in Encinitas for the next 48 hours. The Stone Steps Invitational Surf Contest scheduled for Saturday was cancelled.
"We're asking people not to go in the water," Giles said.
Lifeguard boats and personal water craft patrolled the shore Saturday and a sheriff's helicopter and Carlsbad police drone monitored overhead. The daylong survey turned up no additional reports of sharks — or whales or dolphins for that matter.
If no shark sightings are reported by Monday morning, the beaches will likely be reopened. (Update: Beacon's Beach and the surrounding areas — La Costa Avenue to Swami's Beach -- have been re-opened as of 7 a.m. on Monday, Oct. 1, according to a City of Encinitas news release.)
Despite the closure, a surfer could be seen paddling into a break in the area Saturday morning.
Twelve prior shark attacks have been reported in San Diego County since 2000, according to the nonprofit Shark Research Committee.
On April 29, 2017, Leeanne Ericson of Vista nearly died after her right leg was mauled by a shark at San Onofre State Beach. The Vista woman gouged the shark's eye out in a fight for her life.
The last fatal attack was on April 25, 2008, when retired veterinarian David Martin, 66, was killed by a great white shark while on a triathlon training swim off Fletcher Cove in Solana Beach.
Several onlookers on Saturday said they were surprised when they heard about the shark attack.
Roman Ruiz, 24, of Vista, said he grew up in Leucadia and often stops by Beacon's Beach after work to body surf and swim.
"You hear stories here and there (about shark attacks) but you never expect it to happen here," Ruiz said. "It could happen to anyone. But probably next week, I'll be back."
Michael and Jamie Snyder, of Indianapolis, said they've been staying in Leucadia for a week and a half while visiting their sons. One son surfs at Beacon's regularly, and the couple said they were swimming there last weekend.
"It was sobering," Michael Snyder said of the attack. "There but for the grace of God go I."
-- Staff writers Greg Moran and Pauline Repard contributed to this report.
--Kristina Davis, Gary Warth, Greg Moran and Pauline Repard are reporters for The San Diego Union-Tribune
Get the Del Mar Times in your inbox
Top stories from Carmel Valley, Del Mar and Solana Beach every Friday for free.
You may occasionally receive promotional content from the Del Mar Times.