Rentals issue in Del Mar sparks long-promised lawsuit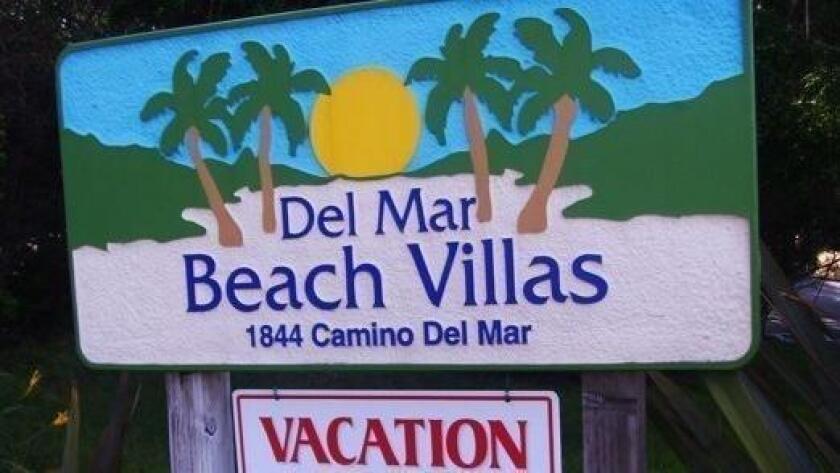 Del Mar's fractious debate over vacation rentals is back on the front burner, with a lawsuit filed in state court and the city council poised to plot its next steps toward a new long-term policy.
A coalition of Del Mar residents filed suit on June 1 in San Diego Superior Court, challenging the city council's ruling in April that Del Mar's 40-year-old planning documents do not allow short-term rentals (STRs).
The council confined their ruling to rentals of less than 30 days and applied it to every residential area in the city except for one side of a two-block stretch of Stratford Court that does not include any rental homes. The June lawsuit characterizes that action as an outright ban.
"We feel that our property rights are being infringed upon," said Eric Charnholm, one of three plaintiffs named in the lawsuit.
Charnholm has lived in Del Mar's beach colony since he was a toddler, when his parents were among the city's most prominent real estate agents.
"This community has always been based on vacation rentals; it's been a big part of what has built this community into the desirable place that it is," he said. "There's right and there's wrong, and this is just wrong."
Dozens of residents made similar arguments as city leaders wrangled with the issue over the past year amid an evenly split uproar, some residents imploring the council to protect Del Mar's neighborhood feel and others pleading to continue renting out their homes as they have for generations. The city council eventually rejected those historical arguments, pointing to language in the 1976 Community Plan that restricts homes to one person per room.
While the controversy raged, some of the more vocal STR supporters vowed to sue the city and created the Del Mar Alliance for the Preservation of Beach Access and Village. Their lawsuit argues that city leaders ran afoul of two crucial state mandates: the California Environmental Quality Act (CEQA) and the California Coastal Act.
CEQA requires municipal agencies to apply for state review whenever a proposal would have a significant environmental impact, including changes to land-use regulations. The Coastal Act requires beach jurisdictions to develop a Local Coastal Program (LCP) that guarantees access to coastal areas. In their April ruling, the council said they were subject to neither CEQA review nor an LCP amendment because they were not issuing a new ordinance, but rather, interpreting the 1976 Community Plan. Mayor Terry Sinnott, in casting the lone dissenting vote, suggested otherwise.
With jurisdictions throughout California wrestling with their own policies on vacation rentals, the Coastal Commission has consistently opposed outright bans and stipulates that new efforts to regulate rentals require an LCP amendment and/or a coastal development permit.
"We do not believe that regulation outside of that LCP/CDP context is legally enforceable in the coastal zone," Steve Kinsey, the commission's chairman, wrote in a December 2016 letter sent to all of California's coastal communities.
In at least two instances — Pismo Beach in 2011 and Imperial Beach in 2002 —the commission rejected attempts to ban short-term rentals. However, the commission has in several instances supported limits and regulations, including caps on how long a home can be rented out.
That is the direction in which Del Mar is now leaning. The City Council is set on Monday, June 19, to take up its STR deliberations for the first time in six weeks. At the meeting, councilmembers will get their first look at language on allowing rentals of no fewer than seven days at a time, and not to total more than 29 days within a calendar year. The session will also look at a wide range of rental-related issues, including the cost of enforcing new rules and the possibility of grandfathering in renters who can prove they had rental permits prior to 1976.
The council has said their goal is to enact its reforms before a moratorium imposed last year expires this coming February. In the meantime, the moratorium rules remain in effect—only homeowners who can prove that they were renting prior to April 2016 may continue to do so.
---
Get the Del Mar Times in your inbox
Top stories from Carmel Valley, Del Mar and Solana Beach every Friday for free.
You may occasionally receive promotional content from the Del Mar Times.