Del Mar charts its path forward on short-term rentals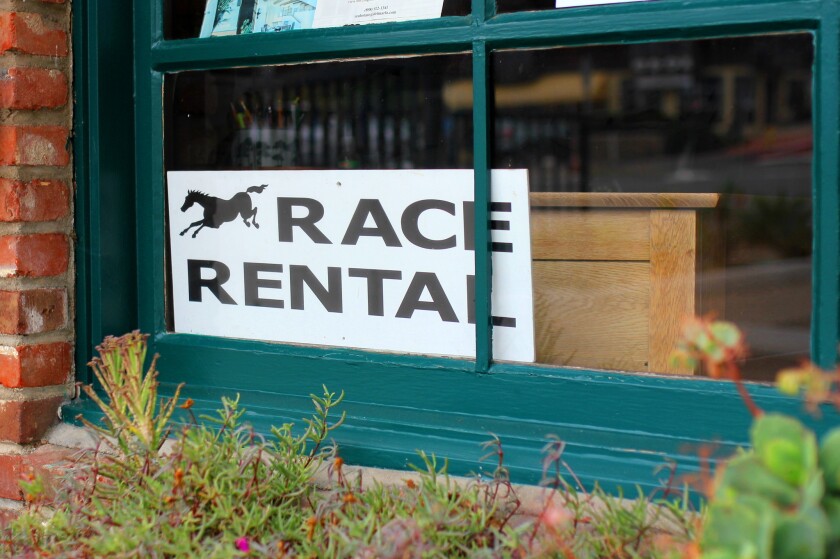 Del Mar has taken the first step in its piecemeal plan to lay out a new regime for regulating — and limiting — short-term rentals (STR's), with an eye toward having a firm policy by October and possible state review at the end of this year.
In the first of two STR sessions, the city council on Monday, June 18, instructed city staff to work up language on prohibiting homeowners from renting out their home in fewer than seven-day increments for a total not-to-exceed 28 days in a calendar year. Homeowners will need to register for a yet-to-be-crafted city permit and must provide off-street parking for their guests. Renters will be limited to two per bedroom. The city will also develop a "good neighbor policy" and urge — but not require — renters and homeowners to abide by it.
Seasonal rentals — defined as a single rental lasting more than 30 days — will not be subject to the regulations.
With such a framework in place, Deputy Mayor Dwight Worden described a scenario in which a homeowner could rent out their home for the two-month horseracing season and still use their 28-day STR allotment as they saw fit — effectively covering an entire summer.
"This provides flexibility and a real ability for our residents … to garner some significant revenue and to engage in this process," said Worden, who has led the council's effort to create the STR policy.
Monday's action builds on the council's hotly disputed ruling in April that interpreted Del Mar's 40-year-old planning documents to mean that short-term rentals are not allowed in any residential neighborhood except for a two-block stretch of Stratford Court.
Many residents have equated that to a ban on short-term rentals. That ruling, however, has not been implemented. Del Mar has since April 2016 been operating under a moratorium that allows short-term rentals as long as the homeowner can prove they were renting prior to its taking effect.
That moratorium is set to expire in February, giving city officials a tight timeline for instituting what promises to be a complex and wide-reaching regulatory framework.
"This is the beginning not the end of anything," Worden said.
The council will take the next steps on STRs at its July 17 meeting, including: the possibility of carving out exceptions for homes that fall into unique zoning circumstances; a permitting system that will require homeowners to register the dates their homes will be rented out; and, a mechanism to enforce their new regulations and monitor unpermitted rentals online.
Councilman Dave Druker was reluctant on Monday night to move forward without seeing more specificity on the kind and extent of the permitting process.
"For me to go on vacation and rent my home, I've got to go through a permit process? I don't think that's reasonable," he said. "I think that is very unreasonable at this point. … I'm a little bit worried that even a simple email or permit becomes very onerous."
Councilwoman Ellie Haviland countered that some kind of permitting will be necessary to enforce whatever rules the city eventually puts into place.
"If a neighbor is complaining about a potential abuse next door, the city needs to have a mechanism for looking it up and seeing [if] this a permitted rental or not," she said. "We're not talking about big fees. We're not talking about having to collect an onerous amount of information. We're talking about a 15-minute process of filling out a form in order to make some nice income on your home when you go away on vacation. That sounds reasonable to me."
Monday night's discussion brought out a dozen frustrated homeowners, several of whom had not appeared before the council before.
They asked the council to back away from the proposed regulations and instead impose a Transient Occupancy Tax, as Solana Beach did earlier this year. Ken Assi, who rents out his home while he's away on vacation, was one of several homeowners who implored the council to consider the well-being of Del Mar's dwindling commercial district. Guests at his four-bedroom home overlooking San Dieguito Lagoon have included an ambassador, NBA star Derrick Rose and, more recently, he said, a family that left behind shopping bags with receipts from local businesses totaling $200,000 over their three-day stay.
"I've seen the Plaza and this area in its heyday, and I've seen it continue to decline year after year when Carmel Valley's centers became stronger," he said. "All of that sucked some of the life out of Del Mar and this is going to suck the rest of the life out of Del Mar."
While several of Monday's speakers were willing to go along with the seven-day minimum, others were dead-set against it—including the Del Mar Alliance for the Preservation of Beach Access and Village, a group of residents who have begun proceedings against the city in San Diego Superior Court. They want Del Mar to impose the transient tax and not cap the amount of time that a home can be rented.
"There's no reason to regulate the number of days per year," their lawyer, Cory Briggs, told the council.
After an outburst from an irate resident who chided the council before storming out of the meeting, the council directed city staff to move forward with developing language for changes to the city code that might be necessary and to prepare for the possibility of state environmental and coastal agencies.
The motion passed 4-1, with Mayor Terry Sinnott continuing his opposition to the city's approach.
The council hopes to hold to the following timeline:
Sept. 12: A hearing before the city planning commission
Oct. 2: First reading of the new regulations
Oct. 17: Apply for a Local Coastal Program amendment through the California Coastal Commission
Dec. 13-15: Coastal Commission hearing
February/March 2018: Review and accept the commission's revisions
June 2018: Return to the commission for final certification
---
Get the Del Mar Times in your inbox
Top stories from Carmel Valley, Del Mar and Solana Beach every Friday for free.
You may occasionally receive promotional content from the Del Mar Times.