New Skyline School breaks ground in Solana Beach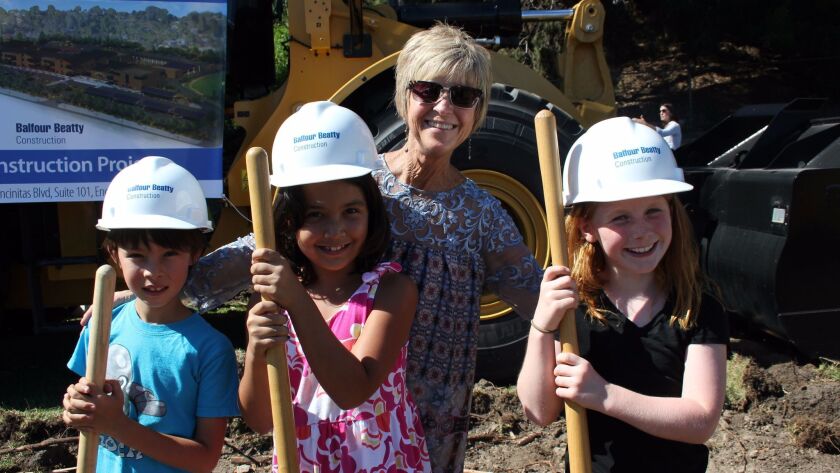 The Solana Beach School District (SBSD) celebrated the groundbreaking of the new Skyline Elementary School under sunny skies on Friday, June 9.
"This is an exciting day for the Solana Beach School District, for our Skyline students and parents and for the whole community of Solana Beach," said SBSD Superintendent Terry Decker before a group plunged ceremonial shovels into the dirt. "The work that begins today reflects a vision for the future and is a culmination of much hard work."
The 62-year-old campus will be completely demolished and rebuilt in one year, welcoming students back in fall 2018. During construction, Skyline students will be housed in Earl Warren Middle School's interim campus across the street.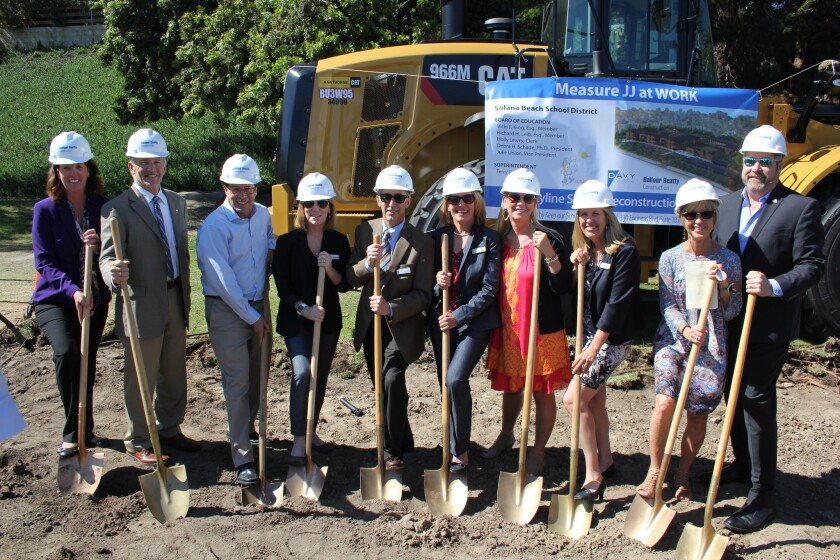 Decker said many thanks go out to the community members who understood the importance of public education and supported the passage of Measure JJ in November 2016 with almost 66 percent of the vote, "sending the district on a path to assure that every child in the Solana Beach School District has world-class facilities in which to learn."
Solana Beach will see the lion's share of Measure JJ's work as, following Skyline's reconstruction, Solana Vista Elementary School will be the next to be rebuilt from the ground up.
"With the help of our community, today we mark the beginning of a new chapter as we break ground on Skyline School 2.0," said Dr. Debra Schade, president of the SBSD board. "We say goodbye to a 62- year-old friend who welcomed students each fall and provided cherished memories for thousands. We say hello to the dream of a state-of-the-art school that will encompass new technology, flexible learning spaces and an environment of discovery and achievement for all students."
Davy Architecture has been working on the design of the school since late 2015 and Skyline Principal Lisa Denham said she has been looking forward to the groundbreaking day for a long time.
"For the past 61 years, Skyline School has been a place where memories and community spirit run deep; where close to 25,000 students have grown up and where many of those same students have found themselves back here in Solana Beach with their own children attending Skyline," Denham said.One of those former Skyline students is Caroline Brown, now the district's executive director of capital programs and technology. Her fourth and fifth grade teacher from Skyline was there for the special groundbreaking.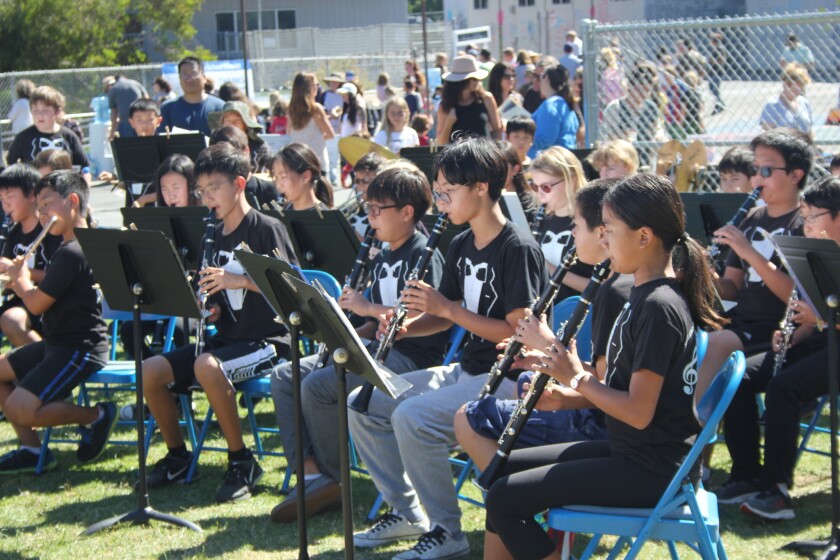 Brown shared the rich history of the Skyline campus, a 10-acre parcel the district purchased in 1954 for $55,000.
"Lomas Santa Fe, then Skyline Drive, was a two-lane road with no median. It took me and my sister seven minutes to ride our bikes to the country club for swim team," Brown said. "Skyline has had over 11,000 school days since 1955 and we have performed 620 scheduled fire drills. We rang the passing bells over 145,000 times. We're looking forward to the new Skyline and many more students, fire drills, passing bells and memories."
The new $39 million, 75,239-square-foot campus to be constructed by Balfour Beatty will feature a two-story administration and main classroom building with 27 classrooms, a media center, technology lab, multi-purpose building, STREAM building, and a four-classroom kindergarten building. Additionally, there will be an expansive new play space with an amphitheater, garden, lunch shelter and a decomposed granite track and turf field.
The new parking lot will feature a much longer drop-off area of about 500 feet, which will hopefully prevent the back-up of cars on Lomas Santa Fe Drive. Solar panels will be placed on the parking lot canopies as well as on the lunch shelter. Energy-efficient light fixtures and air conditioning and heating units will be used on the campus as well.
As the campus prepares for its demolition in the coming weeks, students have left their mark by painting the surfaces of buildings, portables and ball walls. Some painted inspirational quotes, some wrote farewells and odes to the school, praising everything from STEAM labs to the smell of the trees. On one building, a student scrawled in purple paint: "Skyline is my happy place."
"In a year's time we'll be moving back into a brand new, beautiful building but, more importantly, we will be bringing back with us our incredible spirit and camaraderie that lies within our current walls," Denham said. "It's not just the bricks and mortar that makes Skyline such a special place, it's the people that make it so special."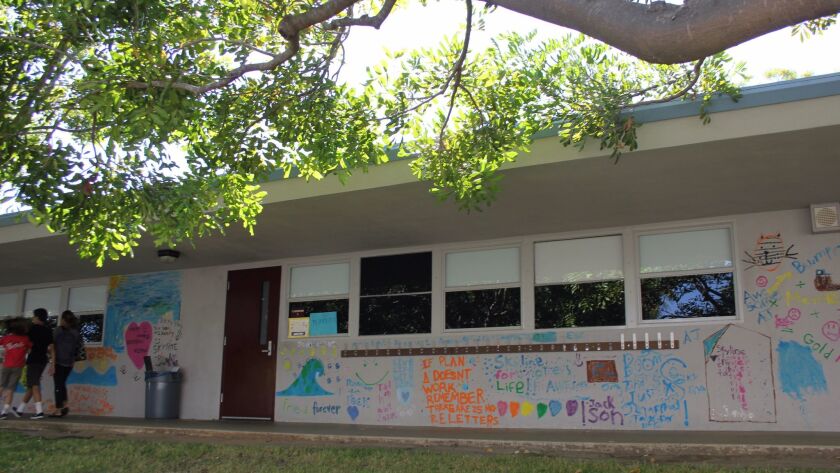 ---
Get the Del Mar Times in your inbox
Top stories from Carmel Valley, Del Mar and Solana Beach every Friday for free.
You may occasionally receive promotional content from the Del Mar Times.