Dr. Soccer: Del Mar physician competes on US Medical Soccer Team
Del Mar physician Puya Hosseini recently became the first US Medical Soccer Team player to score a hat trick, netting three goals in one game at the World Medical Football Championship in Leogang, Austria this summer.
The US Medical Soccer Team is comprised of soccer-loving doctors like Hosseini from all over the country. Once a year, they represent the U.S. in the World Medical Football Championship, alongside doctors competing for 20 other countries from around the world. Community outreach is also a large part of the US Medical Soccer Team as the physicians are committed to educating youth on the benefits of an active lifestyle and healthy nutrition through their program "Healthy Fit and Smart."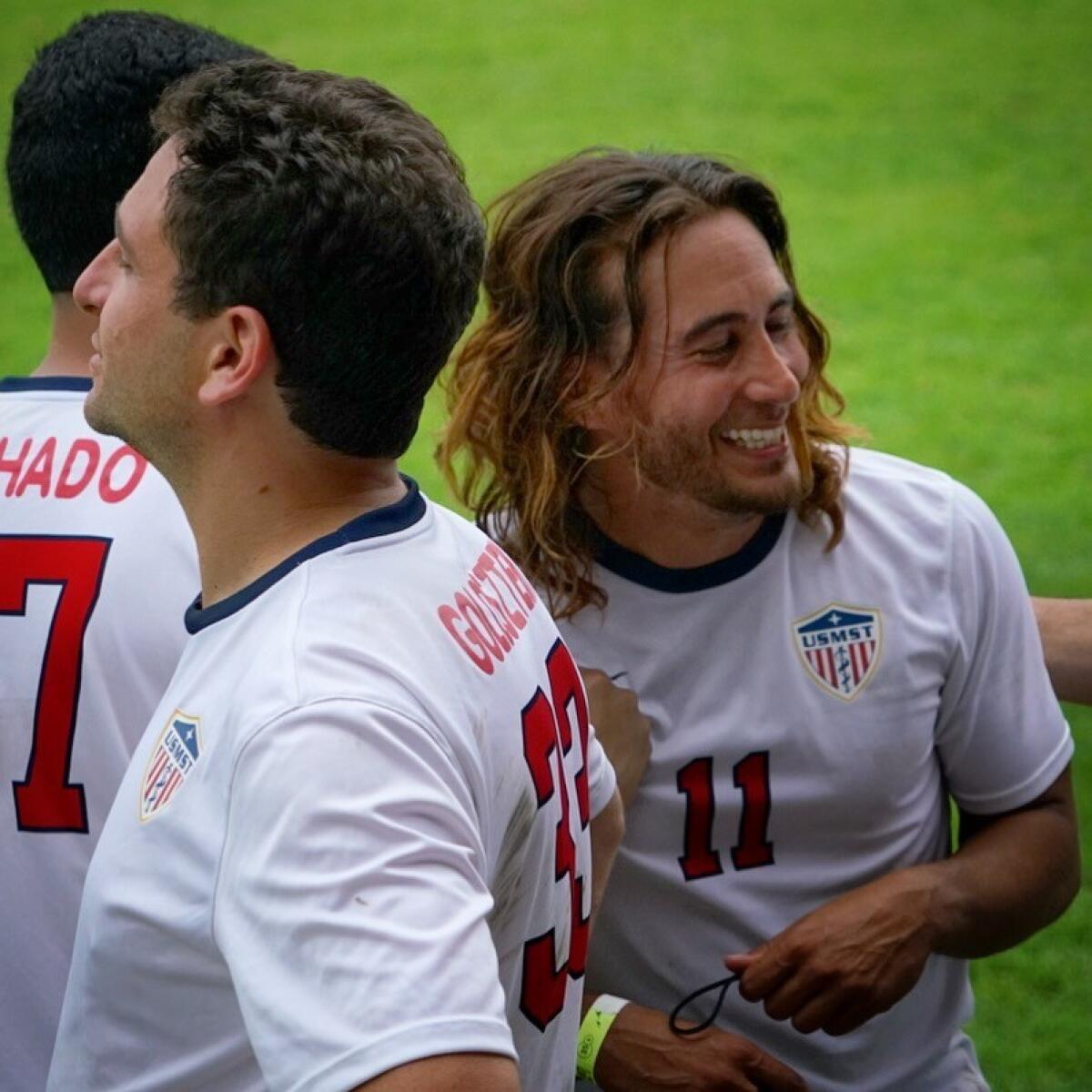 "Soccer is by far my favorite sport so I've made an effort to play on adult leagues ever since finishing school," said Hosseini, a 36-year-old anesthesiologist. "But to be a part of this organization is something totally different. I'm on a team with other health care professionals and we represent our country while trying to do good in communities. That's very special."
This year the U.S. team was unfortunately unable to advance from their group in the tournament but Hosseini made history with his hat trick in a match against South Korea.
"It was probably the best game I've ever had for the team," said Hosseini, who played in his first tournament with the team in 2013.
The forward and attacking midfielder scored his first goal just taking a chance on a ball going back to their goalie, seeing an opportunity and charging. His second goal was "set up on a silver platter" by an excellent pass from a teammate and the last was a diving header off a driven cross. He also had an assist in the game.
A native of Santa Rosa, Hosseini grew up playing soccer and played on the UC Riverside club soccer team before attending UCLA Medical School. Hosseini is currently in private practice with Anesthesia Service Medical Group (ASMG) and works mostly at Scripps Green Hospital.
The US Medical Soccer Team holds tryouts every year and a selection committee works with the coach to choose the players who will compete in the international tournament. While their soccer abilities factor into the decision, the committee also considers their contribution to the team's educational and philanthropic identity.
In 2016, the team held a Physician's Soccer Summit in conjunction with the tryouts. Each morning players and guest speakers gave lectures on their field of specialty, usually with a focus on sports or exercise-related issues, such as taking a look at the newest studies and data surrounding concussions and Chronic Traumatic Encephalopathy (CTE), something that is having a big impact on youth and adult sports alike.
"Players who are interested in joining our team can see immediately that we're more than just a sports team, we're physicians that are devoted to our pledge of lifelong learning and service," Hosseini said.
The team is made up of doctors from various fields, from all over the country. On defense there is a cardiologist from Columbus, Ohio; an orthopedic surgeon from South Carolina roams the midfield with a pediatric hospitalist from Baltimore; a pediatric pulmonology doctor from Baton Rouge plays forward; and at keeper is a family medicine physician from Thousand Oaks.
"One of the disadvantages of being such a large nation is that it's difficult to practice with each other," Hosseini said. "Some smaller countries are comprised of guys that live relatively close together and, as a result, get to play with each other all the time. This effect on developing team chemistry cannot be overstated. But for us, logistically it's very difficult to set aside the time and money to do more than a few practices per year."
The team typically meets three times a year, trying to select locations that are fair for everyone such as Salt Lake City, Casa Grande (Arizona), Atlanta, Chicago, Houston, Seattle, Columbus (Ohio).
Every time the team gets together to practice, they participate in their Healthy, Fit, and Smart outreach program. They typically work with a local Boys & Girls Club and have several stations the kids can rotate through, such as one on the importance of nutrition and healthy eating and one on exercise, with players leading the kids through drills and games.
Hosseini has found the most joy in the set of stations where they talk to kids about careers in medicine. Being an anesthesiologist, it has been fun for him to teach the kids about how he does things like ultrasound guided nerve blocks to help with pain during and after surgery, using borrowed medical equipment for the kids to try.
"It's deeply rewarding to see the look of excitement on their faces learning and practicing something new," Hosseini said. "Most adults don't have a great understanding of what an anesthesiologist does, and having a kid tell me afterwards he thinks being an anesthesiologist would be 'cool' is uniquely satisfying."
To stay in soccer shape on his own, Hosseini plays two to three times a week on an organized county league team and as part of a large pick-up group. About two months before the tournament he also does a combination of skill building drills with the ball and sprint training.
"It's brutal and it's five or six days a week. But without running sprint drills, you're never going to be in 'game shape,'" Hosseini said.
With his demanding schedule, the training isn't easy to pull off — often he is up at 5 a.m. to get some running in before his day starts if he thinks he won't be out of the hospital before the sun sets.
"My coworkers always laugh and know when the tournament is approaching because the soccer ball is always at my feet," Hosseini said. "I'm not exaggerating when I say every morning building up to the tournament, I dribble or juggle a soccer ball in from the parking lot to the physician's locker room and then back again at the end of the day. The more touches I get on the ball, the better."
At this year's tournament, the U.S. was in a group with Uzbekistan, Austria and Brazil. The U.S. was sent to the losers' bracket after the first three games and faced South Korea, Australia and Ireland, losing just to Australia.
The camaraderie and the friends gained through playing on the US Medical Soccer Team is "incredible" — Hosseini said his teammates feel like family and he has made friends with several doctors from other countries' teams. He stayed with one of the Austrian doctors in Salzburg before the tournament and in September he will be doing a medical mission in Colombia and make time to see a new doctor friend in Medellin.
For Hosseini, it is an unbelievable honor to be able to represent his country.
"Every time I line up before a game at these tournaments wearing the red, white, and blue, watching our flag fly while they play the National Anthem, I still get goosebumps," Hosseini said.
Get the Del Mar Times in your inbox
Top stories from Carmel Valley, Del Mar and Solana Beach every Friday for free.
You may occasionally receive promotional content from the Del Mar Times.