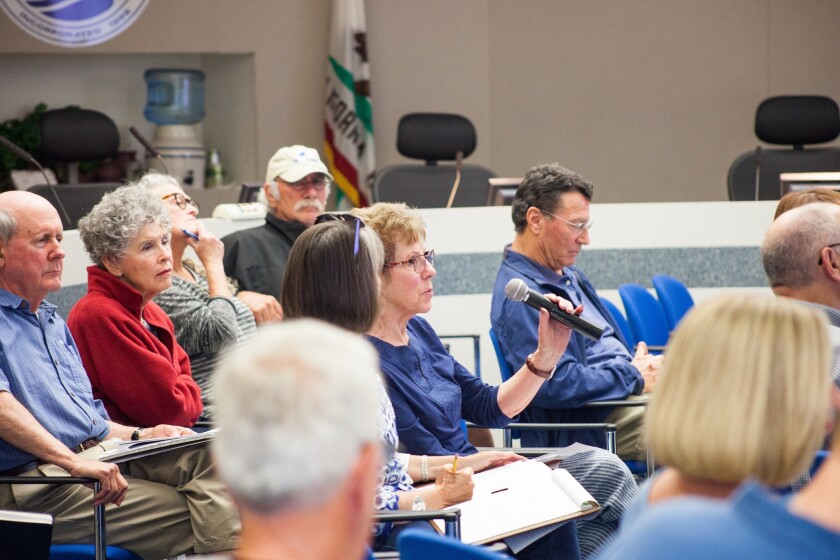 Solana Beach's switch from at-large to by-district elections kicked off this week with a pair of public hearings that showed a strong preference for dividing the city into four voting districts with an at-large mayor rather than five districts.
Threat of litigation under the California Voting Rights Act has compelled the city's effort to implement a districting plan for the 2020 election to replace the at-large system in which each of Solana Beach's 8,500 registered voters cast a ballot for all five council seats. State law requires five mandatory public hearings to gather input on drawing the districts. Seventeen residents and all five councilmembers attended the first of those hearings, on May 14, voicing strong preference for drawing four districts with an at-large mayor. That would give every resident two representatives on the council: their district's seat and the mayor, who would be the only elected official responsible for looking at the city as a whole.
In February, Solana Beach fell under the crosshairs of Malibu-based attorney Kevin Shenkman, who is challenging at-large elections in cities and school districts across Southern California on the grounds that at-large elections discourage Latino candidates and dilute the Latino vote in violation of the California Voting Rights Act of 2001 (CVRA).
The city's demographics consultant says it will not be possible to create a majority-Latino district.
Shenkman has also blasted an "alarming absence" of Latino candidates in a city were 15 percent of its 13,000 residents identified as Latino in the 2010 census.
Several speakers at the May 14 hearing fired back that two Latinos have won council seats in Solana Beach—Theresa Renteria in 1992 and 1996, and current Councilwoman Jewel Edson, who is half-Latina.
Councilwoman Lesa Heebner read off a wealth of resources, attention and services that the city has in recent years put toward La Colonia de Eden Gardens, the city's historically Latino enclave. She then turned her focus to "the white elephant in the room."
"The only people who have been in front of council speaking in favor of this are non-Hispanics who have in the past been vocal in their advocacy for what I would call elite causes, not those of any protected class," Heebner said, referencing a pro-developer agenda and blufftop homeowners who want seawalls without having to pay mitigation fees. "Bottom line, they promote causes wherein he or she with the most money wins, and they are using the Hispanic population to force their will over the whole city." Several residents voiced lingering frustration that the city cowed to the threat of litigation—a lament City Attorney Joanna Canlas met with staunch assertion that Solana Beach's decision to redistrict is not an indication that the city concedes that its elections underrepresent any of its communities.
"It is a complete policy decision that it's better for the city to use the money [to] hire the demographer versus … putting aside $8 million to fight a lawsuit," Canlas said. "We are a firm believer that there is no racially polarized election in Solana Beach."
But, said resident Tracy Richmond, the city should have nonetheless taken the case to court because "some battles are worth fighting."
"We have trouble now getting enough candidates to run, qualified candidates," he said. "We've had two walk-on elections. This will only diminish the pool of people who can serve. You've got to get qualified candidates in multiple districts? Good luck."
The May 15 hearing was held at La Colonia Community Center, hub of Solana Beach's historically Latino enclave La Colonia de Eden Gardens.
Draft maps of potential election district boundaries will be published on the city's website by May 23. Hearings on May 30, June 26 and July 11 will be held at 6 p.m. in City Council chambers at City Hall, 635 South Highway 101.
The final public hearing will be July 11, after which the City Council may adopt its ordinance. Questions and comments can be directed to 858-720-2400 or by emailing SolanaBeach@NDCresearch.com.
---