Lebanese shoes and craft beer: Solana Shoes to host pop-up shop at Culture Brewing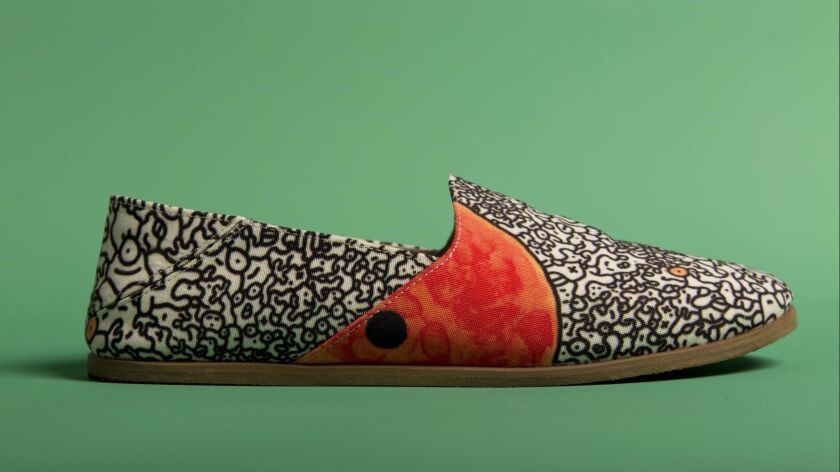 Shoe company Solana Shoes, which borrows its name from Solana Beach, aims to be more than just a brand by shining a light on different cultures throughout the world with its designs. Solana travels the world and collaborates with local artists to make handcrafted slip-on shoes that tell a story about a place and its people. The shoes serve as the canvas for the artists' expression.
The New York-based brand will hold a pop-up shop at Solana Beach's Culture Brewing Company on Friday, Dec. 7 from on 5-9 p.m.
Founder Yasmine Idriss named her brand after Solana Beach as her family visits San Diego for one month a year. Idriss has spent most of her life moving around the world—she was raised in the Middle East, educated in Switzerland and attended college in the United States. By the time she was 20, she had visited nearly 40 countries.
"Solana Beach has been my happy place ever since I was 14," said Idriss. "It also means 'eastern wind,' which I find relevant since my roots are in the East, but I live in the West. It's a metaphor of my journey so far."
Idriss picked Lebanon as Solana's debut collection as it is her home country. There are many reasons why she believes Lebanon is a special place—the first being that the people are "unbelievably resilient."
"Lebanon has been war-torn for almost 50 consecutive years and yet life goes on. It's a major party destination in the region. People are cheerful and, despite a permanent nostalgia that you feel when talking with the Lebanese, they are always hopeful," Idriss said. "They carry an inner light and strength you can only have when you've gone through what they've gone through. Lebanon is also one of very few inclusive Arab countries. It's home to 18 religious sects that co-exist in a space that is 39 times smaller than California."
With the collection, five Lebanese artists convey bits of the country's heritage with their designs. "Haraket" re-imagines the symbols that shape the pronunciation of letters in the Arabic language in specific areas of Lebanon as colorful graphic shapes on gray linen. "Lebanese Footprint" shows Lebanese stamps through time, demonstrating what was happening in different periods of the country's history in striking black and white print.
The most popular design in the collection is "Connected," depicting graffiti that the artist created to camouflage bullet holes still visible from the 15-year civil war.
The whimsical "Dabketna" features colorful people holding hands and dancing embroidered on the white shoe.
"It represents a dance that brings the Lebanese together no matter the situation, whether in times of war or peace,"Idriss said. "It's their celebration, their spiritual chant."
The pop-up event will also feature a short film about the spirit of Lebanon that Solana produced with Lebanese filmmakers.
Culture Brewing frequently hosts artists and events that involve arts and crafts along with serving up beer. On Sunday, Dec. 9, Culture will hold a macramé wall hanging workshop with Patchwork from 1:30-4 p.m. For more information on upcoming events, follow them on Facebook @CultureBrewingCo.
For more on Solana Shoes, visit wearesolana.com. Culture Brewing Company is located at 111 South Cedros Avenue, Suite 200.
---
Get the Del Mar Times in your inbox
Top stories from Carmel Valley, Del Mar and Solana Beach every Friday for free.
You may occasionally receive promotional content from the Del Mar Times.