Solana Pacific snips ribbon on new solar panels
The Solana Beach School District flipped the switch on its new solar panel system on the Solana Pacific Elementary School campus Nov. 3, the first renewable energy project in the school district.
The ceremony for the new solar project was the first ribbon-cutting event for one of the district's Measure JJ projects.
Solana Beach School District Superintendent Terry Decker said the district was very fortunate that Measure JJ passed with almost 66 percent of the vote, allowing improvements to touch all schools throughout the district. The summer was a very busy time as they completed the solar panel project, are nearly done with the renovation at Solana Highlands Elementary School, and are in the process of rebuilding Skyline School from the ground up.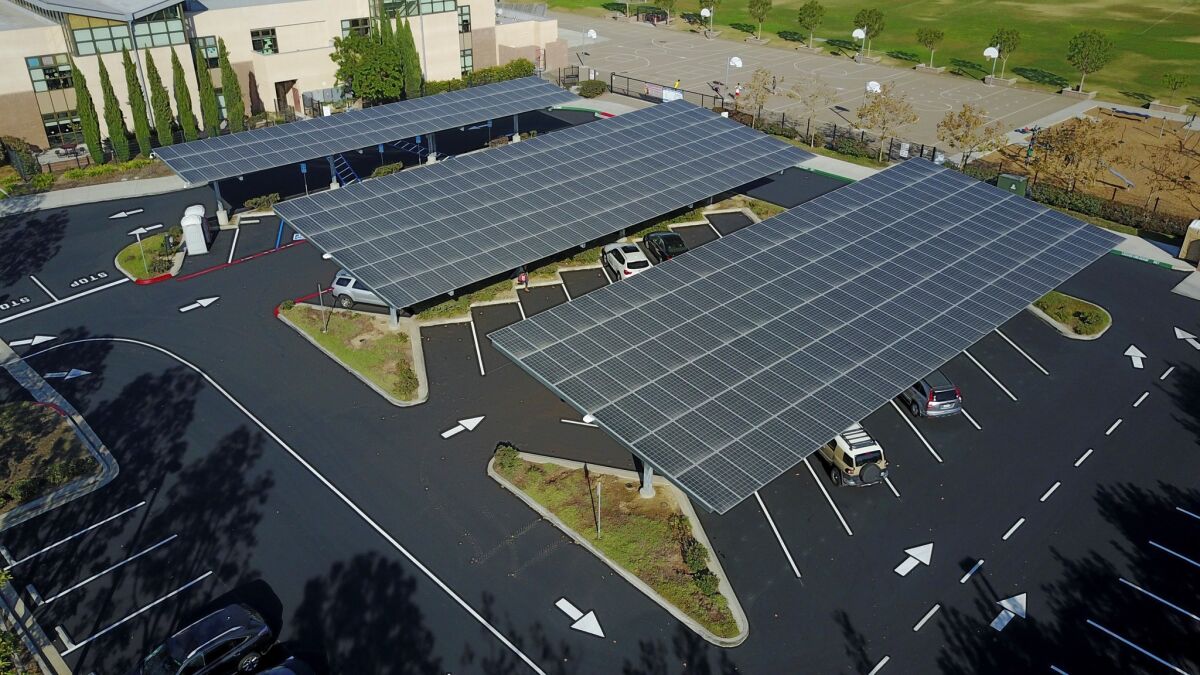 "Our district mission is centered on developing compassionate students who 'think globally and act locally'," Decker said. "Our new solar program, an extension of our tax-payer supported Measure JJ infrastructure upgrades, will not only help save $50,000 in energy costs every year, but act as a living lab for students to learn about STREAM (science, technology, research, engineering, arts and mathematics) and sustainability as they prepare for careers of tomorrow."
Members of the community were there to celebrate the first ribbon-cutting event as well as Solana Beach School District (SBSD) board members and staff, Solana Pacific Principal Elisa Fregoso, San Diego City Councilmember Barbara Bry, San Diego Deputy Director of Energy and Sustainability Jack Clark and the district's partner on the panels, OpTerra Energy Services.
The Solana Beach Band provided the musical entertainment for the groundbreaking and Solana Pacific students shared "fun facts" about the system, including that the system will generate enough electricity to power 21.5 homes in Solana Beach for one whole year and with the same amount of clean energy they produce, they could power nine Teslas a day or 3,350 electric vehicles a year.
In addition to energy cost savings, the panels will offset 199 metric tons of greenhouse gas emissions annually, the same as taking 42 cars off the road every year.
"The sun shines bright on the Solana Beach School District and we embrace the opportunity to take advantage of this energy for our school," said SBSD President Debra Schade. "Solana Pacific students will be the generation that understands the importance of solutions to real-world problems such as climate change and global warming. They will be the generation to fully embrace clean energy and transportation and the leaders in efficient use of our planet's resources. This project confirms we have the power to make the change."
Councilmember Bry said the district's solar project was a great example of a public agency doing their part to conserve, particularly as the city of San Diego moves toward reaching the "ambitious" goals in its Climate Action Plan.
"We are committed in the city of San Diego to eliminate half of all greenhouse gas emissions in the city and to aim for all electricity needs of the city to be from renewable sources by 2035," Bry said. "Thank you for this great representation of walking the walk on fiscal stewardship and environmental action."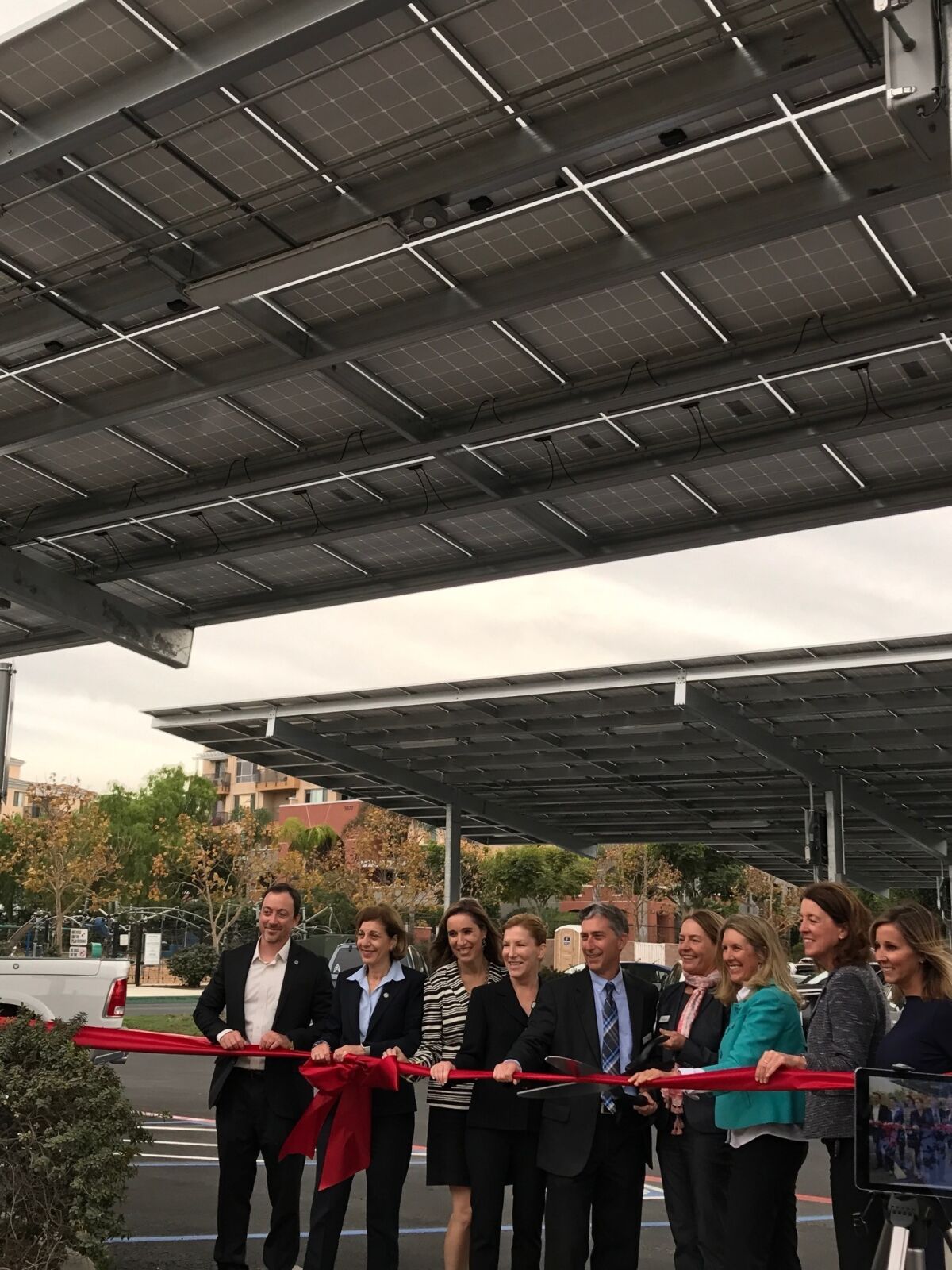 Crista Curtis, regional business development manager for OpTerra, said she has the fun job of partnering with cities and school districts on projects that embrace clean energy and support local innovation.
Locally, OpTerra has worked with the city of Solana Beach and the San Dieguito Union High School District in their sustainability efforts. From solar carports to rooftop mounted panels and a battery storage system at the new Earl Warren Middle School, San Dieguito is expected to save over $10 million in energy costs over 15 years and about 50 percent of the district's electricity needs are now met by solar.
"It is with great pride that the San Diego-based OpTerra team has been able to help Solana Beach School District's vision for sustainability come to life on campus at Solana Pacific Elementary,"Curtis said. "Over our short, three-month construction period, we have helped transform an idea for clean energy production into a reality – we helped create 50 local construction jobs in the process and a foundation for students to learn from for years to come."
---
Get the Del Mar Times in your inbox
Top stories from Carmel Valley, Del Mar and Solana Beach every Friday for free.
You may occasionally receive promotional content from the Del Mar Times.