Del Mar City Council: Short-term rentals not an allowable use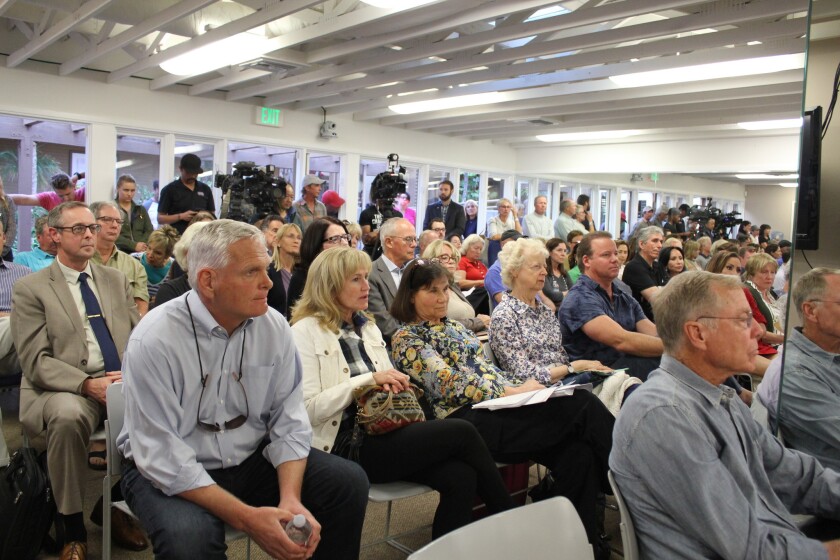 In a move that opens the door to an even deeper plunge into the rabbit hole of ordinances and zoning minutia over the months ahead, the Del Mar City Council on Monday, April 17, declared short-term rentals (STR) to not be an allowable use in nearly every residential area of the city.
They were emphatic, however, that the action was not—and will not be—a ban on short-term rentals outright.
"Under no scenario is that going to happen," said Deputy Mayor Dwight Worden. "There are a number of zones in this town that allow short-term rentals, beyond dispute. Nobody's arguing that."
Monday night's 4-1 ruling applies to all Del Mar neighborhoods with the sole exception of the tiny "Residential-Commercial" zone. The RC zone covers two slivers of city land: the Del Mar Library and the east side of Stratford Court between 13th and 15th streets. Council members agreed that STRs are also valid in Del Mar's five other types of commercial zoning, which mostly hew to Camino Del Mar but do not extend to areas where the vast majority of rentals have been operating.
The issue of short-term rentals poses a deceptively simple question that has resisted an easy answer for years: does Del Mar's community plan — drafted in 1976 and updated in part as recently as 2013 —allow for the sort of rentals popularized by websites such as AirBnB and VRBO?
Dozens of residents packed into Monday night's hearing, digging into the finer points of zoning code and Del Mar history over two hours of impassioned testimony. Opponents of short-term rentals urged the council to make a "plain language" interpretation of the community plan as an inviolable whole. Their counterparts harkened back to Del Mar's long history of temporary rentals, dating back to the annual influx of visitors drawn to the Del Mar Racetrack.
After nearly an hour of deliberation, the council came down to a single provision that runs through 10 of Del Mar's 11 residential zones: that the number of renters in a home cannot exceed its number of rooms.
"It's not ambiguous: one person, one room," said Worden, who led the council's rationale on Monday night.
Their ruling does not alter the moratorium the city enacted last year. Homeowners who had been renting their properties as of April 2016 can continue doing so.
And as they closed one door, they left another open.
"The nuances of short-term rentals -- and all the different types that are out there -- are going to require more discussion and more deliberation for us to figure out what the right mix is for us here in Del Mar," said Councilwoman Ellie Haviland. "We may at some point want to amend our code to get to that level of nuance, but tonight we're just looking at the generic term of short-term rentals."
Worden characterized the council's decision as the first of three steps needed to sort through the long-stewing controversy. The second step, he said, will be to look at what kinds of changes to city ordinance would allow short-term rentals in the now-prohibited residential zones — for example, adding a chapter to the community plan.
The third step, Worden said, will be to brace for the inevitability that Del Mar's short-term rental market will shrink, and thus how to accommodate the hundreds of homeowners who depend on that income.
"Some are going to have to be shut down," he said. "How can we fashion a soft landing, some kind of amortization, some kind of help to transition them so that we don't leave anyone in the lurch? … It won't be fun for everybody, but it's the least painful of the options I can see, and it's the fairest way to do it."
Mayor Terry Sinnott cast the dissenting vote, saying he would rather address the issues directly rather than seek answers in the community plan.
"We're going to come back right to where we started," he said. "But that's the way it is; we're being asked to do things."
Councilman Dave Druker took a more hopeful view, saying on at least three occasions that the city can find a path forward by issuing permits for short-term rentals.
"I disagree that it's complicated," he said. "… I believe we can create some very simple permitting rules that allow people to have short-term rentals and not have to regulate them."
Sinnott countered: "And how do you enforce permitting?"
"The discussion tonight is not about this," Druker said.
The council intends to take the issue up again at its next meeting, on May 1.
---
Get the Del Mar Times in your inbox
Top stories from Carmel Valley, Del Mar and Solana Beach every Friday for free.
You may occasionally receive promotional content from the Del Mar Times.