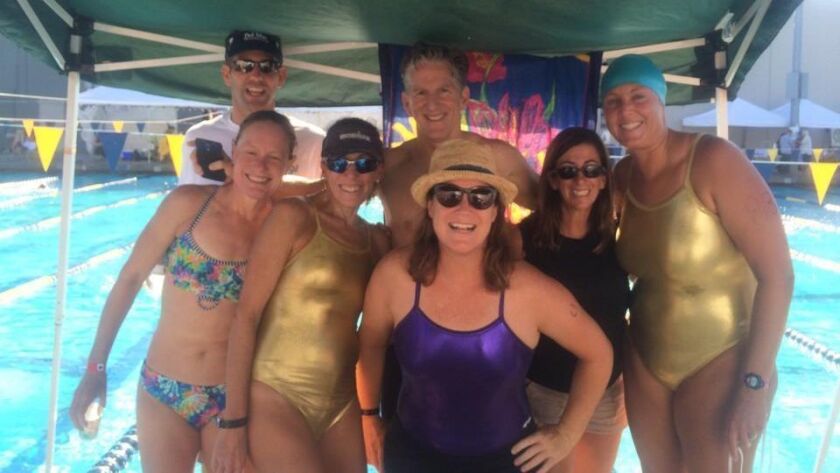 On Aug. 11-12, swimmers of all ages and abilities will come together in the pool to log laps for 24 hours in an effort to eliminate childhood drowning.
The Swim 24 Challenge, a 24-hour swim fundraiser for the Prevent Drowning Foundation of San Diego, will begin at noon on Saturday, Aug. 11 at the Boys & Girls Clubs of San Dieguito Pardee Aquatics Center in Solana Beach and wrap up the next day.
The event, held for the last three years at UC San Diego, challenges teams of 12 people to swim in a relay format for 24 hours. The goal is for each swimmer to raise a minimum of $100, the average cost to teach a child to swim. Drowning is the second leading cause of accidental death among children; for minority children and children under the age of 4, drowning is the leading cause of death.
Corey McClelland, the founder of the Prevent Drowning Foundation of San Diego, created the Swim 24 Challenge in 2014 as a joint venture with the nonprofit Enduragive.
In 2009 he founded the Prevent Drowning Foundation, formerly known as the San Diego Junior Lifeguard Foundation, working to save lives by funding swim lessons for underserved youth and providing aquatic safety education for all.
"I know how horrible drowning is," said McClelland, who worked for 12 years as a San Diego City ocean lifeguard and was involved in over 1,000 rescues. "It was something I wanted to do to give back in some way.
"An emphasis needs to be put on drowning prevention. The biggest gap is kids in inner-city and underserved parts of San Diego County that never have an opportunity to learn to swim. That's really been our focus."
The foundation funds free learn to swim programs in partnership with San Diego County YMCA and the San Diego Unified School District. Lifeguards also take groups of new swimmers to the beach for the day, many of whom have never been to the beach before. The program, called "Bridge to the Beach" introduces youth to the ocean environment and includes beach safety education such as recognition of rip currents.
Since the first event was held in 2014, the Swim 24 Challenge has raised over $400,000, including $150,000 in its peak year in 2016. The challenge is the biggest fundraiser of the year for the foundation, which also does the Ocean Beach Pier Jumps with the San Diego Junior Lifeguards—the next jump will be held on Monday, Aug. 13.
"We like to keep our fundraisers aquatically oriented," McClelland said.
For the 24-hour swim, every team tackles the challenge in a different way—some break the hours into workouts, some push hard to get as many laps in as they can, some float in rafts or get an extra boost from fins. A lap counter app helps the swimmers count laps and awards go to the team and individual who swims the furthest distance. A burrito dinner and breakfast are served up on the pool deck and swimmers can sleep in the gym camping area while the relay continues through the night.
Seventeen teams are signed up for this year's event, including McClelland's team Anything Goes For Drowning Prevention; a team from Solana Beach's Culture Brewing; the Mission Bay High School swim team; and the San Diego State University women's water polo team. The Qualcomm All-Stars, who have already raised $12,775, is a team captained by Roger Martin, the chairman and CEO of Enduragive.
Local resident Debbi Levis is participating in her fourth Swim 24 Challenge with her team of masters swimmers from Bay Club Carmel Valley. Levis, a Del Mar realtor with Coldwell Banker, has been a competitive swimmer all of her life and is currently a part of a dedicated swim crew that swims three days a week at 5:45 a.m. in the Bay Club pool.
"I'm passionate about water safety," said Levis, who was a lifeguard for 13 years. "I want to do what I can to prevent drowning in our community."
As Levis noted, in most water accidents, the person never intended to get in the water in the first place. She said helping teach people what to do when they fall or get into water is so important—whether that person was boating, in someone's backyard or just walking on the pier.
Levis' said her team is not only competitive but one of the most organized teams on the deck, "We have a plan and we stick to it," she said. Her team is broken up into four groups who swim in three-hour shifts—the first group is in the pool from noon to 3 p.m. and then shows up again from midnight to 3 a.m. Another group swims from 6 p.m. to 9 p.m. and then again from 6 a.m. to 9 a.m.
"It's an absolutely fun atmosphere on the deck," said Levis, who even enjoys those 3 a.m. laps, knowing every stroke, every kick is going toward helping to save a life.
In addition to swim lessons, The Prevent Drowning Foundation also supports the San Diego Junior Lifeguard program and its 1,400 junior lifeguards every summer, including providing scholarships for underserved children. Its biggest goal is to privately fund and build a state-of-the-art safety and junior lifeguard center in San Diego.
Keeping in mind that children can drown quickly and silently in a matter of seconds, McClelland's foundation works to educate parents and guardians about the need to keep an eye on kids at all times and to never leave a child alone near water. He said children can drown in any water, including bathtubs, buckets, toilets and even puddles.
Extra precaution should be taken near backyard swimming pools and spas—prevention can include alarms on doors or windows leading to a pool area, gates, latches and safety pool covers, as well as swimming and rescue education and constant adult supervision.
McClelland said he often reminds parents about the Water Watcher program. When children are swimming and adults are present, one adult agrees to watch the kids in the water without distractions and wear a Water Watcher card. After a certain amount of time, the card is passed to another adult to provide active supervision.
"We really think drowning is preventable," McClelland said. "When children learn to swim they are more self-confident and know their limitations."
---