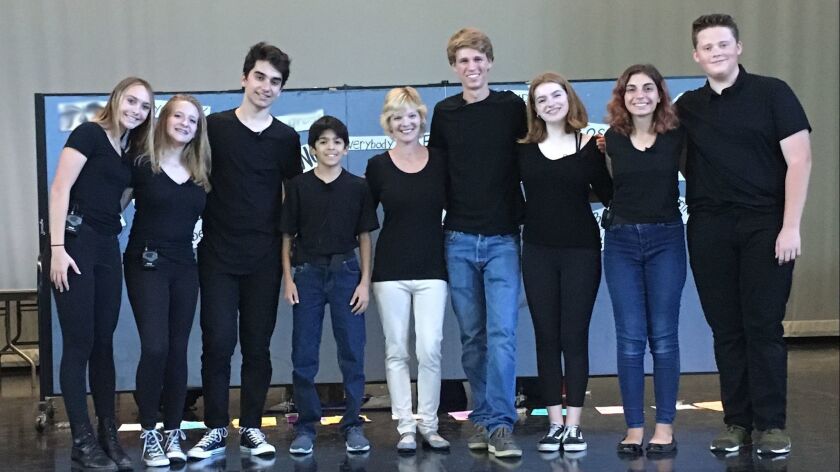 Students from the Carmel Valley-based Theatre of Peace, a youth bullying awareness acting troupe, were selected to perform at the International Bullying Prevention Conference on Nov. 5-7 in San Diego. Eight members of the troupe will present "Baffle Away Bullying! An Interactive Stage Play: Learn Life Skills to Help You Build Resilience and Manage Encounters with Anyone Who Mistreats You."
Carmel Valley's Amy Jones Anichini is the executive director for Theatre of Peace, which she runs through her nonprofit organization Act Like You Matter. The nonprofit provides anti-bullying programs for students in kindergarten through high school with the goal to empower young people to find their voice and give students the tools they need to overcome and combat bullying and be part of the solution, changing the way their generation treats each other.
"Anybody can step in and make a difference. Anybody can notice, anybody can choose a different behavior," Jones Anichini said. "I feel so passionate about my students going into schools and saying that to other kids, and giving them the tools to do exactly that."
Jones Anichini's passion to become an anti-bullying advocate unfortunately came from experiences in her own family when her youngest daughter Chase was horribly bullied in the second and third grade. Together, they figured out a way for Chase to manage encounters with kids treating her poorly, to not get upset and learn resilience --turning it into a game. Once they had rebuilt Chase's confidence, they both wanted to help others experiencing the same thing so in 2013, they shared their effective methods in a book called "Baffle That Bully".
Chase developed a love of acting and in 2014 became a part of the Theatre of Peace troupe and an inspired Jones Anichini started volunteering for the group.
"I know how it feels to be treated terribly on a daily basis, and I don't want anyone to have to go through what I went through," said Chase, now a sophomore at Canyon Crest Academy. "Joining Theatre of Peace was the perfect way to help end bullying through something I am passionate about: theatre."
After about a year, the owner said she could no longer run the group and encouraged Jones Anichini to take it over. Theatre of Peace became a part of the nonprofit that she founded in 2015, Act Like You Matter. While her daughters grew up in the theatre world, Jones Anichini comes from a background in business, she has an MBA and worked in real estate investment and corporate finance. She said she relies on her business background to drive the nonprofit and to deliver effective and fully-ready programs at schools on time.
Theatre of Peace now includes 37 youth actors ages 12-22 from all over San Diego County and one student from Mexico. Many of the actors are from Carmel Valley and Jones Anichini said she feels very fortunate that so many young actors are interested in using their talents in this way.
"I joined Theatre of Peace as a sophomore because I loved the idea of directly making a difference in the life of kids in the community and since day one, I have found the work to be immensely rewarding," said Theatre of Peace actor Lexie Maltzman, a Canyon Crest Academy senior. "I care deeply about education, and have a personal connection with the message against bullying that Theatre of Peace is helping to spread, so I was instantly thrilled to be a part of such a unique program."
Jones-Anichini writes all of the content and the students work with her to make sure that the situations and dialogue are realistic. At many rehearsals, the actors just talk about the stresses and the concerns they are facing at school—if an issue feels universal it becomes part of the script.
"Being a part of this group of vivacious and kind-hearted individuals is incredible. I'm constantly surrounded by support from my peers, who share similar experiences with bullying," Lexie said.
"There's a huge sense of camaraderie between us, and I know that I can trust everyone," echoed Chase. "If I ever need help with something, I can bring it up to them, and I know I will walk away with multiple solutions."
The troupe has presented at various San Diego Unified Schools and locally at Ocean Air, Ashley Falls and Torrey Hills Schools, as well as Pacific Rim School in Carlsbad. Over the last month the troupe has taken two trips to Los Angeles to perform for two high schools and an elementary school.
"I always get a feeling of satisfaction and hope when we perform at a school," Chase said. "I feel satisfied that I have successfully delivered Theatre of Peace's message, and I feel hopeful about the future experiences and relationships of the kids in our audiences."
When the troupe is hired by a school, Jones Anichini works closely with the school to see what kind of issues the students may be experiencing, it helps the troupe pick the scenarios and solutions that they will use in their performance—it's important that what they see on stage is something that students can relate to. In March 2017 they went to Santana High School, a moving experience for the troupe as they performed as part of Peace Week, commemorating the anniversary of the March 2001 shooting at the school in which two students were killed and 13 wounded.
"We felt so honored to be able to come to the campus and talk to students about what they might be able to do to prevent something like that from happening again," Jones Anichini said.
Chase's book "Baffle That Bully" was adapted into the stage play "Baffle Away Bullying" that will be performed at the conference. Jones Anichini said they changed the name as over the years, they have made more of an effort not to label the perpetrator "because labels imply that they can't change." As her play shows and what she believes, bullying behavior can change with effort.
Jones Anichini said her goal is to spread her message to as many students as she possibly can and is working on publishing a workbook and making a script available to be performed all over the country.
She said she has become more and more passionate about the cause in the three and a half years since taking over the troupe and she thinks all the time about the way it all started, trying as a parent to help resolve the challenges that were thrown at her daughter.
"Looking back, we've really turned lemons into lemonade," Jones Anichini said. "It's so important to me to be one of the voices that is making a difference."
---