Villa Musica inspires a music community of all ages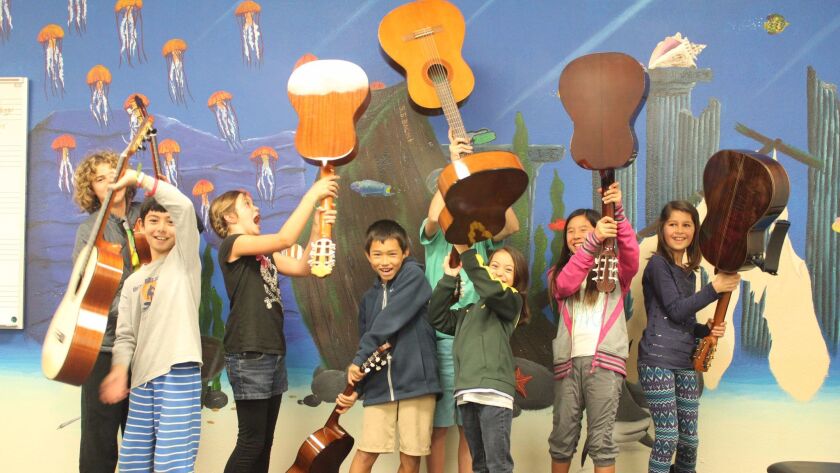 Inside an unassuming building in Sorrento Valley, a community of students and teaching artists comes together to experience the joy of making music at Villa Musica. For the last 12 years founder and Artistic Director Dr. Fiona Chatwin has built the nonprofit community music center into a musical home for aspiring musicians of all ages.
On any given day, the seven studios will be alive with the sounds of music, from Junior String Ensemble to family folk jams, private piano lessons to Glee Club. Beginner kids come toting instruments that dwarf them and adults who haven't touched their guitars in 30 years come to get a tune-up.
Villa Musica's flagship group is its Community Chorus, merging the voices of about 40 singers, ages 25 to 80 "and everything in between."
For Chatwin, it all comes back to "community" – offering kids a "third space," a creative outlet between home and school, giving a cello student the chance to engage with a trumpet player or creating a place to sing and play with extraordinary musicians who now live busy adult lives.
Recently, they held their first Chamber Music Club where a group of mostly retired, semi-professional musicians came together and shared what they are working on.
"It truly is a music community, taking musicians out of their living rooms playing by themselves and coming to share with others," Chatwin said.
Chatwin is a singer and voice teacher who has worked with artists of all ages and vocal disciplines and has developed college and university level curriculum for everything from music theory to opera. A native of Australia, she finished her doctorate of musical arts at UC San Diego in 2006.
Before she graduated, she founded Villa Musica in November of 2005, at first looking to form a Community Chorus for all those people who really wanted to sing but perhaps had no place to do it.
"I thought there was a bit of a gap in community arts education in San Diego," Chatwin said.
She became affiliated with the National Guild for Community Arts Education to learn about best practices and national standards for excellence and partnered with the San Francisco Community Music Center's executive director, who mentored her as she started Villa Musica from scratch.
"When we started we were kind of pioneers," Chatwin said, noting there was only one community music education center in La Jolla at the time and that one was only for kids.
She opened her doors in Sorrento Valley in 2010 after bouncing around from churches and recreation centers and other locations. Chatwin believes it was the perfect trajectory for her organization as she isn't sure they could have survived the 2008 economic downturn — because they had so little overhead, they did.
When she moved into their Sorrento Valley location Chatwin admits "it was kind of scary." At the time, the organization had 17 private students — now they reach about 500 people through their various private lessons, group lessons, camps and ensembles.
Villa Musica also has its own small recital hall and hosts free Friday night student recitals once a month
"By the time we put out the sign-up sheet it's filled because we can only take 15 performers," Chatwin said.
While they hold a larger recital off-site, the monthly recitals are small and intimate and help students to build confidence in being on stage.
"The more they do it, the less scary it is," said Chatwin, who dreams of one day owning her own building with her own large recital venue.
Chatwin still directs the Community Chorus and has a studio of four private voice students.
"It's my sanity time when I'm not working on budgets or grants," Chatwin said. "My passion is working with young singers and making sure they're on the right track."
As a result of strong community support, Chatwin believes one of the most important things Villa Musica does is the satellite music instruction to underserved areas in San Diego.
Villa Musica provides music education at Logan Heights Branch Library and Malcolm X/Valencia Park Library — providing all of the instruments and lessons to children and adult students for free.
Through conversations with the patrons they offer what the community needs most — at Logan Heights they have three levels of violin, two levels of guitar and starting a rock band class in the fall. At Valencia Park, they have violin and guitar classes as well as a chorus.
At a time when arts programs are being slashed at schools across the country, Villa Musica also offers music education at 14 schools such as Our Lady of Guadalupe, King Chavez Elementary and the Ronald McDonald House School.
"We're bringing music into schools that would not have music otherwise," Chatwin said.
They work with school PTAs and foundations to enhance what the district is able to offer or fill in what is lacking with after-school programming.
A significant percentage of students at Villa Musica also receive financial aid.
"Everything is needs-based, there are no scholarships based on merit," Chatwin said.
The stories she hears touch Chatwin's heart — she never wants a student to have to stop music due to a parent's job loss or other financial struggles. She recalls one story of a Syrian immigrant family whose daughter was a cello player. Her cello had been damaged and they had hoped Villa Musica could help with lessons. Villa Musica was able to provide a cello and lessons for the student. "It put normalcy back in her life," Chatwin said.
The student went on to play cello in the orchestra at UC Berkeley.
"I love being able to provide support and to be able to offer access to quality music education and access to excellence," Chatwin said. "Access is the most important part."
Villa Musica is offering a free Summer Concert Series to showcase its Summer Orchestra on Saturday, July 29 from 1-4 p.m. at the San Diego Central Library, 330 Park Boulevard. On Sept. 10, Villa Musica will hold an open house from 1-4 p.m. offering potential new students the opportunity to come try out an instrument with free 15-minute private lessons.
To learn more, visit villamusica.org. Villa Musica is located at 10373 Roselle Street.
---
Get the Del Mar Times in your inbox
Top stories from Carmel Valley, Del Mar and Solana Beach every Friday.
You may occasionally receive promotional content from the Del Mar Times.