CCA Raven Water Polo honors Solana Beach seniors
The Canyon Crest Academy water polo team celebrated its senior players on Oct. 24, before a 14-7 win over San Dieguito High School Academy. This year's trio of Raven Water Polo seniors are all from Solana Beach: Carter Reeves, Andy Schade and Skylar Tobler.
The celebration was held on the deck of the Cathedral Catholic High School pool — each player received a flower lei and congratulations from teammates, CCA Principal Brett Killeen and their families. The varsity underclassman hosted a post-game pizza party and ASB (Associated Student Body) provided doughnuts for all CCA students who attended.
Head Coach Tyler Ormsby complimented the class of 2018 players for their leadership in and out of the pool and for their survival of four years of 5:30 a.m. practices.
Andy has been honored as a member of the CIF All-Academic team and as a 2016-17 USA Water Polo Academic All American. He is part of CCA's Student Athletic Council and has also been on the school's surf team for four years and participated in one year of swim varsity and one year of JV volleyball and soccer.
"Andy Schade gives the team a boost through his tireless effort and energy. He facilitates open shots for teammates and can finish the ball himself as well," Ormsby said. "His mobility is a key attribute that stokes the team's defense,"
Andy plans to study mechanical engineering or computer science in college.
Andy shared sage advice for younger polo players: "Before early morning practices, a little sleep goes a long way."
Carter, the team's driver, has had a well-decorated water polo career, including 2015 All-Palomar second team and CCA co-MVP, 2016 All-Avocado League second team and CCA MVP, 2017-18 UT All-Academic Team and 2016 CIF All-Academic Team. In 2015, he was honored as the "Top Male Athlete" of the Junior Lifeguards' competition at the 2015 California State Games.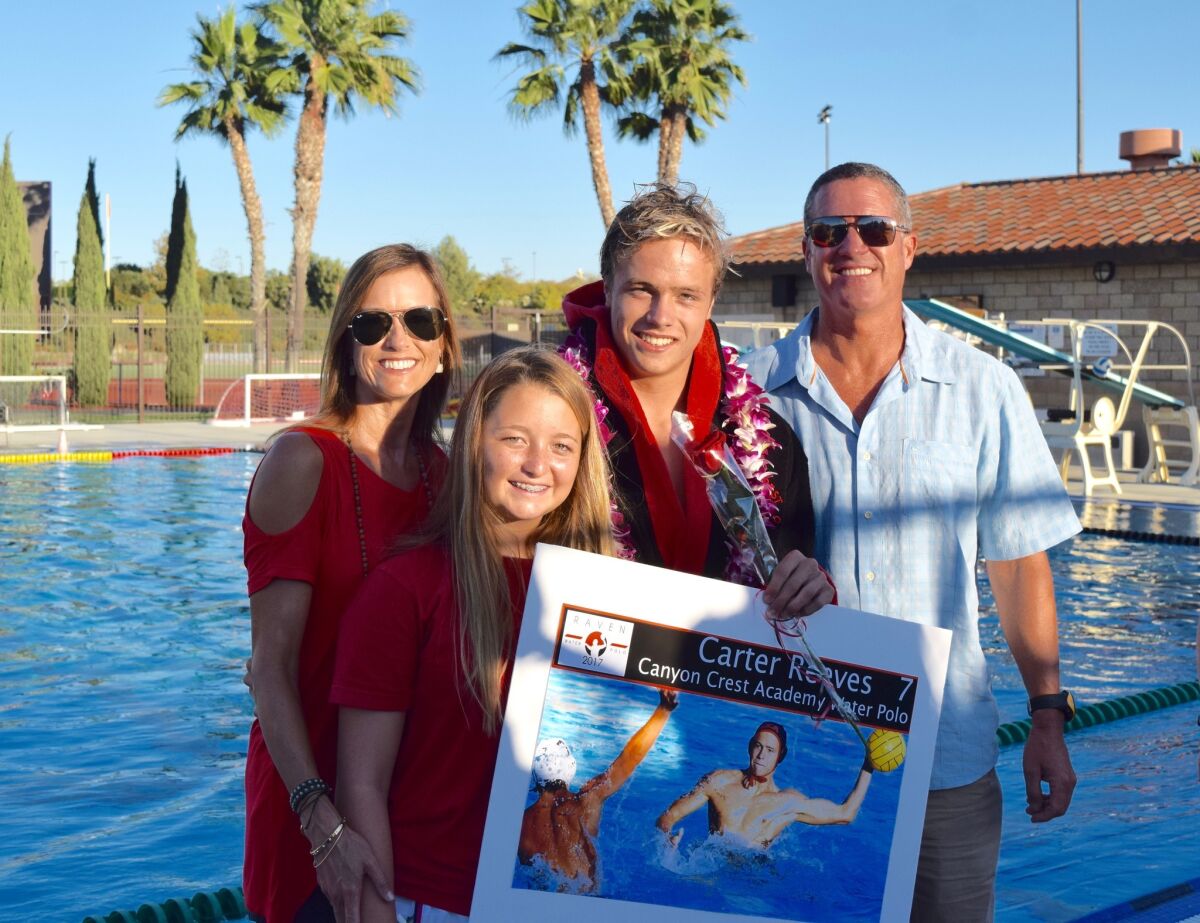 "Carter uses his strength and speed to set up his teammates or to open himself up for a goal," Ormsby said.
At CCA, Carter has earned varsity letters in water polo, swimming and surfing, and plans to swim again this spring.
Outside of school he is involved in Teen Volunteers in Action and as a music-lover, works as a disc jockey.
His advice to younger players: "Go to bed at 6:30 p.m. before practice." He also gave a shout-out to Breakfast Club, those life-saving, post-early practice meals provided by parent volunteers.
In addition to water polo, Skylar is an avid surfer and alongside Andy and Carter has played a big part in the success of the CCA surf team.
"Skylar Tobler has worked hard to become a starter and key player for our team," Ormsby said. "He has a strong, confident shot that really helps the team."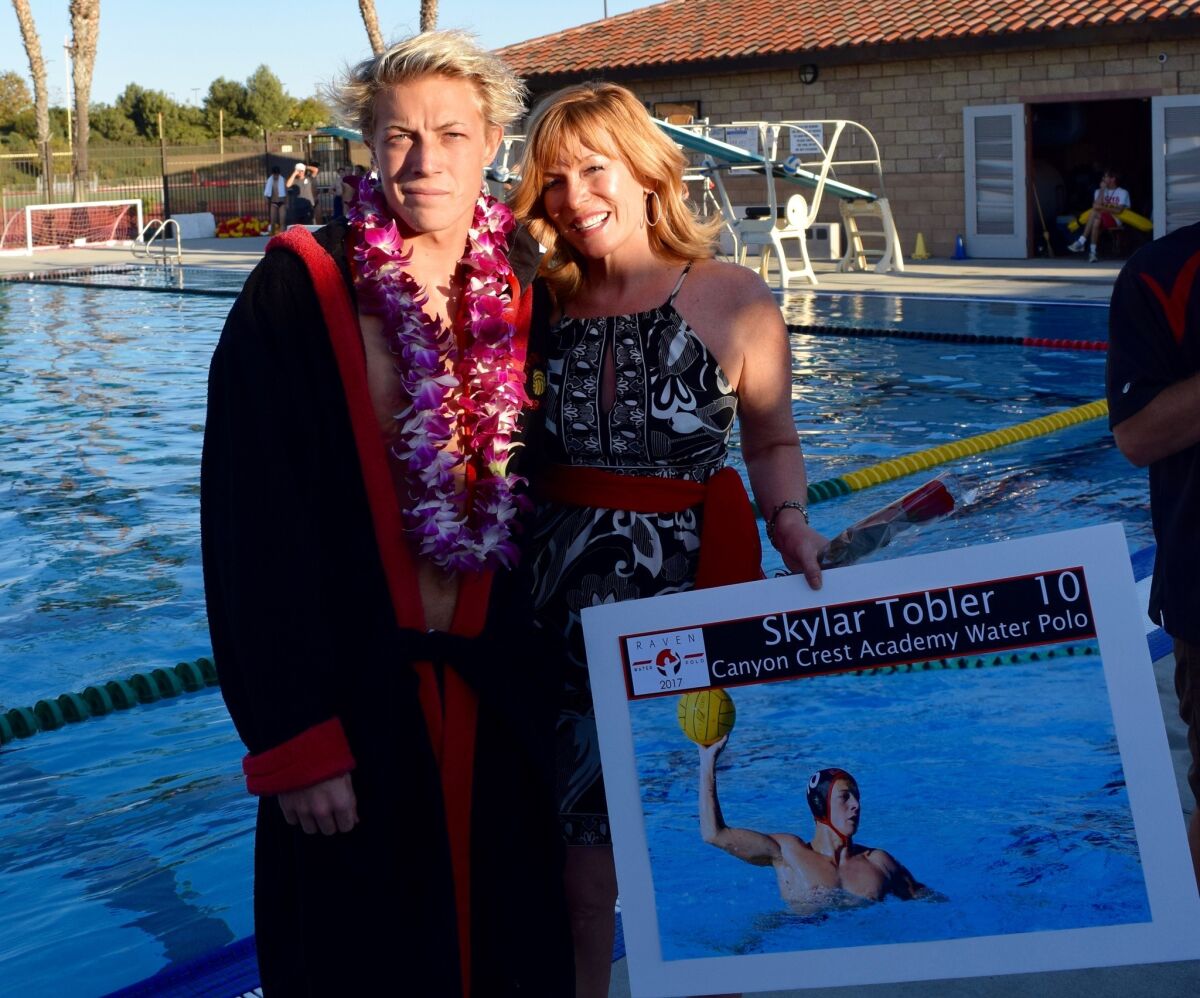 Skylar plans to study business in college.
"No matter what swim set any of your coaches give you, do it and do it to the best of your ability," said Skylar in his advice to younger polo players. "You might think swimming back and forth is boring and pointless, but it builds character. If you are given a swim set that you think is impossible to make and you push through it, it will make you a better water polo player and coaches will notice you more."
Although no college decisions have been made yet, all three seniors listed UC Santa Barbara as among their top destinations for next year.
The CCA Ravens went 18-9 overall in the regular season and 4-1 in league for a second place finish. They are the number four seed in Division 1 CIF playoffs and will play the winner of the Nov. 1 matchup between Torrey Pines High School and San Marcos on Nov. 3 at 5:15 p.m. at the La Jolla Coggan pool.
---
Get the Del Mar Times in your inbox
Top stories from Carmel Valley, Del Mar and Solana Beach every Friday for free.
You may occasionally receive promotional content from the Del Mar Times.