West Elm finds new home in Cedros Design District
West Elm rolled up the doors on its new Solana Beach Cedros Avenue Design District store on Nov. 16.
The 11,560-square-foot space on Cedros Avenue with a huge roll-up garage door in front was formerly home to a skating rink in the 1970s and an antique mall for 35 years — it is now a West Elm furniture and home décor store, "focused on the intersection of modern design, affordability and community."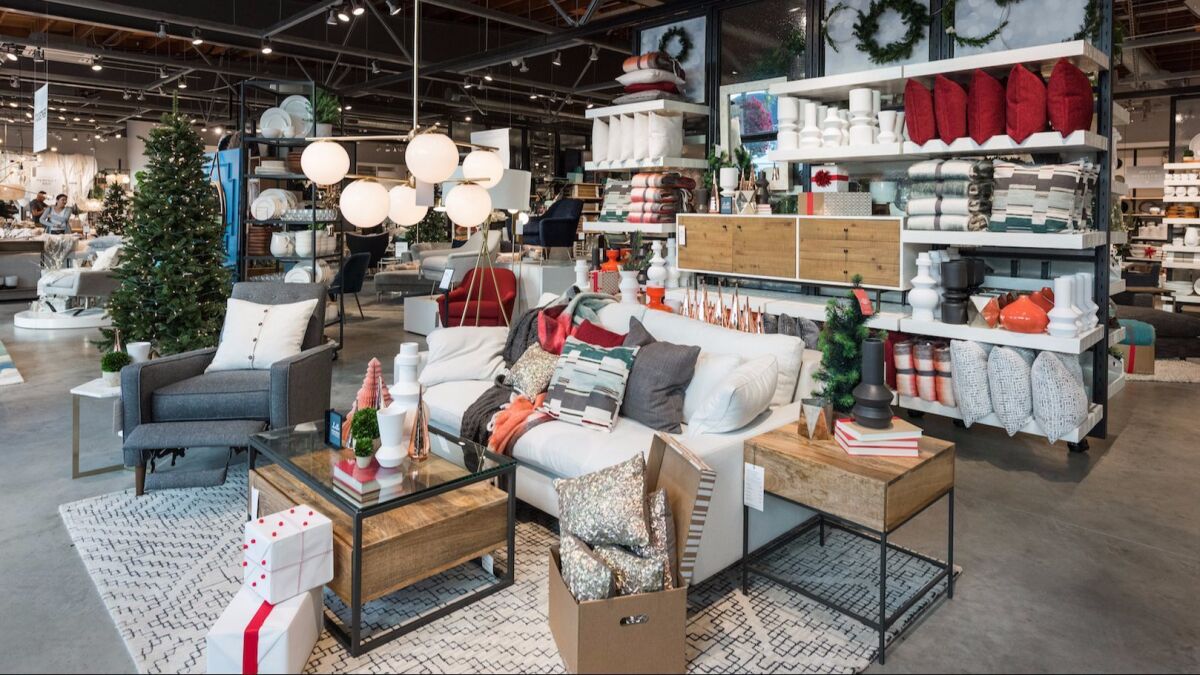 "The flavor of the design district really felt like home for us," said Andres Ortega, public relations manager for West Elm. "We instantly felt like a part of the neighborhood."
"We are excited to join the Cedros Avenue Design District's commerce and local businesses that bring a special offering of art, design and inspiration to Southern California," said West Elm President Alex Bellos in a release. "We hope that through our support and commitments to great design and collaboration, the community continues to grow as a destination for artists, designers, consumers and enthusiasts to connect."
West Elm was born in Brooklyn in 2002 and Brooklyn is still home to its headquarters 15 years later. The brand has grown to 107 stores worldwide, including locations in the UK, Australia and Canada. West Elm in Solana Beach is the second in the San Diego region, the first is in Mission Valley.
As a brand, West Elm is designer-oriented, Ortega said — over 90 percent of their designs are exclusive and created in-house. "There's a story behind everything we sell," he said, as West Elm partners with artisans around the world for its offerings of handcrafted and thoughtfully-sourced products. In 2014, West Elm became the first-ever home retailer to offer Fair Trade Certified products and all of their furniture is FSC (Forest Stewardship Council)-certified.
"Each store has its own personality and architectural details," Ortega said. Besides the very unique roll-up doors that bring an indoor/outdoor feel, the store's cash register area was designed by Solana Beach-based surf artist Andy Davis, "to evoke good vibes and a sense of tranquility" as customers check out.
Davis designed a special edition Solana Beach West Elm tote that was given out to the first 300 shoppers on Nov. 16 and did custom screen printing at the store's grand opening celebration on Nov. 15 — a portion of the proceeds of sales on opening night went to the Surfrider Foundation.
The West Elm store features dining and living room furniture, home accessories, rugs and curtains, tabletop settings and serveware, bedding and beds (as well as Leesa Matresses), lighting and organization.
"Everything we do is really a piece of art, designed to make an impact," Ortega said. "We want our customers to be playful and express their personal style in their home."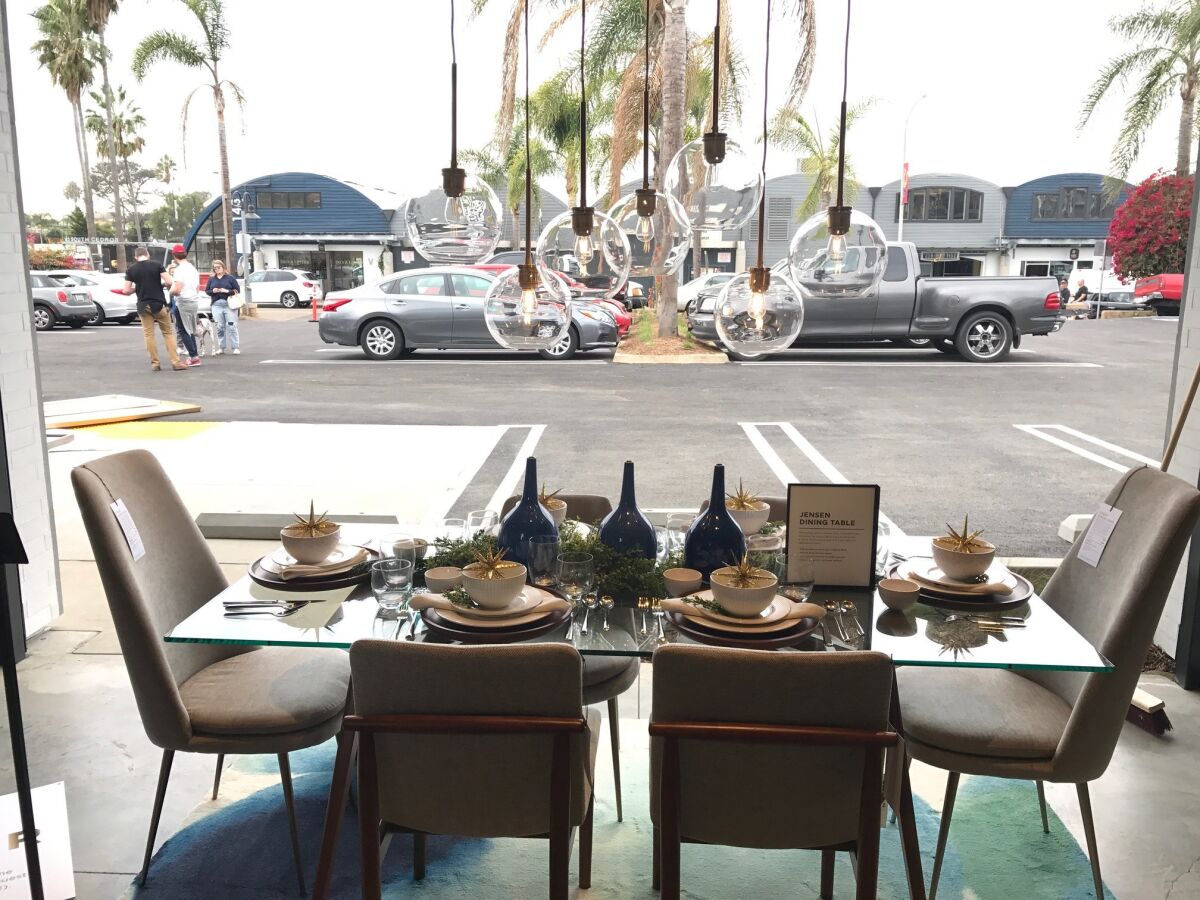 Every three months, the store flips over to a new season and customers will see something new when they walk in the door. The store's "lifestyle vignettes" are meant to be a source of inspiration — how pillows might look on a couch, how to set a table, how items might mix or pair well together in the home.
Each season the store designer works to tell several stories — currently the store's Venetian House story is working with "sophisticated but approachable" moody blues and metallics and the Frozen Lake House draws its modern yet cozy inspiration from Helsinki with lots of textures and faux fur.
An in-store design crew lab offers free design services to help with any design dilemma with no obligation to buy — they can help go through fabric swatches, pick out paint colors for the home or even just give advice on how to style a table for the holidays.
"There's no task too small for our design experts," Ortega said.
West Elm also always likes to feature artisans and organizations that give back. For the holidays, their gifts that give back include Love is Love mugs and ornaments that support the Human Rights Campaign and funky felt cacti and ornaments handcrafted by Nepalese artisans which will go toward supporting a country still recovering from the 2015 earthquake. Other gift items benefit St. Jude Children's Research Hospital and FEED, products that go toward fighting child malnutrition.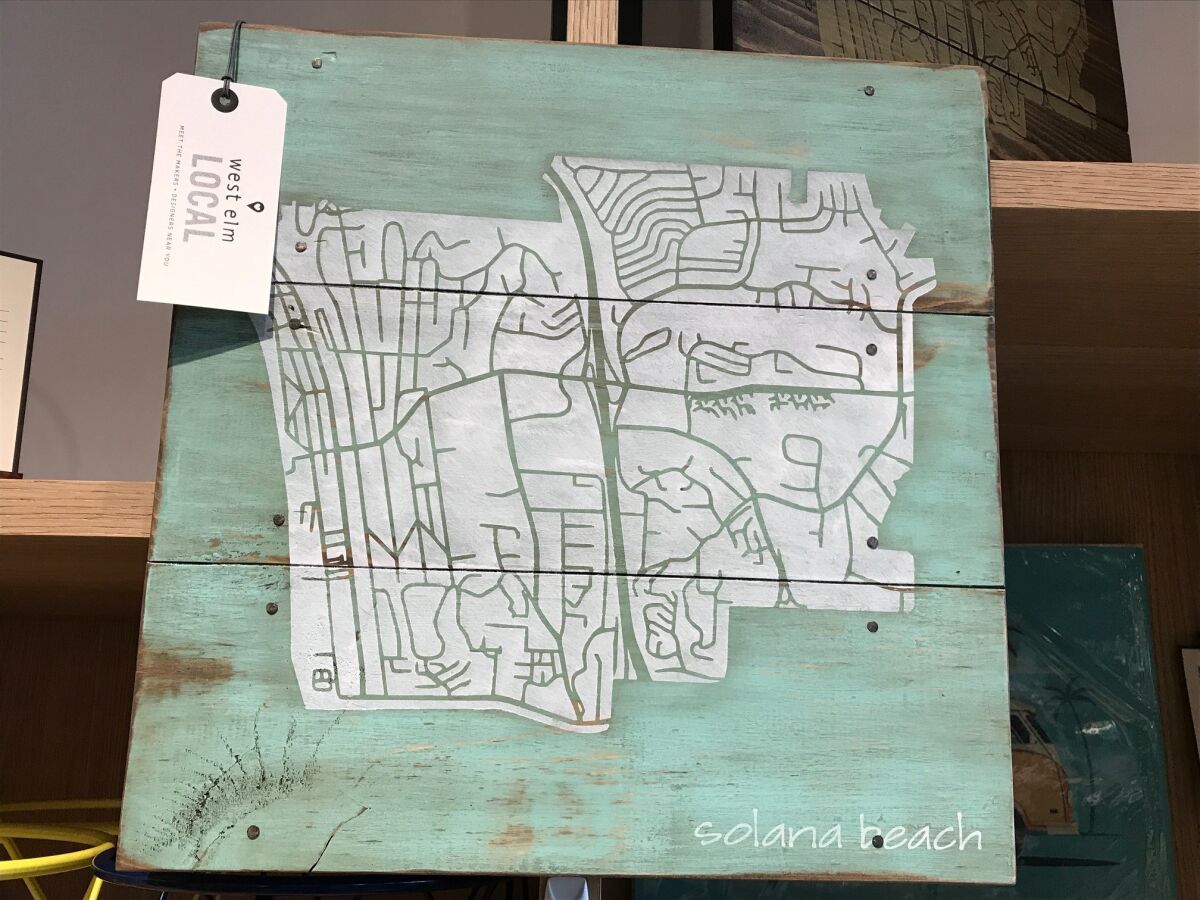 With their emphasis on community, every West Elm features a "Local corner" with the focus on local artisans.
Already the store has several Solana Beach-centric items such as Davis prints, a handpainted map of Solana Beach on rustic wood by Encinitas' Homegrown Maps, and Solana Beach tea towels by JLeighV — the store carries 14 California makers and artisans and it is looking to grow its roster.
"Some of our most popular pieces are the ones done by local artists," Ortega said. "People have so much pride in their towns and it's so lovely to see."
---
Get the Del Mar Times in your inbox
Top stories from Carmel Valley, Del Mar and Solana Beach every Friday for free.
You may occasionally receive promotional content from the Del Mar Times.