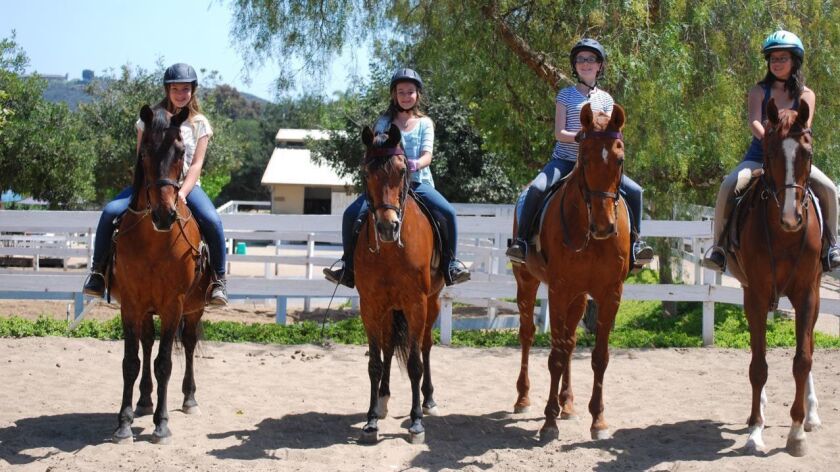 Located at the Roper Ranch in the hills of San Marcos, Liz Bolton Stables is a premier facility dedicated to the training and sales of top quality American Saddlebred horses.
With 60 stalls, 40 paddocks, two hot walkers, two round pens and two arenas, Liz Bolton is a full service operation—they don't do just boarding. The stables offer saddle seat riding lessons and instruction for everyone from beginners to the serious show competitor, as well as the leasing and consignment of Saddlebred horses.
The stables serve clients from all over San Diego County as well as out-of-state clients from Arizona and Texas.
"We're always growing, we're always accepting new clients," said Julie Robinson, assistant trainer and instructor.
Owner Liz Bolton has operated the stables since 1993 and is a member of the US Equestrian Federation, the American Saddlebred Horse Association and United Professional Horseman's Association. A champion rider herself she has developed a solid reputation as a trainer for developing and selling top quality show horses.
The highly-trained staff's main priority is ensuring a positive riding experience for all.
Trainer Theo Robinson started his formal training and riding as a 10- year-old at Liz Bolton Stables. For the past seven years he has been a trainer at the facility, teaching everyone from first-time riders to experienced show teams.
His wife, Julie Robinson, has been a trainer at the stables for six years. The Pasadena native grew up riding at Rancho Santa Fe's Rockridge Farms, training under Bill Tomin for 10 years and specializing in Saddlebreds.
"We really take pride in our sense of community. It's not just about learning how to ride a horse or competing, it's about making it a family-friendly environment," said Julie Robinson.
Robinson said young riders will often come early before lessons, just to hang out, socialize and enjoy the horses and the welcoming setting where they feel a sense of belonging.
"They form lifelong bonds and friendships around the love of horses," Robinson said.
Riding and showing develops self-esteem, confidence and grace, and is a great pastime for children as well as adults — Robinson said the love for riding often carries over from the child to the entire family. They now have many mother-daughter teams and even a grandmother who has taken up riding due to the interest of her grandchild.
"It's a fun thing to do for the whole family," Robinson said.
Liz Bolton Stables is gearing up for their "fun-filled, horse-crazy" summer camps that will take place in June and July. The first session will be held June 25-29, followed by July 16-20 and July 23-27.
Camp includes horseback riding lessons as well as horseback games and activities. Campers will learn to properly care for and groom a horse, horse anatomy, learn to name and identify horse tack and about different breeds. Campers will get hands-on experience with the horses and get lessons in trail riding and bareback riding.
The camp is open to boys and girls ages 6-15 and no horse experience is required.
For more information on camps, visit lizboltonstables.com or call Julie Robinson at (858) 449-3286. Liz Bolton Stables is located at 3390 Bridle Creek Lane in San Marcos, 92069.
--- Business spotlights are developed through this newspaper's advertising department in support of our advertisers.
---