Flotation therapy center making waves in Solana Beach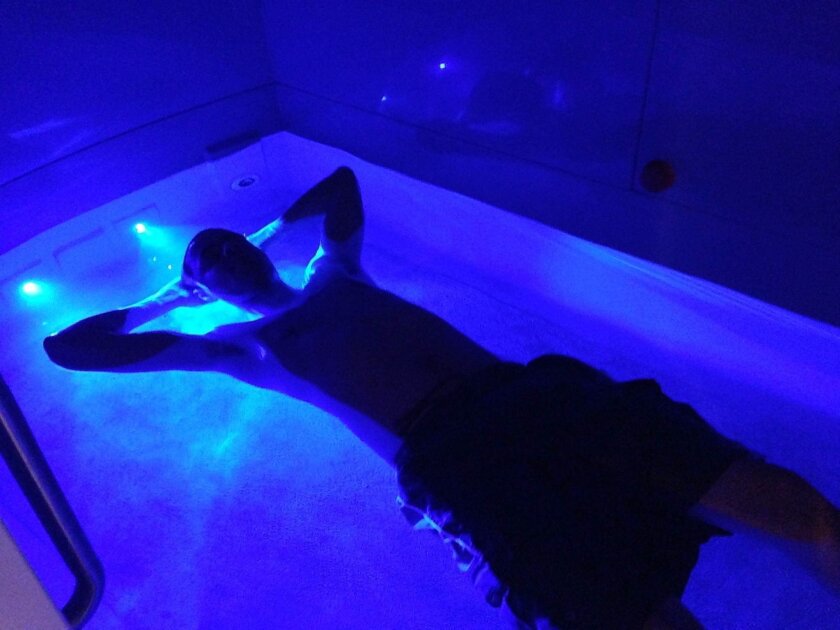 Although flotation therapy has been around for decades, it is finally available in Solana Beach.
Equipped with four float rooms, Float North County opened its doors late February in the Lomas Santa Fe Plaza.
"The benefits are so great and so widespread," said owner Glenn Stokoe. "A lot of people can benefit from floating."
The new float center features one Float Pod and two — soon to be three — spacious Ocean Float Rooms. Each tank holds about 12 inches of water heated to skin temperature and 1,200 pounds of Epsom salt.
Before stepping into a tank, floaters take a shower and put in earplugs. Then they float.
The magnesium sulfate, Stokoe said, helps calm nerves and muscles and also benefits people who are magnesium deficient. With no light or sound, sensory deprivation allows the mind to enter a deep state of relaxation, and gravity reduction by 80 percent allows the muscles and joints to relax.
Studies show that floating can improve circulation, performance and focus, Stokoe said.
"Because there's essentially no gravity, there's no external stimuli, your body gets to rejuvenate and restore itself," he said.
An Encinitas resident, Stokoe worked in commercial real estate for 15 years before beginning the construction of the four-tank center about three months ago.
Stokoe has practiced meditation since he was a teenager. So when he first read about flotation therapy in an article a year and a half ago, he had to try it for himself.
"The sense of no gravity allowed my muscles to completely relax," said Stokoe, who visited a float center in San Diego. "I went into a meditative state much deeper and much quicker. It was a very relaxing experience."
Stokoe decided to bring floating to North County so more people could experience it. Although Float North County has only been open a few weeks, it's already created a buzz, he said.
"North County is a health Mecca," Stokoe said. "I saw an opportunity to bring this to people around here. People are just very excited about it."
While some people float to relieve physical pain, others use it as a therapeutic tool for mind and body.
Researcher John C. Lilly first used isolation tanks in the 1950s to test the effects of sensory deprivation. In the 1960s and 1970s, such tanks became popular for meditation and relaxation and in alternative medicine. Now, floating therapy is making a comeback.
"I think it's for everyone," Stokoe said.
Float North County is at 991 Lomas Santa Fe, Suite D, in Solana Beach. The center is open 10 a.m. to 10 p.m. Tuesday through Sunday.
First time 60-minute floats cost $55. Memberships and packages are also available.
Call 858-925-6069 or visit www.floatnorthcounty.com.
---
Get the Del Mar Times in your inbox
Top stories from Carmel Valley, Del Mar and Solana Beach every Friday for free.
You may occasionally receive promotional content from the Del Mar Times.