Locals gain insight as Bank of America Student Leaders
Local students Richard Ni and Snigdha Nandipati were selected as two of five students in San Diego to become Bank of America Student Leaders. The program offered students an opportunity to build workforce and leadership skills through a paid summer internship at Community HousingWorks.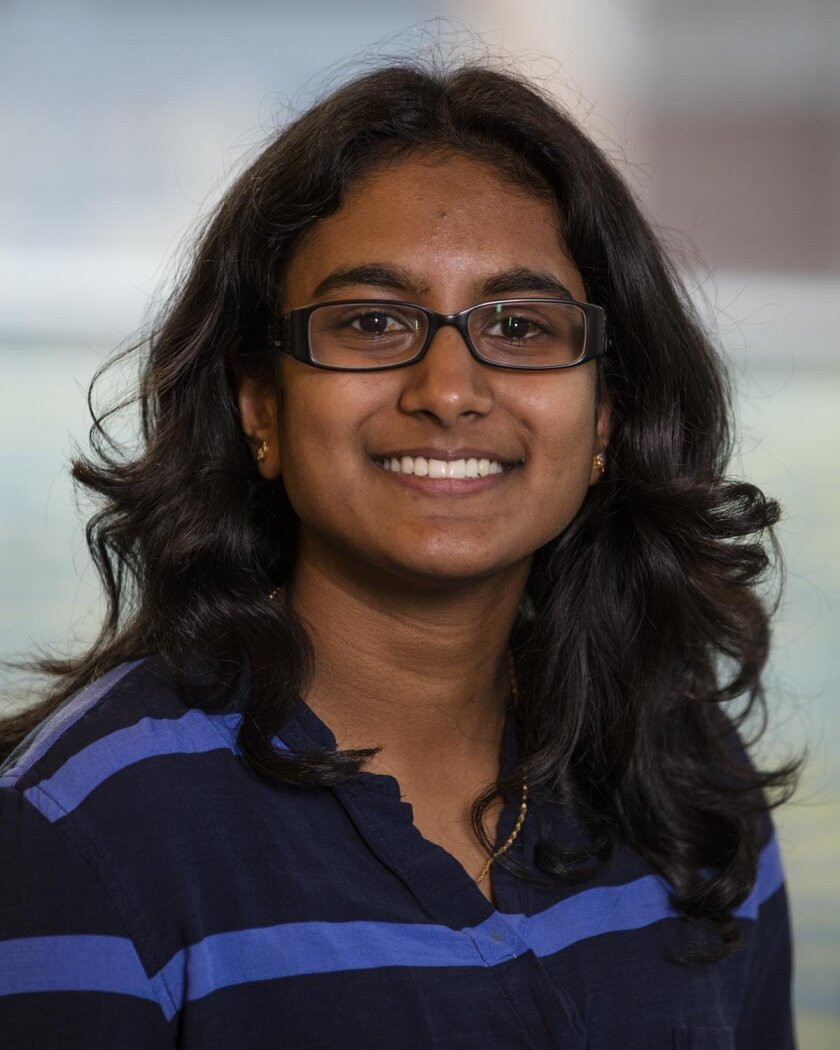 As part of the eight-week internship program, the San Diego students also traveled to participate in a Student Leadership Summit in Washington, D.C. in July along with more than 200 other "Student Leaders" from around the country.
At the summit, the students heard from guest speakers and discussed how to build a more diverse and inclusive society.
Snigdha, a Torrey Highlands resident, is a 2016 graduate of Francis Parker High School who will attend Yale University in the fall. In high school she was on the Academic League Team for four years, serving as team captain for the last two years. She served as a mentor to sixth graders through Francis Parker's mentorship program and also ran her own business teaching piano lessons to young, beginner students.
Although she was too humble to list it as one of her achievements, Snidgha was also the winner of the 2012 Scripps National Spelling Bee.
About two weeks after graduation, Snigdha started her internship at HousingWorks, putting in nine-hour workdays at the central office in Mission Valley. Snigdha worked on the Acheivers program, offered in several of HousingWorks' affordable rental communities across San Diego County. The program provides teens with an opportunity for youth leadership development, giving them hands-on training for college and beyond. Snigdha helped put together the program that will be launched at the 17 individual learning centers in the next couple of weeks.
Richard, a rising senior at Torrey Pines High School, was one of the only Student Leaders that is still in high school as most were recent graduates.
"I was really interested in the Bank of America program because it's based around social change and that's something I've always been really interested in," Richard said. "I'm really passionate about serving my community."
Richard's main community service is the Student Association for Youth Artists (SAYA), a group he started when he was a sophomore. The program teaches music for free to students at the Carmel Valley Library and the North University Community Library — he is hoping to add a City Heights location this year. Registration will open in September at studentsaya.org.
In addition to his service work outside of school, Richard also participates in TPHS' Autism Awareness Association, volunteering in special education classrooms every Friday. He is the captain of the debate team and is also on the varsity swim team.
His internship at HousingWorks was in the Homework Help program — he helped redesign the after- school program so it can run as efficiently as possible.
"I think my main contribution was finding a way to incentivize kids to be on their best behavior in the after-school program," Richard said.
He came up with a template for a punch card system — if kids can rack up 10 hole punches for their good behavior they can earn a prize. He also helped develop a computer use policy about what kids can do if they finish homework early.
For both Snigdha and Richard, the most powerful influence at the Student Leadership Summit in DC was the guest speaker, Wes Moore. As part of the program, students were required to read his book, "The Other Wes Moore: One Name, Two Fates," which shares the stories of two kids with the same name but very different fates. Both Moores grew up fatherless in a difficult Baltimore neighborhood but their lives turned out differently due to the decisions and choices made — one Moore grew up to be a Rhodes Scholar, a decorated veteran and business leader, while the other ended up a convicted murderer serving a life's sentence.
"It was really inspiring because despite having a poor background, he built himself out of that environment through a lot of hard work," Richard said. "He talked about opportunity and what we should do if we have the opportunity to help others; he was definitely my favorite speaker."
Of their week in DC, Richard and Snigdha said their most memorable experience was meeting their fellow Student Leaders.
"Even though we all came from really different backgrounds, I bonded better with these kids than some of my classmates because we all have similar passions of serving our communities," Richard said. "We weren't talking about regular teenager stuff, but different political issues."
Both students said they were grateful to be able to hear from so many different perspectives and how the others treated all viewpoints with respect.
"I really appreciated everyone at the program, they were really understanding and open-minded," said Snigdha. "I felt a lot more welcome to express my opinion. We were able to put ourselves in each other's shoes and see pros and cons of each side."
Being a Student Leader made an imprint on both students' lives. Richard said before the summit he wasn't sure what he wanted to do but after a week in DC, he is really encouraged to get into political science and public policy.
"I realized that maybe with politics, you can actually accomplish something good," Richard said.
"Before this experience, I saw myself as very focused on STEM, science and pre-med," Snigdha said. "After this I'm open to more service-oriented things. I'm still planning to be pre-med but now I'm able to see a more humanistic perspective. I'm better able to interact with people and hear their stories and see where they're coming from. In a way it reinforced what I want to do."
Snigdha will leave on Aug. 20 for Yale.
---
Get the Del Mar Times in your inbox
Top stories from Carmel Valley, Del Mar and Solana Beach every Friday for free.
You may occasionally receive promotional content from the Del Mar Times.