The COVID-19 pandemic continued to slow the pace of governing California in 2021 as it did the year before, with the second fewest number of bills approved by the Legislature of any year since 1967, trailing only the record low number ratified in 2020.
In all, Gov. Gavin Newsom considered 836 bills covering a range of topics, a mix of proposals prompted by the current COVID crisis as well as items that have been hotly debated for years. Newsom vetoed only 66 of the bills that made it to his desk.
Among the 43 noteworthy new laws for 2022 included here are several that were approved years earlier but are only taking effect now. Most of those listed took effect on New Year's Day. As in years past, the list mostly reflects the interests of the Democrats who hold a supermajority of seats in both the state Senate and Assembly.
Some San Diego-area lawmakers sponsored laws expanding housing options and climate action and furthering police and workplace reform.
Senate President Pro Tempore Toni Atkins, D-San Diego, introduced a bill that creates a system to investigate and revoke or suspend peace officer certification for serious misconduct. She also sponsored environmental legislation to create a task force and add funding to plan for sea level rise. And she authored a bill to enable homeowners to build a duplex on their property or to split their current residential lots.
Assemblymember Lorena Gonzalez, D-San Diego, took on a variety of labor issues. She sponsored bills requiring companies to disclose and describe their warehouse production quotas and a bill that prohibits the use of algorithms that disrupt workers' rights. One of her bills signed into law makes wage or tip theft a grand theft violation and another makes delivery app fees more transparent, so tips meant for drivers go to drivers and tips for restaurants go to the restaurant, rather than to the app company.
Some of the most notable new state laws make significant changes in criminal justice, law enforcement oversight and health care.
COVID-19 and health
Health insurance companies must offer free COVID-19 testing for free to their customers, eliminating surprise fees and guaranteeing access to tests and vaccinations even when someone is out of a healthcare provider's network.

Anyone who protests at a vaccination clinic must keep a distance from any patients who are within 100 feet of its entrance. Failure to do so could result in a fine of $1,000 and up to six months in jail.
A broad array of services provided by Medi-Cal, California's healthcare program for low-income residents, will be available to all income-eligible adults age 50 and over, regardless of immigration status, beginning on May 1, 2022.

Protesters can't videotape, photograph or otherwise record patients or providers within 100 feet of reproductive clinics. The new law also bans sharing those images online.

Electronic cigarettes will be subject to a new tax as of July 1, 2022 to be paid by purchasers, equal to 12.5% of the sales price. The proceeds will go to public health and education programs.

Cosmetics manufacturers must disclose fragrance and flavor ingredients that could pose a health hazard, information the state will display through an online database.
Housing
As many as four housing units can be built on single-family lots in some California communities under a hotly debated new law that limits opposition by local officials.

A new law makes it easier to rezone areas near mass transit operations for housing of up to 10 housing units.
Criminal justice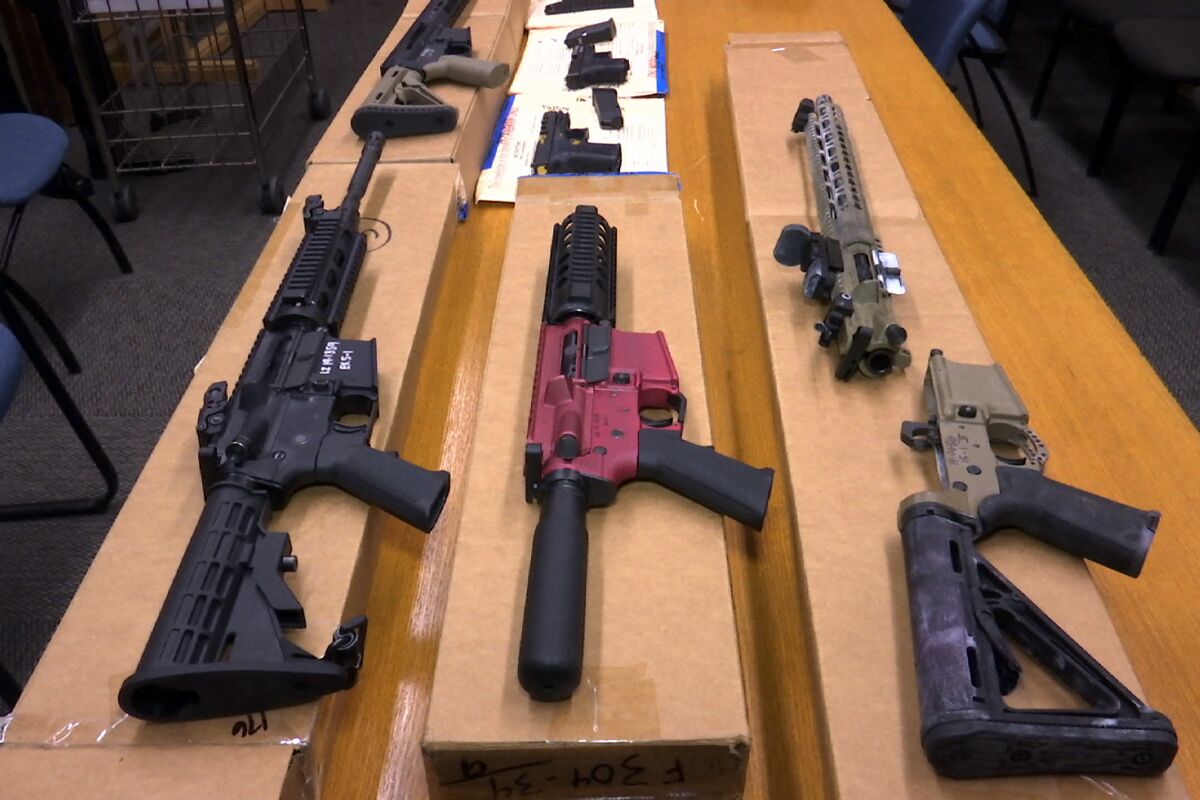 Removing a condom without a sexual partner's consent can be punished as sexual battery under state criminal law.

Judges can order probation instead of time behind bars for more crimes related to the possession of drugs such as heroin, cocaine and methamphetamine. They also have new discretion in reducing prison time for gang-related crimes.

There is no longer a distinction in state law for "spousal rape," which will be punished the same as any rape conviction.

Previous limits on sexual assault or harassment charges while serving in the military have now been removed from California law.

Beginning in July, untraceable "ghost guns" can be seized by law enforcement officers while executing a temporary gun violence restraining order.

Courts can now use state income tax records, along with voting and driver license registration, to call someone for jury duty.
Policing
California law enforcement officers can lose their badge for serious misconduct, including excessive force, racial bias and dishonesty.

Policing techniques that involve a serious risk of "positional asphyxia," which compresses a person's airway and threatens adequate breathing, are now illegal.

Officers must immediately report incidents of excessive force that they witness and are subject to new requirements to intervene in those incidents.

More law enforcement personnel records are now subject to disclosure under the California Public Records Act.

Law enforcement officers have new limits on posting to social media the booking photo of someone arrested for a nonviolent crime, a move supporters say is needed to keep those photos from following people for years, even if they were never convicted.

State law now defines and bans law enforcement gangs and makes participation a grounds for dismissal.

Law enforcement officers must receive new training on the use of rubber bullets and tear gas, and are prohibited from firing them "indiscriminately into a crowd or group of persons."

Law enforcement agencies face new limits on purchasing military equipment and must seek prior approval from local officials.
Environment
Beginning in July, diaper wipes and other disposable wipes must include "do not flush" labeling.

An existing fee imposed on manufacturers of lead-acid batteries, first enacted in 2016, will rise in April from $1 per battery to $2 per battery for cleanup of contaminated sites.

Most refrigerators sold to California consumers can no longer use hydrofluorocarbons in their cooling systems, with the ban extending to all refrigerators in 2023.

Workplace
California's minimum wage rises to $15 per hour, the final step in a six-year process. Businesses with 25 or fewer workers will have an additional year to comply and must raise their minimum wage to $14 per hour.

Warehouse employers must disclose all rules for worker quotas and ensure rest periods aren't counted against a worker's productivity.

Most garment industry workers must be paid hourly instead of by the number of clothing items they make. Clothing companies also face new liability for wage theft.

Farmworkers for large employers must receive overtime pay for more than eight hours of work in one day, the final step in a law signed in 2016, and double their standard pay for more than 12 hours of work in one day.

State unemployment officials must give notice prior to rejecting an application for jobless benefits, a change that will take effect no later than Sept. 1.

Employers who steal employees' wages or tips can be charged with grand theft if the theft totals more than $950 for one employee, or $2,350 for two or more employees in a 12-month period.
Restaurants can control the price of food and beverages that are sold through delivery apps, and disclose delivery fees to customers.

Education
California's four-year phase-in of universal transitional kindergarten begins this summer, offering public school classes to children who will have their fifth birthday between Sept. 2 and Feb. 2.

Each California community college campus must by July 1 have a coordinator to help students who qualify for CalFresh or other basic needs programs.

By the fall, public schools and colleges must stock their restrooms with free menstrual products.
Lifestyle
California death certificates will offer a choice of "nonbinary" in marking the deceased person's gender.

Voters in all statewide elections, regardless of whether they signed up for absentee voting, will receive a ballot in the mail. Those who still want to vote in person can do so by surrendering the mailed ballot at a voting location.

All staff and regular volunteers of youth organizations must undergo background checks and child abuse prevention training.

Sellers of olive oil marketed as being from California must include on the label the percentage of the product made from olives grown in the state.

California restaurants can continue to sell to-go cocktails with food orders for five more years.

Restaurants may continue outdoor dining options where alcohol is served for an additional year once the pandemic emergency orders are lifted.

Beginning in June, restaurants must only provide single-use utensils and packets or cups of condiment sauces on request, similar to the existing law on single-use plastic straws.

Food delivery apps must itemize all fees charged above the restaurant's menu price and pay tips given to drivers or the restaurant.

Beginning in July, businesses offering online subscriptions must allow consumers to cancel any time and without further steps such as taking a lengthy survey. In addition, businesses must notify consumers before free trials and promotions lasting longer than 31 days expire and before annual subscriptions automatically renew.

The state will allow veterinarians to operate community canine blood banks to provide supplies for ailing pets, while setting timelines to eventually phase out the controversial use of blood drawn from caged dogs in pet hospitals.
---