New chapter of a surf group for moms launches in Del Mar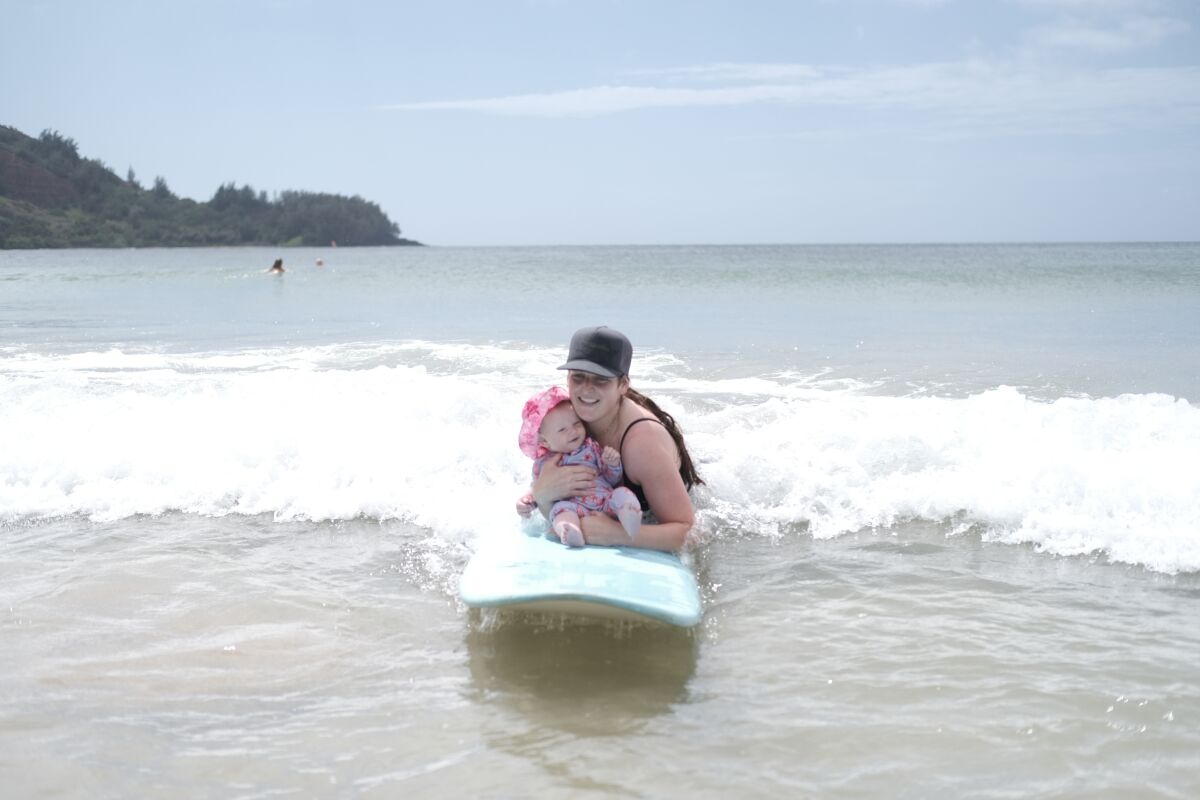 A new Del Mar chapter of a nonprofit surfing group for moms launched on Jan. 26 with the goal of offering "postpartum support through community and surf," according to the chapter's Facebook page.
"I have some surfing friends who I grew up with but I really don't know many moms personally who surf, so this was a good way to connect with other moms who do," said Lauren Pinto, who started the Del Mar chapter.
Pinto, who has a 1-year-old daughter and another child on the way, grew up locally and graduated from Torrey Pines High School.
"I have always loved surfing, but it's kind of hard when you're a mom," she said.
Child care is one of the focuses of the group, which is open to surfers of all skill levels. The mothers who are in it get to rotate surfing with watching children on the beach. Each meet-up is scheduled to last about two hours at a predetermined beach spot. Members pay an annual subscription.
The parent organization, Surfing Moms, became a nonprofit in January 2021, according to the nonprofit's website. It has chapters in Hawaii (where it first started), San Francisco, Santa Cruz, throughout Southern California, along the East Coast and in Australia. The organization is also the subject of a documentary called "Surfing Moms" that documents a few mothers who come together to beat their postpartum symptoms.
Surfing Moms is run by volunteers, but raises money for things such as public liability and accident insurance, promotional materials, running the website and first-aid kits.
Pinto said she first began surfing in high school, when her dad would always come home early in the morning from surfing on weekends. She caught her first wave in Hawaii, where the water was warmer.
Now she's hoping to attract a group of moms who can come together once a week to surf and share child care responsibilities for a few hours.
"It doesn't have to be a huge group, but I'm hoping to get a community together that values surf care, which is a term for the benefits that come along with allowing oneself to catch waves and enjoy time in the ocean guilt free," Pinto said. "It would be great to be able to meet with other moms every week and have that time to do our favorite exercise and not worry about the kids."
For more information, visit surfingmoms.org.

Get the Del Mar Times in your inbox
Top stories from Carmel Valley, Del Mar and Solana Beach every Friday for free.
You may occasionally receive promotional content from the Del Mar Times.