Column: Retired tennis star James Blake picks up racket again for Rancho Santa Fe Open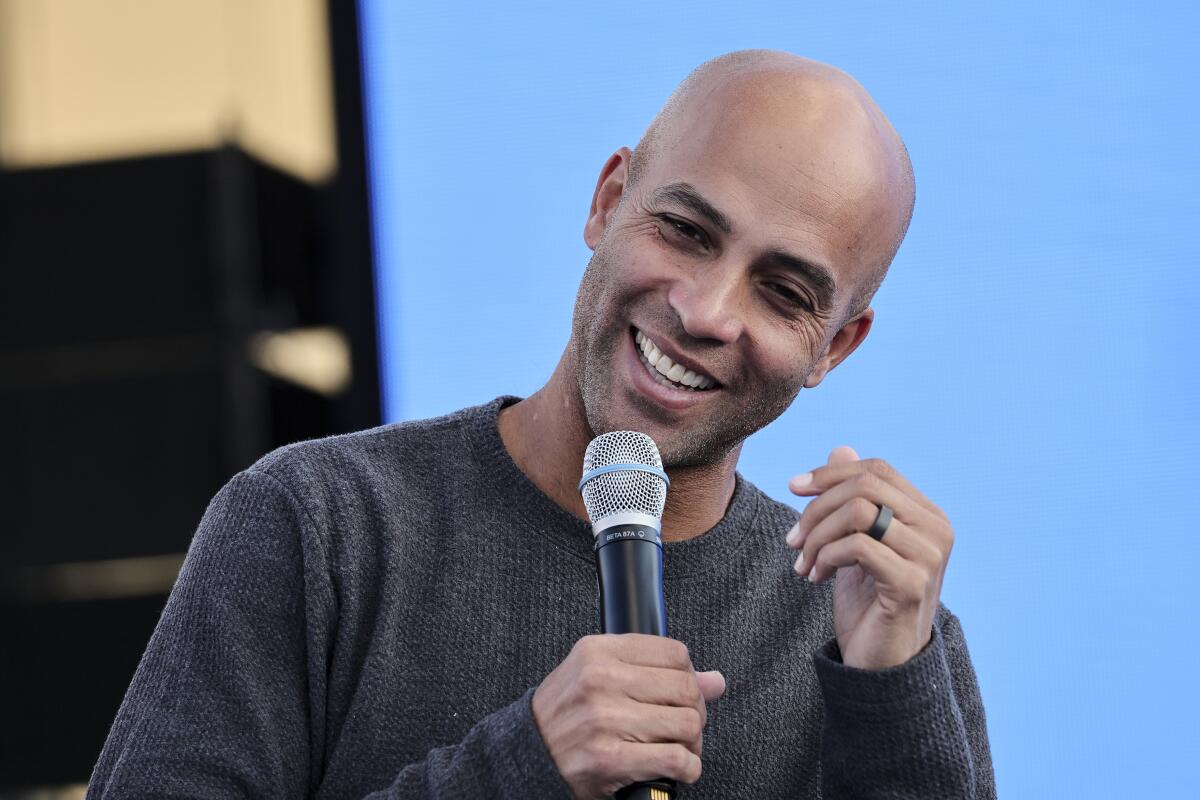 Solana Beach resident once ranked No. 4 in the world teams with local teen Hudson Rivera for SoCal Pro Series
SOLANA BEACH —
When the limelight fades and cheers give way to unsettling silence, many elite professional athletes struggle to walk away. Loosening the vice grip on something so engrained, so second nature, can spin things out of control.
James Blake has lived it … and left it.
Blake, a onetime tennis supernova who reached No. 4 in the world, played poker and golf with Michael Jordan. He sipped on iced tea at the home of late President George H.W. Bush and visited Barack Obama in the White House.
Then in 2013, it was over.
Blake, a Solana Beach resident, will make a one-week return to pair with rising local star Hudson Rivera in doubles at this week's Rancho Santa Fe Pro Open.
When he walks onto the court at the Rancho Santa Fe Tennis Club for the kickoff to the seven-event SoCal Pro Series, Blake will bring rackets and uncommon perspective.
A decade ago, his body was in undeniable mutiny. The first child of Blake and wife, Emily, had just turned 1; the Blakes had a second daughter on the way. The time for hard truths had arrived for the man who reached three Grand Slam quarterfinals.
"I think I was really lucky, because a lot of people struggle with the mental part (of retiring)," Blake said. "When you're competitive that long and given your heart and soul to one sport, you're so isolated. You care so much about your ranking, your health, your travel, it seems like that's the world until you get out of it and realize there's a much bigger world outside of tennis.
"I was able to be a dad right away. You go from what I consider a relatively selfish endeavor when you're a pro athlete to really forgetting what was important to you and thinking about what's important for your kids. It was a relatively easy transition."
Blake, now with a salt-and-pepper shadow framing his face, ticks through his schedule during a coffee-shop interview. He already had attended one daughter's softball game with a birthday party on the way. Later, his other child's soccer game loomed.
This is the life after The Life. And to Blake, it's an endless joy.
If any regrets lingered, Blake clearly shed them long, long ago. There were the near misses in Grand Slam events — including an epic U.S. Open match against Andre Agassi — and a fourth-place finish after knocking off Roger Federer during the 2008 Olympics.
"Life goes on without you, so you better make the most of it and appreciate it," Blake said. "I'm not going to cry over the 'why me' and why couldn't I play a little longer, why couldn't I win more matches. Because I wasn't saying why me when I was winning all those matches.
"You have to take the good with the bad. At the time I was there, I was lucky enough to recognize it was finite, recognize it was going to end, and take it in."
That in no way means the biggest setbacks failed to sting. It does signal, though, he leaned on healthy ways to frame things.
Pain has the power to teach.
"There were times I didn't sleep at night," Blake said. "I definitely kicked myself about things. But I always allowed myself one day to get out all the anger and frustration, but then it was back to work. If you don't have near misses in your career, you didn't put it on the line.
"If you let it haunt you, you've got a long life after tennis."
One of the most sparkling moments in Blake's career came in 2007, when he, Andy Roddick and others pushed the U.S. to a Davis Cup championship. It has been a dozen years since the Americans had won the event.
They have not won since.
"Really, really special," Blake said.
Blake met Rivera while playing golf at Del Mar Country Club. A caddy who is friends with Rivera mentioned that he hoped to meet the tennis icon. A few conversations later, they agreed to hit together.
Soon, more than a year had passed. Blake watched the Stanford-bound teen earn his first ATP point at the 2022 Rancho Santa Fe Open and cooked up the idea of playing doubles.
Now, they'll share the court.
"The biggest joy I get is watching him get better," Blake said. "These last two years or so I've been hitting with him, he's gone from someone who probably wouldn't have played at almost any D-I college to someone who I think is going to be a star in college right away."
Now, Blake will lace 'em up one more time.
"I have a feeling I'll be sore, because I don't play a lot of tennis anymore," he said. "It'll be fun. This is a one-time thing, just with Hudson. I have no illusions, no intentions of playing competitive professional tennis anymore.
"There's no thought of really un-retiring."
The being-a-dad thing sees to that.
Watch James Blake play
Solana Beach tennis player James Blake, who retired in 2013, will join Rancho Santa Fe teen Hudson Rivera in doubles at this week's opener of the SoCal Pro Series.



What: Rancho Santa Fe Open



When, where: Singles begin Monday, doubles Tuesday (Blake-Rivera open Wednesday); Rancho Santa Fe Tennis Club. The event and parking are free.
Get the Del Mar Times in your inbox
Top stories from Carmel Valley, Del Mar and Solana Beach every Friday for free.
You may occasionally receive promotional content from the Del Mar Times.