Carmel Valley for Equal Justice marks three-year anniversary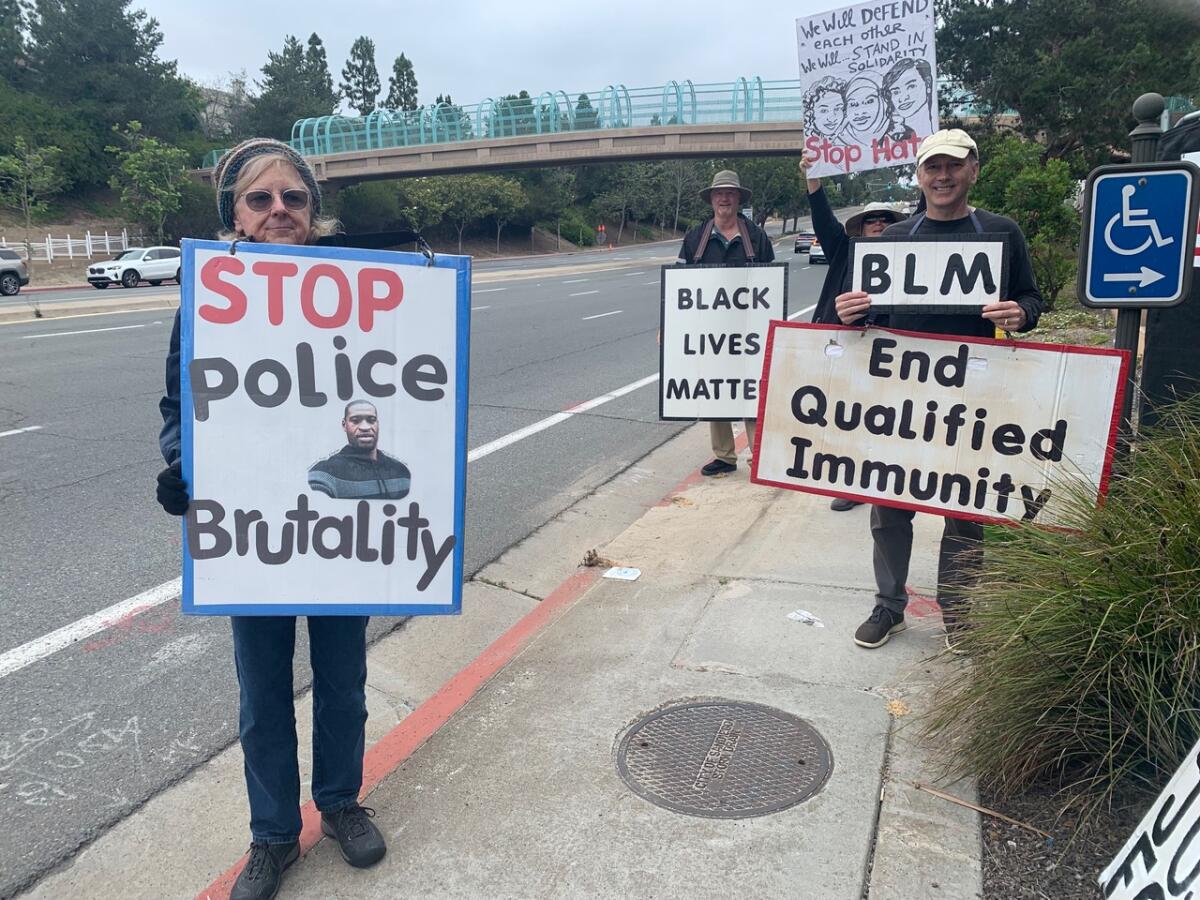 Among the many grassroots organizations that emerged in the aftermath of George Floyd's murder at the hand of Minneapolis police, Carmel Valley for Equal Justice marked its third anniversary June 10 with a rally at the corner of Del Mar Heights Road and El Camino Real.
"We felt that it was necessary to keep it going, because the situation wasn't going to get better on its own," said Nick Gekakis, who leads the group along with his wife Liz. "The national mood kind of rises and falls, and we wanted to keep people's attention."
They started the group in response to Floyd and Rayshard Brooks, who was killed by Atlanta police in June 2020, holding rallies twice a month in solidarity with Black Lives Matter.
"We have a small but dedicated following who goes out there on a regular basis," Gekakis said. "We, of course, were much larger in the early days, in the summer of 2020 and into 2021. We've gotten smaller since then, but we're still a dedicated group of people going out there, reminding people, keeping people aware of the situation."
The group has also advocated for reforms such as Measure B, which about three-fourths of voters in the city of San Diego approved in November 2020. Measure B replaced the Community Review Board on Police Practices with the Commission on Police Practices, which is supposed to function independently of the police department and city attorney's office.
But the Commission on Police Practices has been largely nonfunctional since Measure B's passage. The San Diego City Council appointed 25 members to the commission at the end of May in a sign that it will begin fulfilling its mandate.
Carmel Valley for Equal Justice wants to continue holding rallies to show that the community is still fighting racism.
"We want to send out that signal throughout San Diego," Gekakis said.
Get the Del Mar Times in your inbox
Top stories from Carmel Valley, Del Mar and Solana Beach every Friday for free.
You may occasionally receive promotional content from the Del Mar Times.