League of Amazing Programmers honored at state Capitol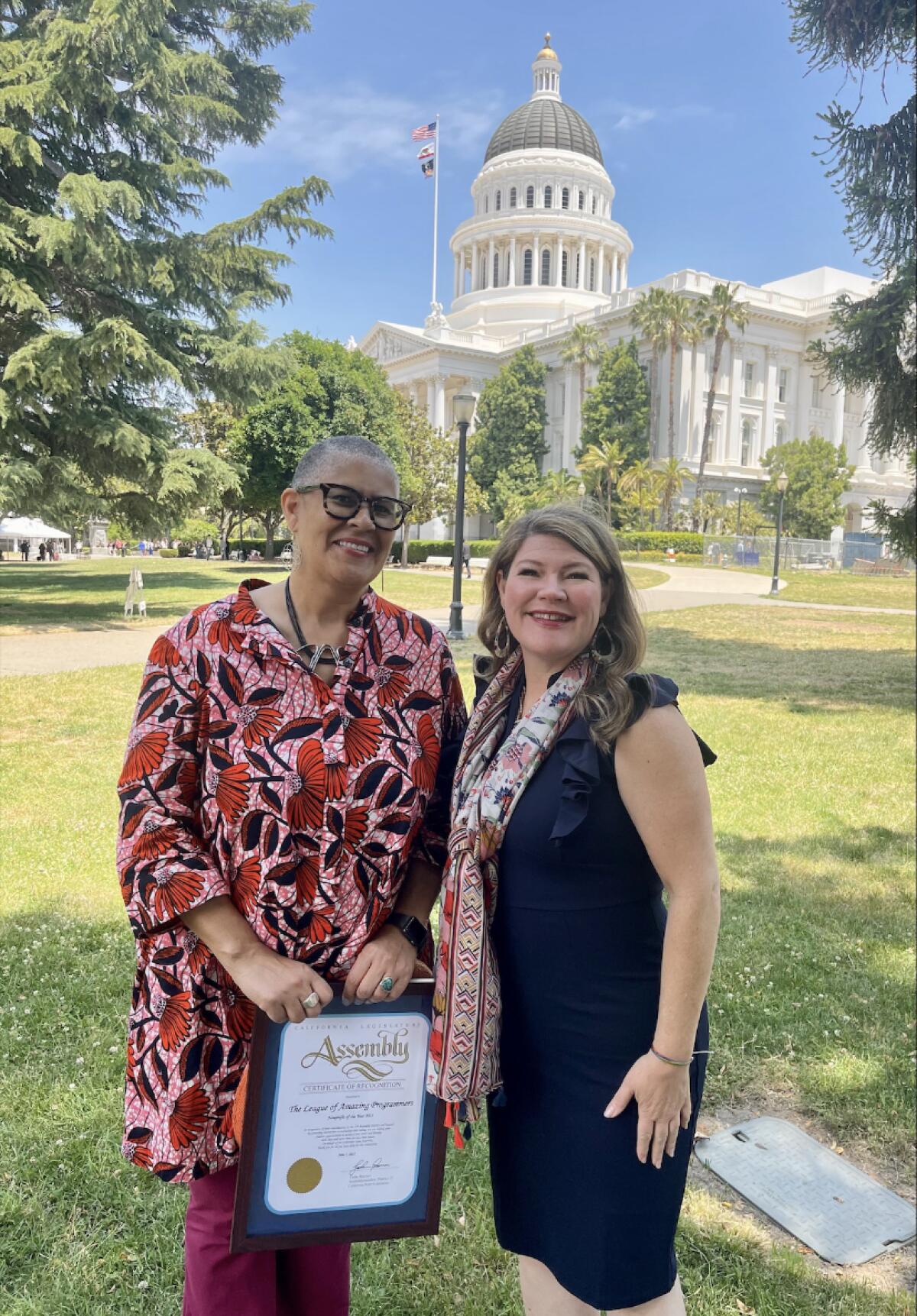 On June 7, Assemblymember Tasha Boerner (D-Encinitas) recognized The League of Amazing Programmers at the state Capitol. Each year, California assembly members and state senators select a nonprofit from their district to be recognized for their work to provide services to those in need, promote social change and improve the quality of life in their communities.
"It was a privilege to recognize The League of Amazing Programmers for the critical work they are doing in my district to promote equity in our digital age," said Assemblymember Tasha Boerner in a news release. "Their dedication to helping our youth, especially girls and underrepresented communities, is transforming lives throughout San Diego."
With its main location in Carmel Valley, the League teaches kids and teens how to code through eight different levels that range from beginner to certified programmers. Their mission is to help more youth, including girls and underserved students, acquire the skills and education needed to be leaders and contribute to the workforce of the 21st century. They aim to create a positive impact on all students by helping them develop critical thinking skills and self-confidence through learning computer programming.
Sarah Tuakli Cooper, executive director of The League of Amazing Programmers, said it was an honor to be recognized among the best nonprofits in the state.
"The event at the Capitol was a combination of different things: the fun of the event full of excited nonprofit representatives mixed with the awe of the amazing architecture and history of the place," Cooper said. "Assemblymember Tasha Boerner was so kind and showed me onto the Assembly floor and arranged a tour. I really loved every second of it."
As San Diego is a growing tech hub, the nonprofit believes it's important that all children have the opportunity to learn computer programming regardless of their family's financial status.
"Vic Wintriss, who founded The League in 2006 was ahead of his time in realizing that a knowledge of programming is a critical skill for youth in the 21st century," said Cooper of Wintriss, who retired last year from the league's board but currently represents his community on the Carmel Valley Community Planning Board. "And with AI becoming more centralized in how we work our students really need the skills and the confidence to succeed in a technology-driven world of work."
The League's weekly classes in Java and Python continue all year round and this summer they have added to their usual selection of camps like Minecraft Modding and Tech Discovery with a new week-long AI camp and a Computer Hardware camp. For more information, check out jointheleague.org or call (858) 284-0481.

Get the Del Mar Times in your inbox
Top stories from Carmel Valley, Del Mar and Solana Beach every Friday for free.
You may occasionally receive promotional content from the Del Mar Times.